Supersport 400
Main Motorcycle: My Bird
Member
Join Date: Aug 2010
Location: Northern Virginia
Posts: 86
Wind Deflection HELP
---
Hey all, here's to a good weekend, but before we get started I have a question.

I have the quick release windscreen on my bike. It's great at making the wind go around me...HOWEVER...it's ugly as sin.

Has anyone tried the Dart Fly Screens? If so, does it help out just as well as the big wind screen?

Also, what about the light cowl you can get from Triumph...does that help out at all? That looks pretty cool, I've always thought about it.

Let me know folks, thanks.
Grand Prix 250
Main Motorcycle: 1959 TIGER 110
Member
Join Date: Jul 2007
Location: ENGLAND
Posts: 66
Other Motorcycle: TBIRD STORM
Dart
---
I have the dart on my storm and it does take the pressure off my chest, I am pleased with it but it is not a substitute for the big screens it just looks loads better
imho
SuperStock
Main Motorcycle: Thunderbird Storm
Senior Member
Join Date: Aug 2011
Location: Wisconsin
Posts: 267
40. I have the switchblade now having had the dart. It works to deflect wind from you chest but for me just deflected at my mouth. An inch taller or shorter and would not have changed.


Sent from my Motorcycle iPhone app
SuperSport
Main Motorcycle: '12 TBird
Senior Member
Join Date: Oct 2010
Location: Seattle area
Posts: 1,042
Here's another option that might fit the bill for you. It's a National Cycle Switchblade Deflector...slightly bigger than the dartscreen but still small and aesthetically unobtrusive -- and, like the Triumph, it's quick release (and the hardware also accepts National Cycle's bigger Switchblade shields if you want something larger later on). It takes all the pressure off my chest, and has the wind starting to hit my helmet about eye level (I'm 6'1", 34" inseam), so mostly up and over.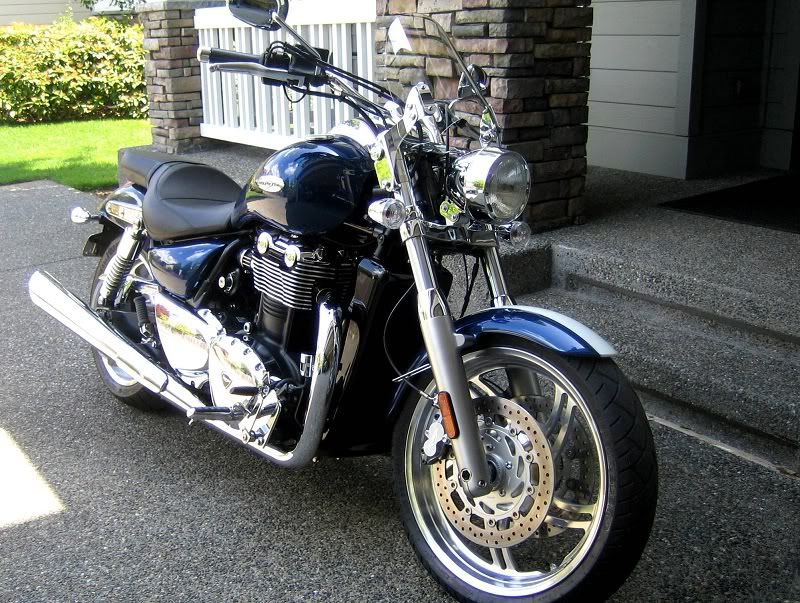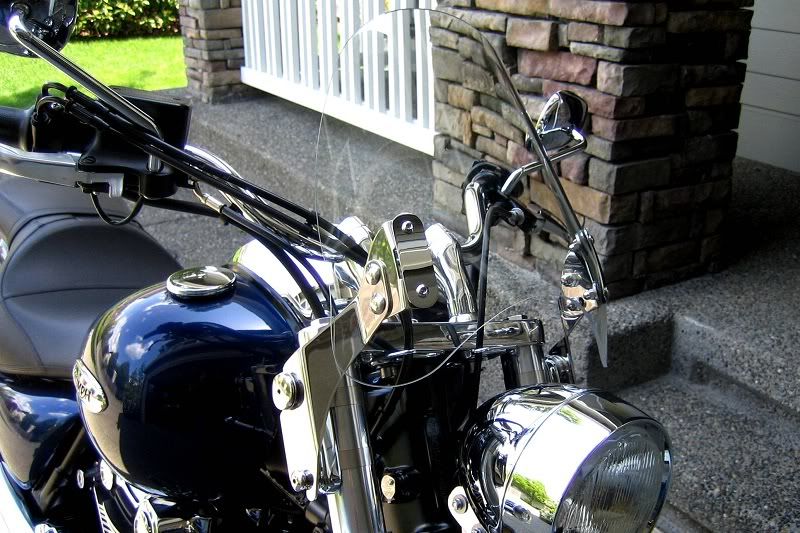 Formula Extreme
Main Motorcycle: Tiger Explorer 2013
Senior Member
Join Date: Oct 2010
Location: Morehead, KY
Posts: 701
Other Motorcycle: Had a T-Bird Storm 2012
Extra Motorcycle: Had a 2010 America
I have the Dart Manta for my Storm. I like it, but I prefer the minimalist approach. I've seen some use the painted deflector designed for the Rocket.
Attachment 50693
Sent from my Motorcycle iPhone app
---
Last edited by Deanno; 11-19-2012 at

03:53 PM

.
Supersport 400
Main Motorcycle: Triumph TBird 1600
Member
Join Date: Jun 2012
Location: Canada
Posts: 86
Other Motorcycle: 2006 VFR 800
I have both the tall touring windscreen and the short summer windscreen. I agree, the tall one is ugly as hell, but is awesome in the rain - but that's the only time I'll use it. The shorty looks nice and does a decent job on the wind deflection.
Grand Prix 500
Senior Member
Join Date: Mar 2011
Posts: 123
I understand those little windshields look cool if you want to gather with your mates at the local coffee shop a couple of cliks away from home. However, If you want to take a serious ride, the tall one or middle one with a LIP are the only ones that do the trick. Cheers!
SuperBike
Main Motorcycle: 2011 Tbird
Senior Member
Join Date: Sep 2011
Location: U.S.A.
Posts: 1,795
Other Motorcycle: 2011 Tbird
Extra Motorcycle: 2011 Tbird
2 thumbs up
---
2 thumbs up for the dart flyscreen.....
Site Supporter
Formula Extreme
Main Motorcycle: Triumph Thunderbird ABS
Lifetime Premium
Join Date: May 2012
Location: Pittsford, NY USA
Posts: 663
Mid-Size Screen
---
Don't forget that Triumph offers 3 screens ... the Cruiser, the Short and the Mid-Size. Beauty is in the eye of the beholder and I have no problems with the Cruiser (it also beats getting beaten to hell by bugs at dusk and getting pelted by rain at 70 mph. For the guy that has the small and it"s not quite enough, try the mid-size - part # A9741026 - list price $420.
Grand Prix 125
Main Motorcycle: 2013 Triumph Explorer
Member
Join Date: Apr 2010
Location: Sacramento, Ca
Posts: 36
Other Motorcycle: 2015 Triumph Scrambler
I have the Dart on my Speedy and like it but I put a switchblade Deflector on the bird and i really like how it keeps the pressure off my chest and face. I can't wear my open face helmet with it comfortably but it works great with my full face.

Sent from my DROID RAZR using Motorcycle.com Free App
Posting Rules

You may not post new threads

You may not post replies

You may not post attachments

You may not edit your posts

---

HTML code is Off

---