SuperBike
Main Motorcycle: 2011 Tbird
Senior Member
Join Date: Sep 2011
Location: U.S.A.
Posts: 1,795
Other Motorcycle: 2011 Tbird
Extra Motorcycle: 2011 Tbird
Yeah, I don't drink any manufacturers "kool-aid"...never have...never will. I like Harley Davidson bikes..they are ok. But the sun doesn't rise and set on them either. Plus, everybody, everywhere has one and wants to be your "bro" when they pull up next to you on the road.
Not my style.
One story: My friend and I are sitting at a traffic light. Me on my FXD and him on his RK. So 3 guys pull up next to us on Harleys wearing "Sons of Anarchy" tshirts and doo rags and all. They are revving their engines and looking all bad ass. My friend who has been riding Harleys since the 1970's looks at me and looks at them and turns to me and says " I think it is time for me to get that Ducati"
This was a huge incentive for me in trading my HD
---
Last edited by BMK9251; 10-15-2011 at

05:23 PM

.
Site Supporter
Grand Prix 125
Main Motorcycle: Thunderbird!
Lifetime Premium
Join Date: Sep 2011
Location: California
Posts: 25
Tallboy, your story is very much like mine. But here's what I found out, make a couple of posts on this forum and local Triumph riders will come out of the woodwork and invite you to go riding. I don't miss my so-called HD "friends" at all.
Quote:
There's a new hot chick in town and some of the older broads who wear too much make-up don't like it much!
As a long time Harley rider, this really made me smile, thanks oldgreybull...
Site Supporter
Formula Extreme
Main Motorcycle: 2014 Scram "The Crow"
Premium Member
Join Date: Aug 2011
Location: Vancouver Island, British Columbia, Canada
Posts: 599
Other Motorcycle: 98 Honda Valkyrie
Haha! Beautiful story, well told and very well written. Thank you!


Sent from my Motorcycle iPhone app
---
What if there were no hypothetical questions?
Powerbike
Main Motorcycle: TB 2010
Senior Member
Join Date: Sep 2007
Location: California
Posts: 373
Other Motorcycle: BA 2007
Extra Motorcycle: Shared Bonn 09 w/daughter
Good story and outcome. Being retired is tough, been gone for the past month. Mass. and then New Orleans. Unfortunately, not on the bike. But coming back to hot weather was perfect, and back on the bike. For those of you in L.A. we ate at Andy's Coffee Shop in Pasadena on Colorado Bl. Pretty good sized breakfast.
---
Raymond
San Fernando Valley, Calif
Grand Prix 500
Main Motorcycle: Mine
Banned
Join Date: Aug 2011
Location: In the Sun
Posts: 138
Quote:
You said you were outa here in that last post....why screw up a good thing?
Just for you Daz. Of course I felt bad about leaving Daryl, he's such a nice guy.
---
Last edited by VainCyrus; 10-16-2011 at

03:52 AM

.
Grand Prix 500
Main Motorcycle: Triumph Thunderbird
Senior Member
Join Date: Sep 2010
Location: Central Texas
Posts: 133
Other Motorcycle: 91 FXLRC
Extra Motorcycle: 90 HD Sportster 1200
Greetings,

I've been asked at least a hundred times, "Why did you buy a Triumph". and I always reply... "everyone owns a Harley..."

I have two HD's in my shop... I've put many a thousand miles on them both... They are great bikes...

But when I test rode the TBird.... we'll lets just say, both my HD's are getting pretty dusty in the shop...

I still ride with several of my friends who have everything from Goldwings to Baggers...and all in between, If they ride a HD and don't want to hang out... then they weren't your friends in the first place.

Ride Safe,
hagatha
Grand Prix 250
Main Motorcycle: 10 Triumph Thunderbird
Member
Join Date: Sep 2010
Location: Bradenton, FL
Posts: 49
Other Motorcycle: 11 Can Am Spyder RS-S
Quote:
But, I did begin to notice something about the HD "brotherhood". It's a myth. Hang around HD guys long enough and you'll find out. The Softail guys think they're better then the Dyna guys. Everyone thinks Sportsters are girls bikes. The bagger guys think everyone should just buy a bagger and get it over with. Nobody accepts the V-Rod guys, which [incidentally] is the best bike HD makes.

Maybe its just me, but I have noticed a tendency of the HD riders to be some of the less friendly of the bunch. We always give everyone a friendly wave or acknowledgment when passing a fellow biker, but more often than not guys on a HD just keep their eyes on the horizon and act like either they dont see you, or are too focused on trying to look like a badass to wave at anyone. I guess if I spent $45 for a pair of $2 underwear just because they had a HD logo on them then I might ride around all unhappy looking with my buttcheeks clenched up too!
And speaking of Biketoberfest, we made the trek this year too. We saw 10,000 Harleys and only 10 Triumphs, but that made the trip that much more fun...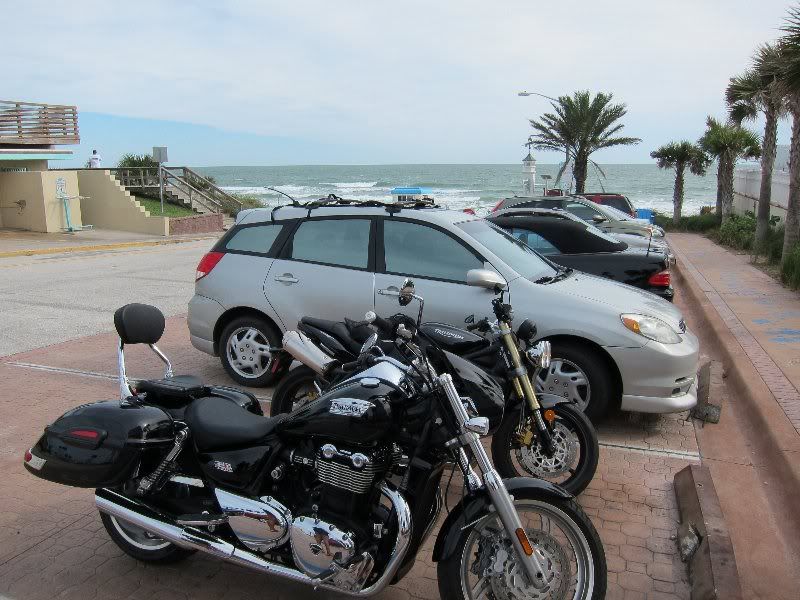 Commentator
Banned
Join Date: Jun 2005
Location: L.A., Ca.
Posts: 9,598
Bob,

Here the HD rider always wave, or at least most of the time. But they DO display that attitude you speak of when face to face. They won't say much if anything to you if you pull up on a triumph, and to top it off they almost break their necks trying to turn away as fast as possible because they seem to be deathly scared of letting you see them looking at your bike. It might mean your bike is better or nicer ! What gets me is the Tbird is a rare and highly praised machine that should make it extremely interesting to see. I know if i were on any other bike and a Tbird pulled up i'd be so curious i wouldn't be able to get over there fast enough. Yet they act like it's a honda civic. Thats part of the HD attitude and why people always dump all over HD riders.
Grand Prix 250
Main Motorcycle: 2011 Thunderbird Storm
Member
Join Date: Sep 2011
Location: Kennewick, WA
Posts: 41
Congrats on the new 'bird and thanks for the story. I think this attitude is needed more in the bike world. Too many riders buy into a brand, not a machine, hoping it will buy respect. But guess what, you are not what you own. Buy a bike because you like the ride and the machine, and let people like you for you as a person. If you need a brand to make you seem like something, that's a crutch. On the flip side, respect all bikers, not for their brand of machine, but for the way they handle it.
Grand Prix 500
Main Motorcycle: 2012 Red/Blk Thunderbird
Senior Member
Join Date: Oct 2003
Location: Lakeland, Florida
Posts: 150
Other Motorcycle: Always looking for one
Good story and great choice.
---
Mr. TallBoy 67, thanks for sharing your experience with us. I bought 3 bikes, 2 T'Birds and 1 R3T , from St. Pete Powersports with in the last 18 months. They are a good caring dealer from Donny, the GM, on down. Mike , the service mgr., is good to work with and treats you fair. Hope your Triumph experience lasts a long time. The 5 Harleys I had were never as good as any of my Triumphs.
Similar Threads
Thread
Thread Starter
Forum
Replies
Last Post
Traded her in for...

Mk003

Speed Triple Forum

36

07-10-2011

05:30 PM

Traded up

Texas Threesome

Speed Triple Forum

4

11-05-2007

12:36 PM

885 traded for 955

Northumbrian

Tiger Chat

5

04-05-2007

04:30 PM

traded the TBS....

johnyC

Hinckley Classic Triples

10

12-28-2005

08:37 AM

Traded er' in

wilbur-t

Tiger Chat

5

12-16-2005

07:00 PM
Posting Rules

You may post new threads

You may post replies

You may not post attachments

You may not edit your posts

---

HTML code is Off

---