Adrian Packett's Ultimate 'SUPER SCRUXTON'

Bike n build details!

Bike, 07 Triumph Thruxton 900 black with white racing stripe, 1200 miles.
Motor : Factory Black Cases, polished and lacquered valve ,clutch, and alternator cover, mini lightened sprocket cover, British Customs Scrambler Airbox Removal kit and AI removal kit, stock 865cc with Keihin 39mm racing flatslides,40mm CNC billet Manifolds, Anodized black Billet manifolds matched to home ported cylinder head. Full Thunderbike exhaust system with graphite wrapped headers and stainless heat shields. Heavy duty clutch springs, Lightened 19 tooth front sprocket,nology profire coil,nology hotwire ignition leads and iridium plugs.oil pressure gauge, running Mobil 1 4t racing oil 15/50,and trick racing 100 octane gas, professionally set up on dyno with 72 rear wheel horsepower and runs and sounds real crispy!!!

Oh and not forgetting the Kestrel Super Strength engine breather catch can conversion!! Only the English lads can drink that !!
Wheels : Cazzorria v star sport forged and anodized black, front [3.50 x 18]and rear 5.0x 17 wheel s [40% lighter than stock!]With Anodized black billet 43 tooth sprocket, [yes you can tell the difference as soon as you bolt them on, the bike is so much more responsive and transforms the looks of the bike immediately!!]
Tyres: Avon Distanzia 120/80-18 supermoto compound front, 160/60 -17 supermoto compound rear running 32 psi front, 34 psi rear.
Brakes: Braking 320mm stainless steel front wave rotor, billet anodized black pazzo 'shorty'racing lever, anodized black billet resoivoir,Earls performance '5 inch over' black stainless line, motul rbf 600 racing brake fluid, stock caliper[to be replaced ASAP!!]]

Stock rear with Motul RBF 600 Racing brake fluid and anodized black billet reservoir
Suspension: Works performance Pro Racer anodized black billet rear shocks, fully Adjustable for ride height, compression and rebound, built to my specs by Pierre at Works, stock forks with very trick modified internals by Pierre again, black 60's style gators, Anodized black billet top triple tree With 1 inch billet risers and renthal fatbars.
Bodywork: Stock triumph tank with tankpads removed, Modifed Fuel tap, powdercoated 20% black classic badges and Monza gas cap, stock modified front fender, stock LH side panel and scrambler, [I used the decals from the Red Thruxton as they have subtle grey in them and set it off real nice] all repainted by Jims Cycle Painting in Gardena with triple Diamond black and its wicked, It looks like a proper MEAN 60"S triumph now! British customs reworked rear fender eliminator kit with cateye light.powdercoated headlight with my own Steve McQueen headlight conversion and Piaa headlight bulb, Seat recovered In Porsche Carrera vinyl with silver pinstripe and fixed with British customs billet seat bolts.

And of course my spiked license plate kit what I love [and yes I did get the SCRUXTON private license plate from the dmv but they are closed for remodeling so I can't get it!!]
Electrical: Anodized black billet turn signals with amber LED'S front and rear with LED flasher unit conversion and yes they are very bright!!Red Led Clock conversion sets it off at night down those dark canyons, PIAA 115 db sports horn for that classic loud honk!!
Powder coating: All done professionally in 60% satin finish, footrest assemblys, headlight and brackets, clock surround, side stand,
Hardware, As much Stainless as I could find right now but I will be machining titanium axels, spacers and fittings over the coming months.


Accessories: anodized black skid pan, black engine bars, British customs anodized black billet key relocation bracket, rear passenger footrest removal kit, sidepanel screw kit, crg mirror adapters and lane splitters[to be replace by rizoma class mirrors next week]
All of these parts I would highly recommend for there quality, reliability, fit and finish!!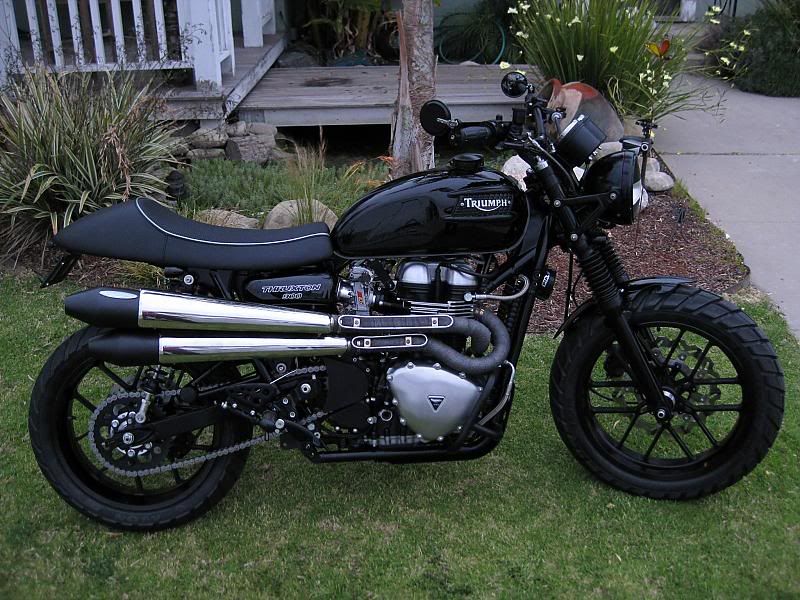 thanks a lot
adrian