Got my newly painted tank back.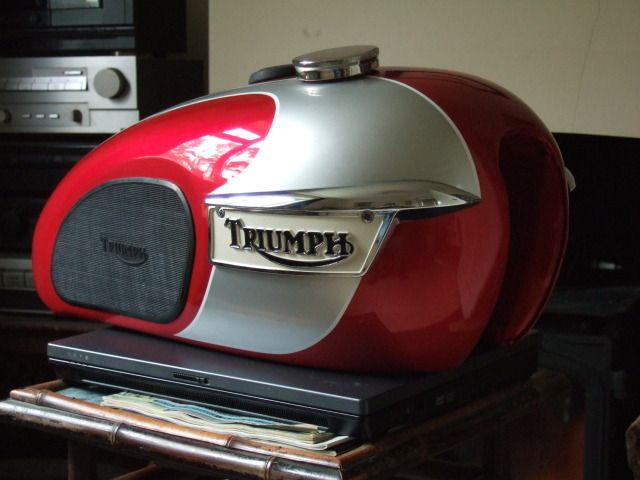 I wish I'd taken a 'before' pic. This was a £70 tank from ebay, in matt black with 3 small dents and damage to both top and bottom of the central mounting well, with badly done brazing around the top of the well, plus two snapped off tank badge screws and rusty inside.
The old brazing was done again properly; the damage to the lower part of the central mounting well was repaired by welding a large washer; tank badge screws drilled out and holes re-tapped. Then it was blasted inside and out, then gone over with an air tool with abrasive discs to give a good key. Then it was chemically de-rusted inside (where the blasting couldn't reach); then coated with epoxy sealant. Then dents filled, and paint applied (base of Silver Sheen with Olympic Flame, leaving the silver flashes above and below the badges, with white pinstripes which were done by masking & spraying - not tape!).
It looks like the photo, only better in real life. Total cost was £370 (original estimate was £350 but we didn't know about how bad the old brazing was than, nor a few other things: I was happy to pay the extra £20).
Ian Potter at Tank Care Products in Cawston, Norfolk, did all the work. Did it when he said he would too, and went to a lot of trouble to get it just how I wanted it. I'm pleased with the results.