Discussion Starter
·
#1
·
I'll be doing the air box removal mod soon to the Thrux and wanted to see if anyone had opinions on the Uni filters. I have pleanty of experience with the K&N's and have no problems with them other than I don't want to pay $75 for the filters. From what I understand, the Uni filters also use an oil to help catch particles. There's a couple different styles available and it'd be about $35 for two. I'd like to set the bike up so the filters can be seen but all of the wires, brake resivoir, and such won't be, and I think some of the styles Uni's look a little better than the K&N.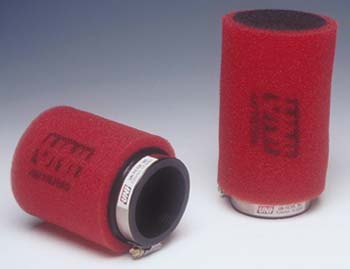 So, if you have any experience w/ Uni's, opinions, pics, let me know. I'd of course want a filter that flowed the best but I can't imagine the Uni's and K&N's would be much different. One thing I like very much about the first Uni pictured is the top isn't covered by metal thus air could could go through the top.
If someone has pics of a bike w/ some kind of side covers on with the filters showing, or a set up with the side covers off but all the wires and such hidden, please post them.