* NEWS * Now for Android
-
http://www.tuneecu.com/TuneECU_En/android.html
There is a 'Freeware' * (yes - I said FREE) program available called TuneECU that operates similarly to TuneBoy, in that it allows direct programming of the ECM by a software interface and USB/OBDII adapter cable.
*But for those who are appreciative, you may voluntarily
DONATE
to help offset development & maintenance costs.
READ THE ENTIRE ON-LINE USERS GUIDE - SEVERAL TIMES OVER!!!! - BEFORE ATTEMPTING TO DO ANYTHING
- ESPECIALLY IF RE_WRITING TO THE ECM!!!!!!!!!!!! (i.e. changing maps)

NOTE PARTICULARLY THE POINTS REGARDING ENSURING YOU HAVE FULLY CHARGED BATTERY, DISCONNECT THE HEADLIGHTS AND HAVE THE LAPTOP CONNECTED TO AC SUPPLY

* DO NOT USE THIS PROGRAM UNTIL YOU HAVE A THOROUGH UNDERSTANDING OF HOW TO USE IT *


Currently is available for tuning Triples and now also Twins (as of 9/28/10)
675 Daytona & Street Triple
885, 955, 1050, Speed Triple
885, 955, 1050 Tiger
955 (ST/RS) and 1050 Sprint
955 Daytona
Rocket III
EFI Twins - Bonneville, Thruxton, Scrambler, Speedmaster, America
Thunderbird 1600/1700
* Now Supports 4-cyl models (TT600, Speed4, Daytona 600/650) as of v 1.8.6 *
The software is down-loadable from several sources:
The latest Program Revision will always be available from Tom Hamburg's TuneECU Site -
TuneECU Links Page
There are many tunes available (OEM & custom) for download from
Tune List
New tunes are being added constantly, so check back frequently
The On-Line User Guide is now here -
On-Line User Guide
TuneECU (current version v 2.5.5.4) is the Full program which includes both Tune Editing and Diagnostic Functions in a single program.
*Since version 1.8, there is no longer any requirement for the key file*
Cable:
Cable is readily available from EBay etc - Triumph actually uses the same ISO9141-2 protocol as used by Volkswagen/Audi and so a VAG-COM OBDII/USB cable works perfectly.
* Note for current TuneBoy users - the same TB cable will also work with TuneECU - nothing extra required*
Here is one source I have used myself - fast shipping out of UK - affordable yet quality product with FTDI chipset
http://www.lonelec.co.uk/index.php?main_page=product_info&cPath=1_7&products_id=32
(actual product may vary from Image - my cable from Lonelec has black shell and black cable vs the translucent blue shown in image above)
(there are many other cheaper sources, shipping from China - Quality may vary - be warned!)
Do a search on your local Regional EBay, from wherever you might be.
Once you receive the cable, install it using the drivers from here (not the supplied driver):
You need to download the latest FTDI Chip virtual port driver - ver. 2. 08. 24 for Windows XP, Vista, Windows 7 - or other appropriate to your operating system.
http://www.ftdichip.com/Drivers/D2XX.htm
Simply plug in the cable, let Windows 'find' it, then when it asked to detect & install automatically, decline & direct to the folder with your downloaded FTDIchip driver
This install process is explained in the TuneECU_Description pdf -
available here
in French, English & German versions.
NOTE: If installing to Windows 7 is is important to disable your internet access (turn off wireless) before you plug in the cable
Follow the specific instructions here on the FTDI site
OEM tunes and a few custom tunes are available for download from the sites referenced above - these TuneECU files have a .hex extension and are not compatible with Tuneboy (& vice-versa)
You can retrieve your own currently installed Tune by connecting and executing 'read map' from the program file, after which you can save it and re-edit as you choose.
Here are some Screenshots of the program
Diagnostic Screen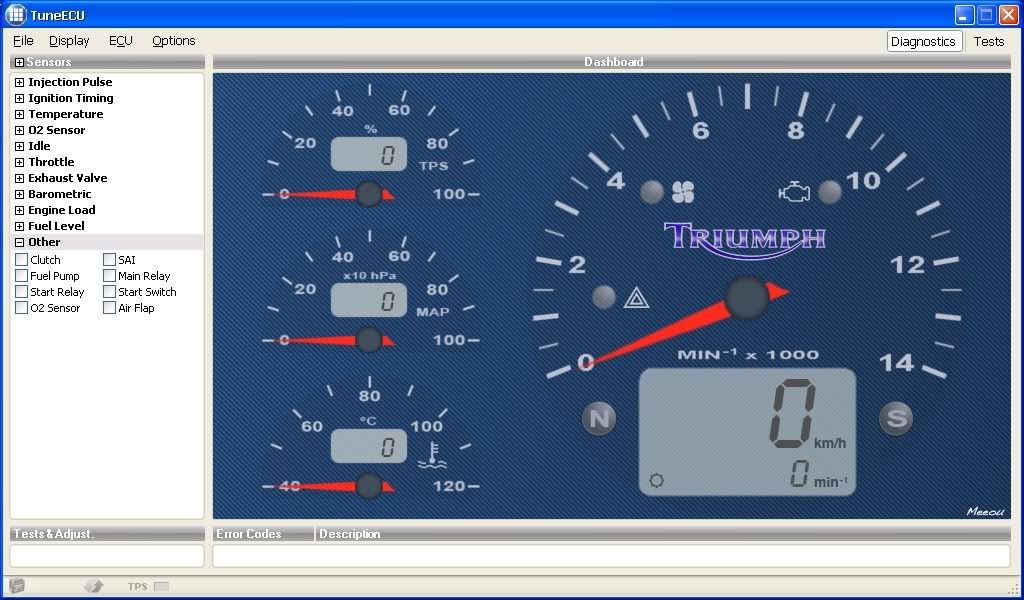 Fuel Table Map/Editor Screen
The Editor also has a nice 'map compare' feature
You can view graphically the difference between two maps at any rpm interval
(you can compare the elements of any of the maps - fuel, ignition, etc)
Compare View
Caution:
As with any of the tuning software programs, be aware that you have the potential to damage your engine if you do not know what you are doing.
If you do not have access to a Dyno/Gas Analyzer , you should ONLY consider loading proven maps into your ECM and avoid changing map values without supporting data.
*DO NOT DOWNLOAD OR UPLOAD TO THE ECM WITHOUT ENSURING YOUR BATTERY IS FULLY CHARGED & DISABLE YOUR LIGHTS DURING THESE OPERATIONS*
Be aware that this is freeware - the developer has created a terrific platform for we Triumph users and is generally helpful to inputs and questions. But recognize he is not being remunerated for his effort and you should not
expect
the level of customer support you may find with a commercial program.
This post will be locked, stickied & updated for appropriate changes - discussion threads will be available for Q & A & comments.