Discussion Starter
•
#1
•
Hello,
I just joined the forum but I've had my Daytona for about a year and a half. My Daytona has been through quite a bit last fall/winter. To make a long story short, my father and I were riding on a nice October day (60 degrees). No snow yet, so no gravel or salt on the roads. We were going to pass a couple riding their Harley (passing on the left). Then all of the sudden with no turn signal and no indication of their intention, they hit the brakes and make a left in front of us. I apply the brakes as hard as I can with out locking up the tires but our bikes are still approaching one another so I start to head the bike left off the street. Obviously, the tires don't have the same amount of grip on gravel so the tires wash out and I start sliding down the street. As I slid past them the bike missed their rear wheel but my back and helmet hit their saddle bag. Called the cops and she got the whole story and filed her report. I was wearing full gear, so I had a couple scrapes on my knees but other than that just stiff the next day.
After that took the bike in to get an estimate for the damages assuming their insurance would cover in. Over $5k in damages! First thing the dealer said was "How much do you like this bike? No question, insurance will total it." So got in touch with the couple and turns out they are not paying for anything. Their insurance company did not find them more than 50% at fault. Needless to same I'm a little outraged that they can do that.
Pic of damage:
Either I love my Daytona too much or I am too stubborn to let that couple ruin my Daytona, I decided to rebuild it over the winter.
New body panels, shifter, turn indicators, wind screen, frame sliders, and paint.
Here is what she looks like present day: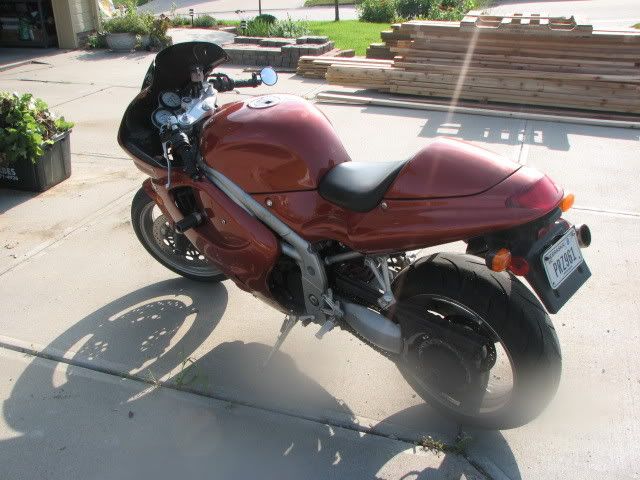 Personally, I like the full copper look better than the cooper and black.
Future plans are stubby can from Trident exhausts, eliminate the rear license plate bracket, and new wheels.
Wheels bring me to my first question. Does anyone know if the wheels from a newer speed triple are a direct swap?
Thanks guys,
Nate