Discussion Starter
·
#1
·
I haven't found a commercial offering that I thought did a good job all around of cleaning up the rear end without having some (in my eyes) shortcomings. Okay, the Rizoma model looks nice, but I'm sure not chalking up $250+ for a fender eliminator! The rest seem to either have questionable tail light cowl fitment, or require the removal of the tail cowl altogether, and or create excessive gaps in the rear upper tail section.
I've seen a couple other threads on DIY tail tidys and they look good, but I tried to come up with a DIY solution that made the most sense. The benefit of this version is that the upper section of the original license plate light frame remains intact, so there are no gaps in this area (no more than the factory setup at least) and the ambient air (temp/pressure?) sensor remains in the factory location. It should also be much more sturdy than using the stock rear reflector location (the plastic cowl) for the mounting location of the plate and signals.
This version also requires a minimum to moderate amount of fabrication. It is mostly cutting/removing excess material, and creating a simple additional piece to finish the puzzle. It utilizes as many of the factory fender assembly parts as possible for convenience.
See below for all of the info you will need.
Materials Needed:
Aluminum or steel sheet stock (.06" minimum recommended), my cost $4.57
License plate light (still haven't decided what I'm going to do, might go with led license plate bolts)
Five M6 x 1.00 nylon locking nuts / Five M6 washers (stainless recommended), my cost $5.51
Spraypaint
Your time
Total Cost: $10.08 (plate light not included, yet)
Tools Needed:
Dremel and/or cutoff tool
Angle grinder and or bench grinder
1/4" and 3/8" drill bits
Allen wrenches, torx driver, metric wrenches
Various files and sandpaper is helpful
Modifying The Stock Assembly:
I cut the frame along the red lines visible in the pictures. Make sure and cut below the spot welds on the top flat section of the frame. You want these to remain on the portion we will be using.
I used an angle grinder with a cutoff wheel and a dremel. Round all edges and finish with a file and then some sandpaper. I sanded the entire surface of the frame; since the cut edges needs to be painted, I decided to paint the entire thing. Be sure and clean it off very well with paint thinner or rubbing alcohol and a lint free cloth before painting!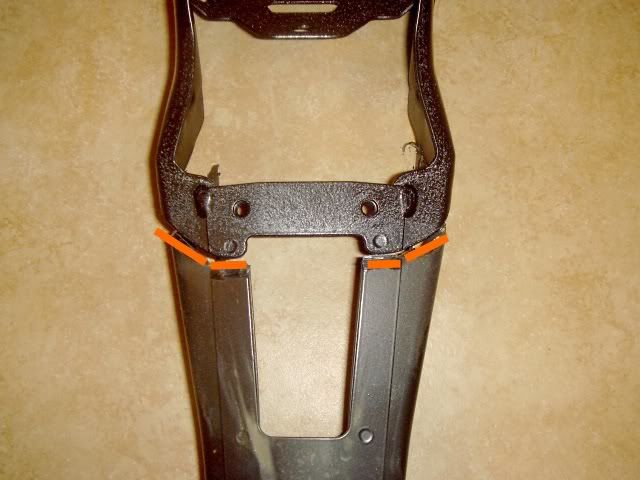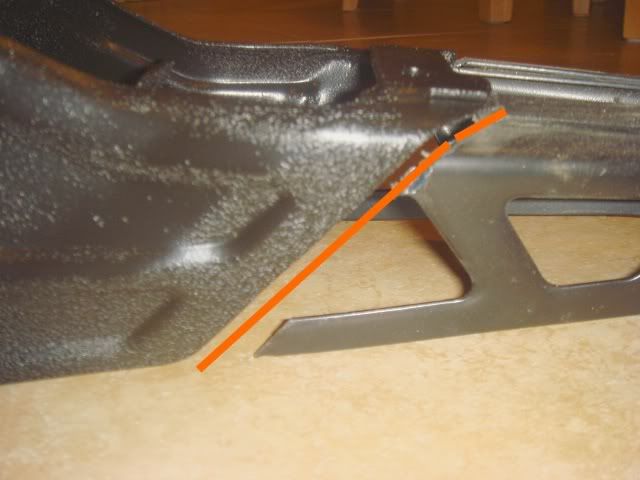 Here are pictures with this part of the mod finished and re-installed on the bike.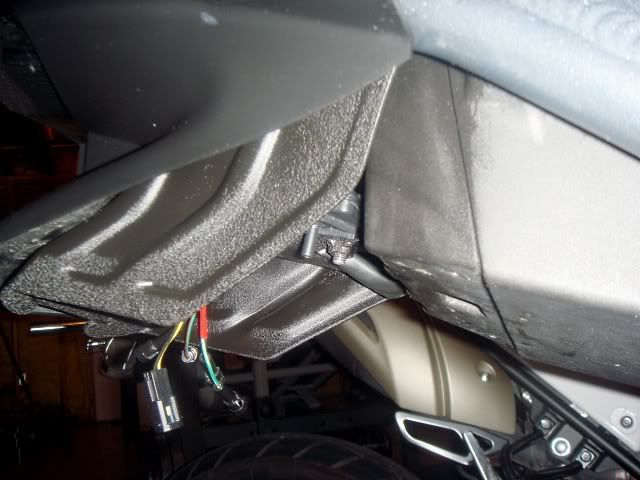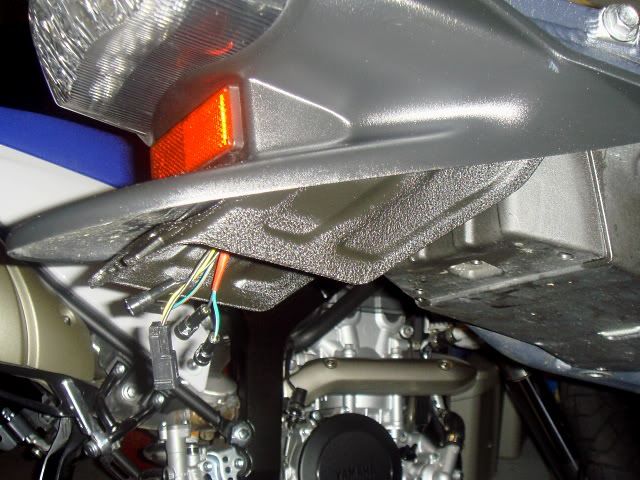 Creating The New Plate Bracket:
Using the diagram below (at 96 dpi), you can create this bracket. I imagine most will be using handheld power tools to do the job, so cutting the bracket out of a printed sheet of paper, and tracing it to your material should be fine. This is essentially how I did mine.