Discussion Starter
·
#1
·
thursday
Well I've never done a trip report before but I've enjoyed reading other peoples so I thought I'd contribute one for a change. I've got everything in place to report as I go so there will be occasional updates along the way.
I've been planning this trip for a couple weeks it was kind of a spur of the moment thing. the plan is to go from Seattle out to the washington coast and all the way down to San Louis Obispo Ca. and back home through the interior of California, Oregon and Washington. This trip is about a month earlier than I'd normally like to go but the schedule works ok this way. the weather won't be as nice as I'd like, it's expected to rain on the coast tomorrow but that's no reason to NOT go is it? well not for me.
I'm traveling two up on the trusty Sprint with my girlfriend Ely, she's a great travel partner, we went to Yellowstone last summer and had a great time. we intend to camp whenever possible so the bike is pretty loaded.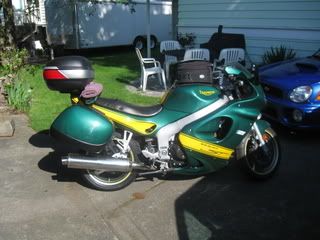 One last thing for today, work has been quite slow for the last several monthe and as I left the office yesterday to begin my vacation I was told that I was being laid off along with 4 others. I feel bad for all of us but I take solace in the fact that I get to escape for a couple of weeks and not think about it for a while. there isn't anything I can do about it anyway so off we go.
the original plan was to take two weeks for this trip. I was hoping to make it down to Death Valley but due to time constraints decided not to. now the time limits are gone so we'll just play it by ear and see how our butts feel when we get there. this is the longest I'll have been on the bike by several days compaired to previous trips so we'll see how it goes.