Discussion Starter
•
#1
•
So I've been looking for stuff for my Fiance's bike for Xmas and I came across a Solo-bag that they sell for Harley Sportsters and it occured to me that it would work really well on the Thruxton. Here is it on the Harley:
And here is my photoshop representation of the Thruxton version: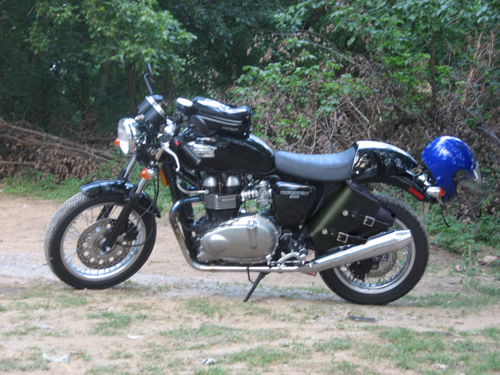 Now, they don't actually make this bag for the Thruxton, and since it is a photoshop, I used the TLAR sizing method (That Looks About Right) and I can't speak for 100% if this bag will fit.
What I am hoping to do is see what kind of interest there is, and if there is a lot, go back to the folks that make the bag for the sportster and see if I can talk them into making one for the Thruxton... afterall... sportys and thruxs are kind of sworn evil bedmates in a way.
The company that makes them is:
www.lickscycles.com
Haven't gotten touch yet, wanted to bounce it off you guys and see what folks had to say. It would get in the way of the passenger peg, but I never carry one anyways, and it might get in the way of the back of your heel if it was too low mounted.
Thanks for the feedback... and oh yeah, please don't post just to rant about Harley's... this is about using a good idea, regardless of where it came from.