76 T140V,79 T140E,2003 Speedmaster,2004 America
Discussion Starter
·
#1
·
I went to Oregon for Christmas. We paid a visit to the Spruce Goose were I saw this Ural with sidecar.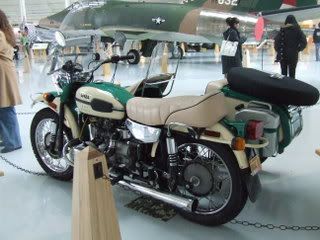 That bike and a lot of aircraft are parked under both wings of the Hercules. It's a great Museum and I recommend it to everybody. This video gives you an idea of how big this aircraft is.
In this pic you can just make out the bike under the wing of the Mitchell B-25 which is standing under the port stabilizer.
Sorry I don't think the link worked for the video so here's the direct link.
Click here to see the video.
[ This message was edited by: Bryan on 2007-01-12 17:22 ]