Modifications from stock:
<BR>
<BR>Exhaust: standard headers, Norman Hyde silencers (with mute tubes fitted)
<BR>
<BR>Inlet: K&N pod filters / airbox cut away, 42 pilots, Thruxton needles with two shims, slide holes drilled 3mm, 140 mains.
<BR>
<BR>dyno' results:
<BR>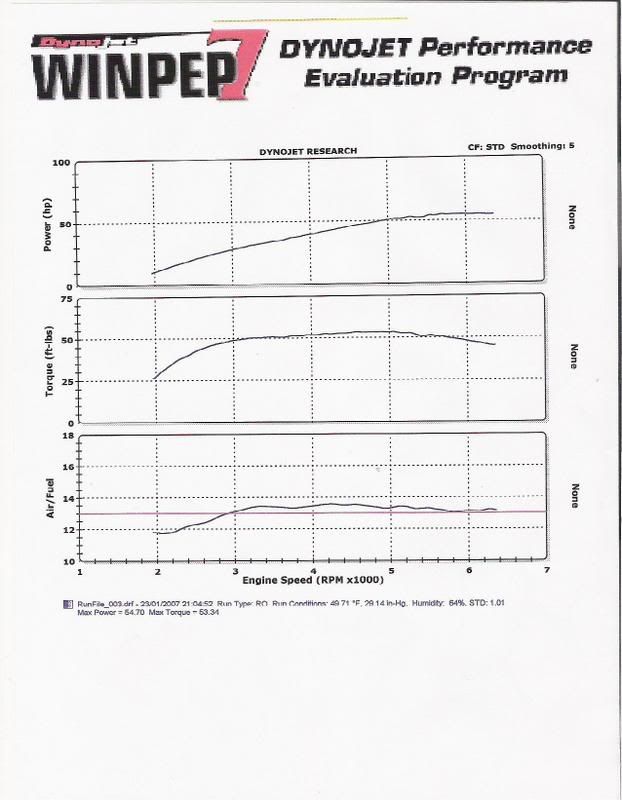 <BR>
<BR>
<BR>The dyno' operator said I was a bit rich at the top and bottom, bang on in the middle. The bottom end was tweaked in on the pilot screws, the top requires 135 mains instead of the 140. But that's only when it's revved over 6000rpm where I rarely go, so I'll leave that for just now. I'm pleased that my 'butt dyno' readings were near enough right to begin with.
<BR>
<BR>I didn't do any dyno' runs as I went along the well trodden path of snorkel removal, restrictor removal, de-baffling the silencers, re-jetting, etc. But I'd say there are two distinct jumps: from standard to modified standard inlet and exhaust, and from there to replacing inlet / exhaust with the pods and Hydes.
<BR>
[ This message was edited by: johnyC on 2007-01-23 18:48 ]