Discussion Starter
·
#1
·
Hi All,
As some of you might know I had a leaking rear shock on my 2005 Sprint ST. I have bought a second hand shock from ebay for AUD$230 delivered and decided to get it worked on before I put it on the bike. So I have sent it out to local motorcycle suspension specialist to get it re-valved and spring upgraded. It took 4 days and cost me AUD$501 including Eibach 850lb/in spring.
This morning it was time to put the new shock on the bike, and do a few other things while I had the tank off.
Here is how I have done this, and issues with their solutions that I came across.
First thing is to put on gloves
Otherwise you will be washing your hands until next service.
Step 1: Remove the seat and seat faring and place bike on centre stand
Step2: Put something under the rear wheel to keep it up. This helps with installation of the new shock, specially if you are working on your own. And no multiple personalities don't help here either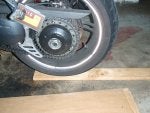 Step3: Remove petrol tank by undoing the bolt/nut at the seat side of the tank. Lift the tank and slid it out of the front mounting hole. Now be careful. There are two tubes on right hand side of the bike that are sort of short and can be pulled off with little effort, so lean the tank onto it's right side and make at least one of them to know where it is mean to reconnect to. Disconnect the electric wires and the petrol tubes (BTW can some on clear this up for me, there are no switch on the tank to stop petrol from pouring out?). I had close to no petrol left in the tank before starting work, so I'm not sure if there will be a big loss of petrol when removing tubes, but a little drips here and there are ok. Now that tank is off, and not leaking fuel, place it on a rug somewhere.
Step4: Remove battery and battery compartment. The rear brake fluid res is connected to the battery cover with a single bolt, but you need to raise the cover to get to it.
Now you should be at this stage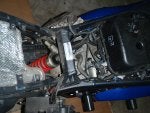 Step5: Undo the top shock mounting bolt
Step6: Undo the lower shock bolt and remove the shock. Now find where did the two spacers fell or god left as you will need them latter on. While there under just a little bit the other mounting bold that connects to the triangle link
this will allow to put the new shock and spacers in without problems. Otherwise you will be just like me spending time trying to push it in without any results.
Step7: Install the new shock, remembering the lower spacer. Do up all the mounting bolts, two at the bottom and one at the top.
Cont in next post....