Discussion Starter
·
#1
·
I originally posted this in the "what I did today thread" but it was suggested that I post this in its own thread so its easier for people to find if interested in doing the same mod.
Of course this is barely a Triumph post now as the only things on my front end from Triumph are the triple tress and most of the fender
... but anyway for those who are interested.... This conversion is applicable to those of you who have either gone the Kawa route, or have converted over to use a non-classic T3 front end.
---------------------------------
I took off the Tokico six pots and fitted up some radial monoblocks from an 07 R6, also swapped to 320mm rotors from a ZZR1200 at the same time.
Before (from an old 2005 construction shot)
Parts added: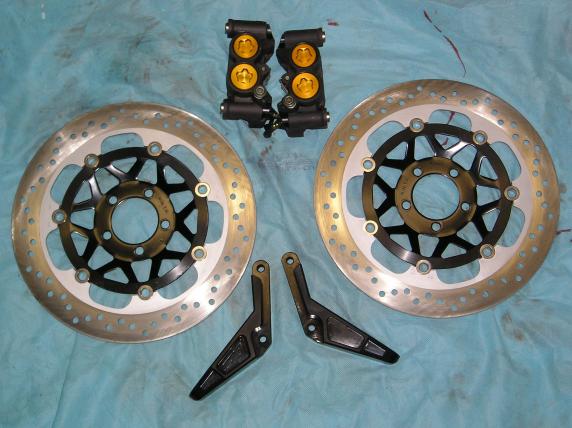 Billet adapter brackets from a chappie on ebay (in Taiwan) who seems to have a good reputation for this stuff on the ZRX forums. Rotors I already had from the purchase of my ZZR wheels back in 2005. Calipers came from ebay with a claimed 24 miles on them!
After: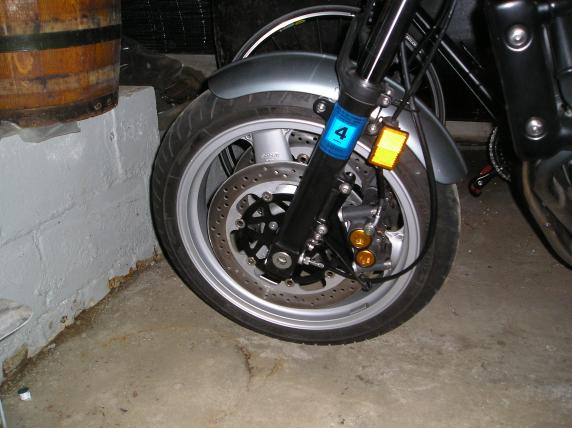 I have yet to try it on the road, (hope to do that tomorrow or tonight) but first impressions are that the lever is very firm and the brakes seem to come on very quickly with very little pressure. Have also saved a good few pounds on the calipers.
Will try and post a better after picture soon...