2015 Scrambler - Not another desert sled project 🏜🏍
How stupid and unpractical, why would you want a motorcycle for sand dunes and off road when you live in a rainy British capital 20 miles away from any wildlife let alone a dry desert? You think you're some sort of Steve McQueen or something? Plus the Bonneville is heavy, unresponsive and underpowered, why not just get a proper off road bike.
Not sure why, maybe the pure idiocy of the idea seemed appealing at the time, but three weeks ago I set a date to take the only bike I have to the Sahara, and well I have until the end of the month to turn a stock 2015 Triumph Scrambler into a "sled".
The bike in question on the date I picked it up from the dealer a year and a half ago.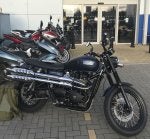 One previous owner, like new, only done 2.5K miles and totally unmodified, apart from those Oxford heated grips (nice in the winter on the motorway) but ugly as sin. So over the last year and a half I've been making a list in my head of things to change, but never had the time or money to do it (sound familiar?). Now that I had a deadline in place, there was no chance to back out. I live in London and space is limited, I have a garage, but it's about 6 miles way from my house. I should also say that at the time of starting this I didn't have any tools, practically zero mechanical experience and workshop space or contacts. I have a day job, so can only tinker on the weekends, and in the evenings with a torch (if it's not raining, and it rains quite a lot).
I think the most important thing to any project is making a tight list of parts you need. It's very easy to buy a shiny thing on an impulse when you see it online or in a shop, but if it's not on the list you probably don't "need" it. Also writing things down into a notepad or your phone means you can really plan and think through your build before committing to it financially, easily modifying or removing items. Even with that you end up with unwanted parts, and nobody likes returning or reselling those on eBay at a loss.
As I mentioned, I didn't have any tools. Some spanners but that's it, so it had to all be purchased at a $$$. My advice would be, buy the most expensive tools you can afford. Buy cheap and you'll buy twice, three times. Can you justify the triple price on that spanner? Yes you can. If you're going to use it again and again and again for the next 10 - 20 years you don't want shoddy tools. So I did go overboard perhaps, but decided for myself that Facom do the largest range of tools any person would ever need and their quality and engineering in the tools is superb. I bought a 1/2 socket set and drive, 1/4 socket set, various pliers, vernier calipers, grease and a couple other things.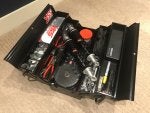 32mm socket! Yeah baby, look at it! Anyway, that's it. This is my base of tools I worked out I would need for most jobs, and any tool I didn't have for a new job would be purchased and added to the toolbox. This way in the end I would have a full set of tools one would need to disassemble and entire bike.
more coming...