Hey all! I'm kinda new here...joined the forums a while ago, as I've always wanted a Triumph. Took an '08 Sprint ST for a test ride at a Triumph demo day here in Montreal last summer, and I was HOOKED!
Loved the Sprint from the start....seating is excellent, guages are great, even the mirrors are perfect! But what got me is that wonderful 1050 engine!
I had a 2006 ZZR-600, which was a fine bike...but I recently learned it had been added to the "blacklist" of sportbikes here in Quebec....long story short, registration alone would cost $1030, then $1400 in 2010! In comparison, "standard bikes" would be $500...still expensive, but I REFUSE to pay that much to register a bike for 6 months.
So about a month ago I put her up on some local classifieds sites, even tried to get a trade in at some local dealers. Most people dont wanna touch this bike, as the sportbike market is FLOODED, and if people are gonna pay $1030, they want a REAL SS bike, like a Gixxer or CBR.
Low and behold, I came across a clean '05 Sprint ST at a dealer in Ottawa. Caspian blue, 15,000km with all 3 OEM bags. I got a good price for my trade in, got a good price on the Sprint, so I went for it!
Just got it delivered a few days go! Woohoo! Cant really ride it for another few months...but I'll be waxing it in the garage once a week until I can ride! hehe
Here she is!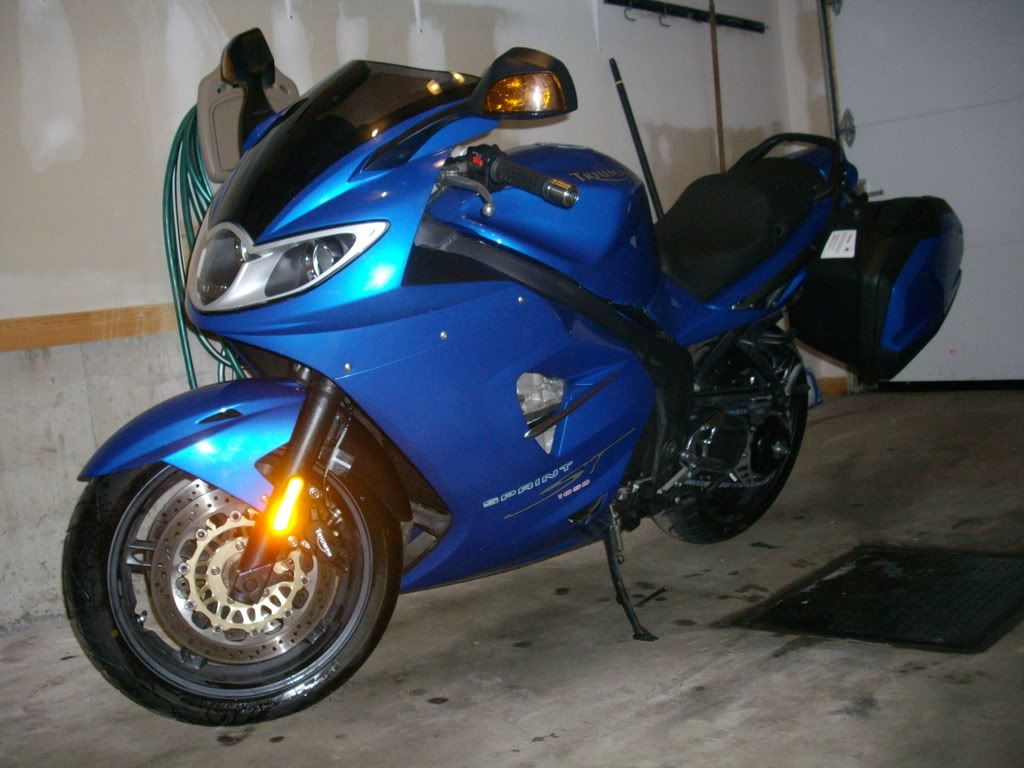 Oh...I removed the topcase and rack, as I'll be using my GIVI E470 topcase instead of the Triumph top case.
*EDITED OUT*