Well, I finally found a reasonably priced belly pan for my Sprint RS. It really was the only mod that I ever wanted (my RS came with the Carbon Can TOR exhaust). I must say a huge thanks to 06STER for the original post of the half price sale at Peter Stevens in Melbourne as that is where I managed to get one from and in Acidic Yellow too!
Thanks too for the effort Rexxypup went to trying to get one from the motherland.
The fit was simple, the instructions were average and the end product was fantastic. I'm sooooooo chuffed. The mounting parts and bits for reference for others that might want to do the fit. These bits are only for my RS vin no. 139277 and onwards (gen 2 motor)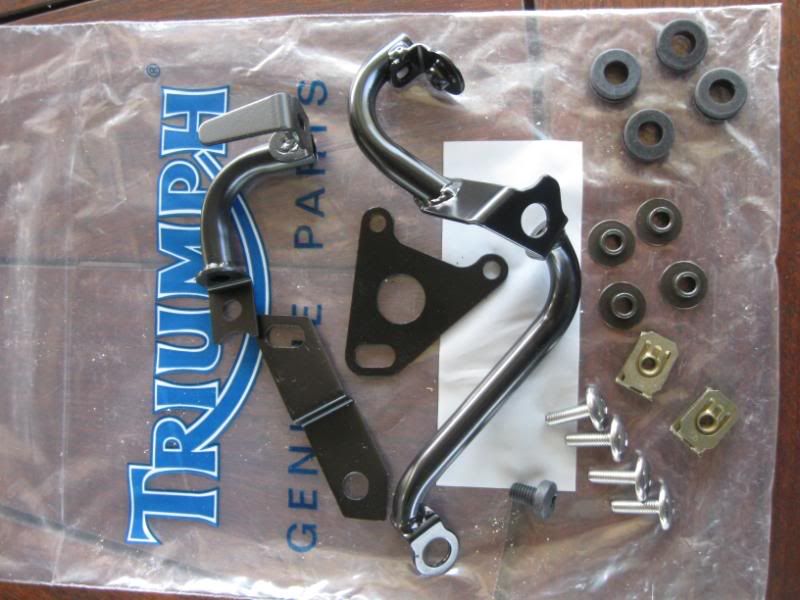 These are instructions with the mounting tabs and hardware for the earlier gen 1 RS's and the Speed Triples as they have the same belly pan but different mounting hardware.
The bellypan on the table with the rubber grommets fitted and sleeved tab washers already in place.
and the finished product. I am still sooooo chuffed.
It really finishes the bike off IMO. The cut out at the side where the alternator sits is the significant difference between the gen1 and the gen 2 bellypans.
You could cut this out if you bought a gen 1 belly pan and had the gen 2 motor which was always one of my options should I have found a cheap earlier model pan but I don't need to now !!