Hey guys I'm a proud parent of a '99 Legend as of this weekend. I'm really excited; I've had a tug in my heart for the 900 triples since my 18th birthday in 1998 and I finally have one of my own.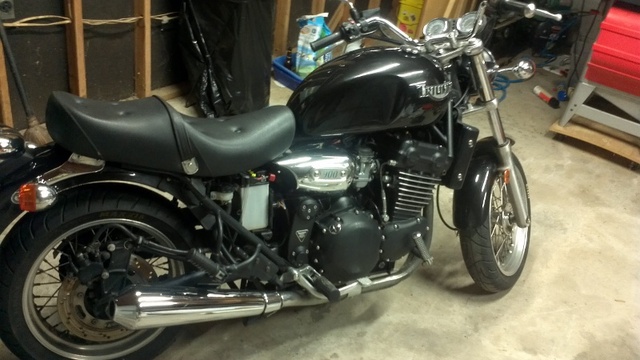 The Good:
Condition is 9/10. I can't find a single scratch, dent, ding or scrape on her. It must have been garaged its whole life; the paint looks brand new. There are just a few rusty bolts that I need to restore/replace, but that's about it for 19K mile bike.
It starts and runs perfectly. A touch of choke and it fires right up and idles great. The carbs were professionally rebuilt this year by a good shop in Austin and it has the Nology coils already installed. I took it on a short test ride through the hills and it pulled strong with no noticeable flat spots or hesitation.
It came with a bunch of extras - center stand, Triumph OEM windscreen and leather saddlebags, Epco (I think) slip-ons which are pretty loud, maybe too loud actually. Will require further experimentation there
The price: I paid $2,900.

The Bad:
It's missing some trim pieces. The two side covers by the seat are both MIA, and there's a big ugly gap by the tank. I'm guessing there's another piece that fits under here?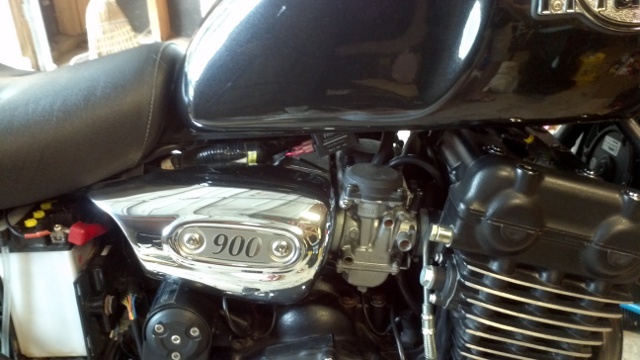 It's also missing 1 bar end and part of the battery box. Other than that I think it's all there.
Looking at the pics, is there anything else I'm missing?