Hi,
I figured it's worth creating a space for discussion of the above, by all means not something new and it has been done before, but I think there is a lot of potential in using your iPhone/Android phone as a digital speedo especially as needs and technology progresses.
The idea is simple, most modern bikes rolling off the production line (including Triumphs) come with a simple controller network (CAN bus) that passes data such as RPM, oil temp, throttle position, warnings and much much more, accessed via an OBD2 connector for maintenance and ECU tuning. Using a WiFi or bluetooth adapter this information can be surfaced on any mobile device with a visual interface, replacing the need for a stock speedometer.
There is a mass of various OBD compatible applications out there to download. This is generally the choice you get.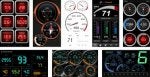 A tendency to simply dump masses of data visualisation on a page, without much consideration to what information has priority for the actual rider. If everything is important - nothing is.
Some forum users that have done this:
J M L
DennisD
About two years ago I mocked up a design of what a connected motorcycle experience may look like and am revisiting this concept again as it seems even more relevant today with the likes of custom builds and motogadget speedos. My full time job is designing digital products such as apps and web applications so this isn't just a hobby, but a side project. At this point I'm trying to gather some research and understanding if this is even something that motorcyclists would use.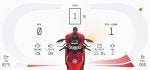 If you would use such an application what features would be essential or nice to haves? And if you are already using something similar share your experience and examples.