Discussion Starter
•
#1
•
And
Hands-Free
this time!
(
If looking for information about the latest V3 version, see
this thread
)
My
Rev 1 RFID system
worked quite well with only the
minor
inconvenience of having to swipe the TAG at close proximity.
With the 'watch-band' style TAG and the location of the Detector, this truly was not a big deal.
But the quest was go a little better and be completely hands-free - at least able to have the TAG in pocket and create activation, without having to be in direct proximity (couple of inches at best with the V1)
I found pretty good module as the initial basis to work with - this unit is a K9 Sombra, actually a Car Alarm system that comes with built-in RFID activation from decent range (more on that later - range was actually TOO good, about 30-40'!!!)
This is actually a product that is not being currently manufactured and there is a decent availability of these at 'close-out' type pricing.
First off, you can also use the alarm features - can add a dual stage proximity sensor (warn away & alarm) from same manufacturer; and also use the basic interlock features to disable the bike.
There is even a user-selectable anti-hijack feature that will kill the bike if ridden out of range without the RFID being detected.
One thing that makes this one particularly conducive is actually has a dis-armed output - specifically when the system is disarmed, you get an associate signal. Others I looked at had output for armed - so not ideal for what we want to do which is allow activation when dis-armed. That point is subtle, but critical. There is a jumper on the Sombra that allows you to select the 'dis-armed' output.
A word of caution though - the manual really sucks so the I/Os are not really explained very well.
The Jumper must be set to NO to get a 'dis-armed' output from the external relay drive connector - that output is two-pin connector, the pin closest to the door-lock connector
Ignition input MUST be connected in order for the 'dis-armed' (RFID tag present) output to remain latched internally within Sombra - otherwise if Remote RFID goes to 'sleep' mode that output will switch off at that time. Once ignition is sensed, the tag can be out of range or off (outside of anti-hijack timer) and dis-armed output will remain.
On-board interlock relay only works with ignition 'on' - whether armed or disarmed, will not change state even for 'trigger' condition
Anti-hijack will only be 'in play' for first 3 mins after ignition first on - after 3 mins will ignore RFID for hijack situation
For programming, most of options are associated with door lock conditions and can be turned 'off'
Anti-hijack is about only usable option you would choose for personal preference whether to enable or not. Turn everything else off, leave de-bounce at the factory setting.
You could actually take the module as-is and adapt it to the desired operation with some external add-ons (see post later in thread)
I decided to put the additional control inside the box and use transistors for the specific control (but can also be done using relays externally)
I removed the On-Board door actuator relays - clearly don't need those with no doors! They just sink more current when arming/disarming (noisy too!) and also give up a nice 6-way connector plug by removal, that can then be utilized for the control outputs! The space then also lends itself nicely to fit in my custom control board.
I also removed the wires from the connector for the door triggers - again, this is bike, no doors so don't need those inputs.
Here is the schematic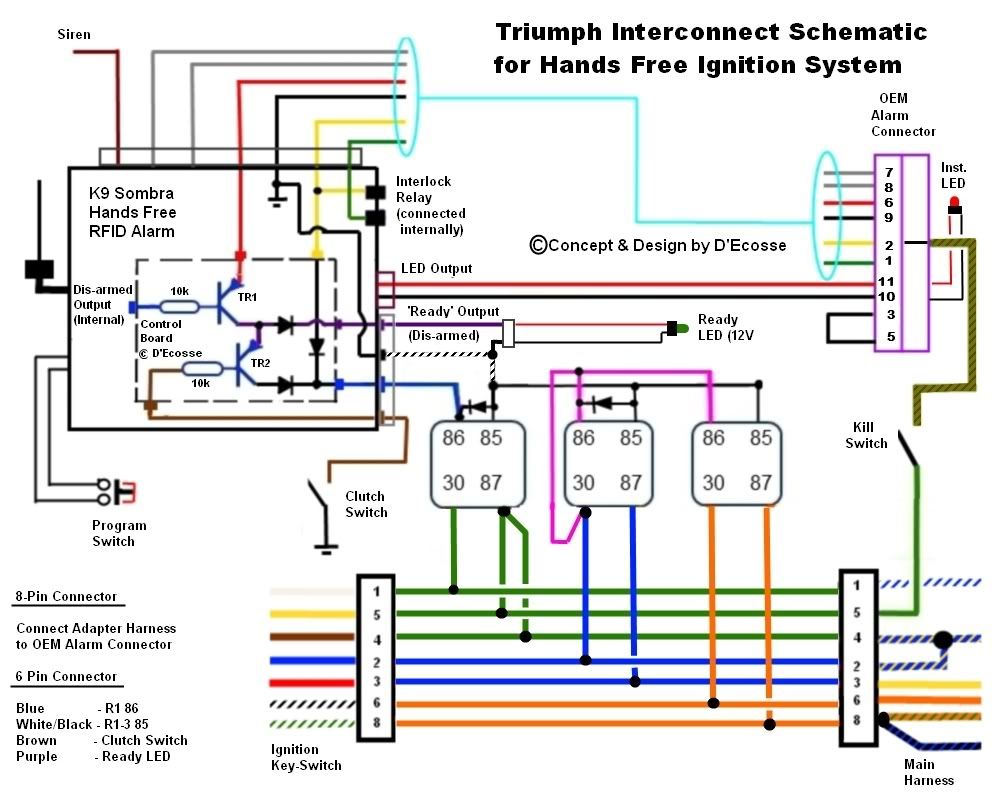 I used the same relay latch circuit from the V1 - the only difference is the means of providing the initial Trigger.
How it works:
When 'armed' there is no 'dis-armed' output (
duuhhhh
!!) and TR1 is 'Off'; therefor there is no voltage supply to TR2 and the clutch switch does nothing. In this mode, there is a flashing LED that signal would be perpetrators will see there is an alarm installed on the bike. In the schematic above, it is actually using the OEM built-in Alarm Led - all of the Power, Ignition, Ground and even Turn Signal outputs are all connected through the OEM Alarm Connector Plug.
In the 'armed' state the on-board interlock relay will inhibit the bike from starting (just like the OEM supplied Alarm system); so if theft attempt at ripping out alarm is attempted, bike will still be dead.
Whenever the Receiver detects the RFID output from the KeyFob Remote, the system dis-arms. When it is detected, you get the Turn Signals flashing alerting you that it has dis-armed - flashes twice for dis-arming (single flash for arming as you move out of range)
When the 'dis-armed' output is then generated, that turns 'on' TR1 and provides 12V to the emitter of TR2.
At this stage, the ignition does not come on - only makes the bike 'Ready' for ignition. I have added an additional LED for this purpose.
That second LED optional - on my model I have no OEM LED in the instrument, so have to mount an LED anyway - so in that case I am using a single dual colour Red/Green LED - that single LED has separate Red & Green Drives so will flash Red when Armed and steady Green when dis-armed - or 'Ready'
Once the ignition has been latched 'on' the state is maintained and it makes no difference if the RFID signal is lost (indeed the Remote 'goes to sleep' after about 10 mins if no movement detected, so it was important that would not kill the bike.) That 10 min timer always works that if you remain in proximity of the detector without moving then it will re-arm as it 'sleeps'
In the 'Ready' state, the bike system interlock is also now enabled.
Regarding the afore-mentioned range: it was actually way too sensitive! I could get as far as 30-40' feet to arm/disarm.
I experimented with different lengths for the actual antenna stalk
I ended up de-soldering the antenna completely from its receiver/amplifier - even 1" of antenna gave about 15 - 20' range
No stalk makes it almost perfect - reliably detects consistently when within about 3' - worst case 'armed' is about 15' - typical seems to be within ~5'
Here's a few pics of the system with the initial internal modification and the final install on the bike.
This is the modified module and interconnect harness to the OEM Alarm connector:
This is the Relay Module which was simply re-utilized from the V1 set-up: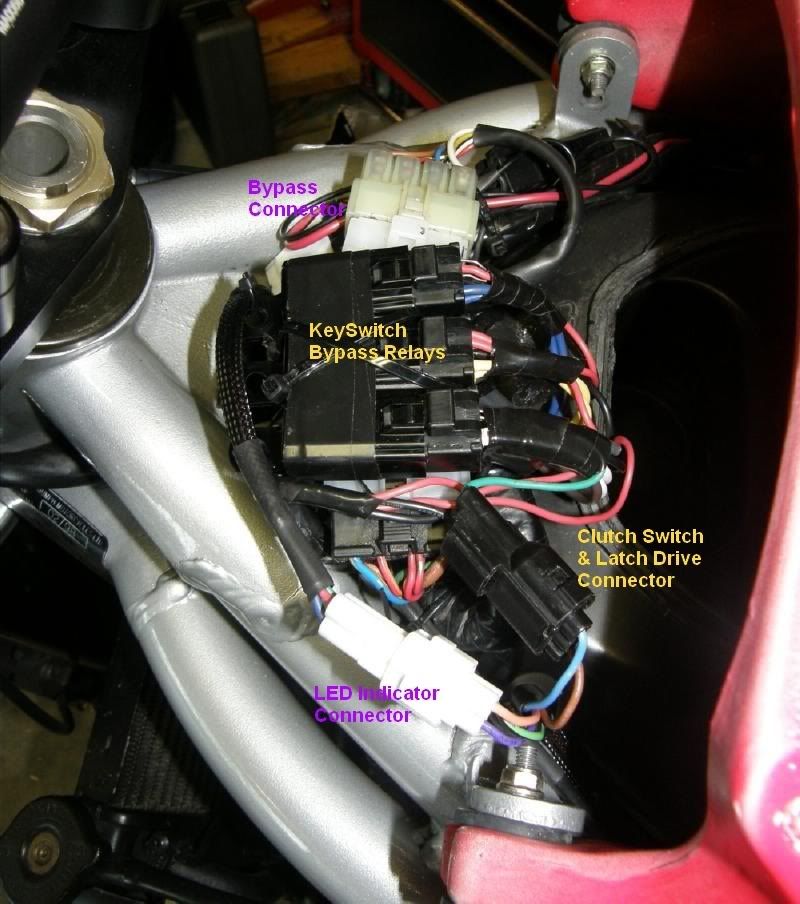 Outside of the OEM alarm connector, there is only one single wire on the bike's OEM harness that requires to be tapped - that is for the clutch switch.
Here is the unit as wired up to the bike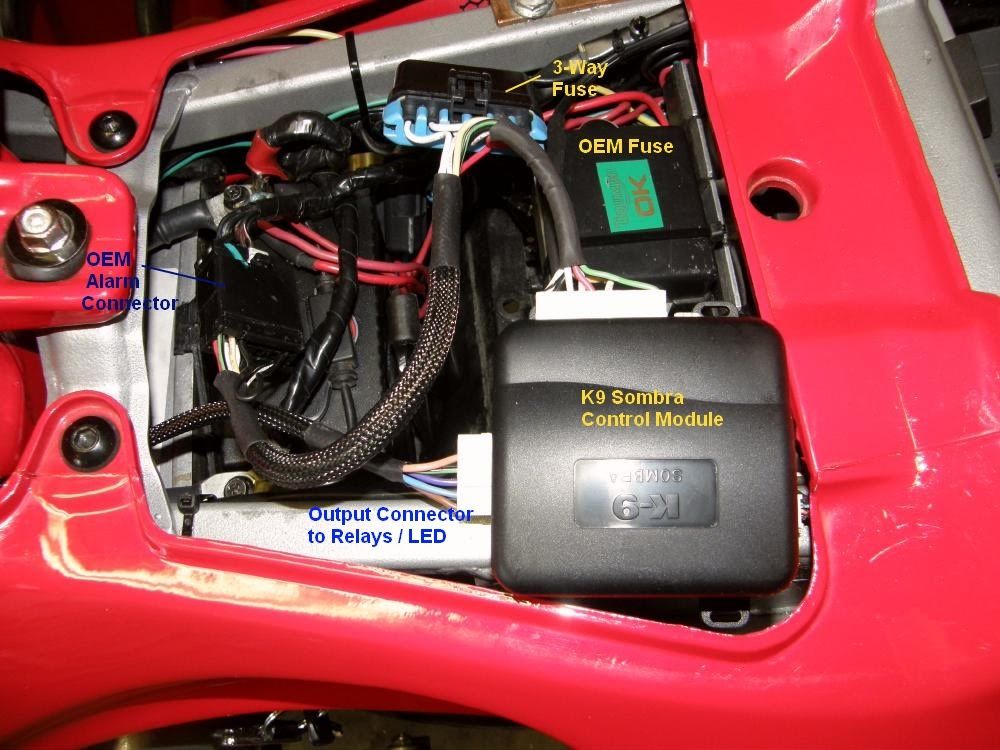 Note that I installed a nice MetriPack 3-way Fuse holder (input power and Turn Signal Outputs) in place of the cheapo Fuses supplied with the Sombra originally.
There is no real need to install the Programming switch permanently and the siren is optional
I chose to leave the siren off at this time (besides the supplied one is HUGE)
If I take an over-nght trip, I may install a mini Piezo siren.
And finally everything tucked in nicely behind the battery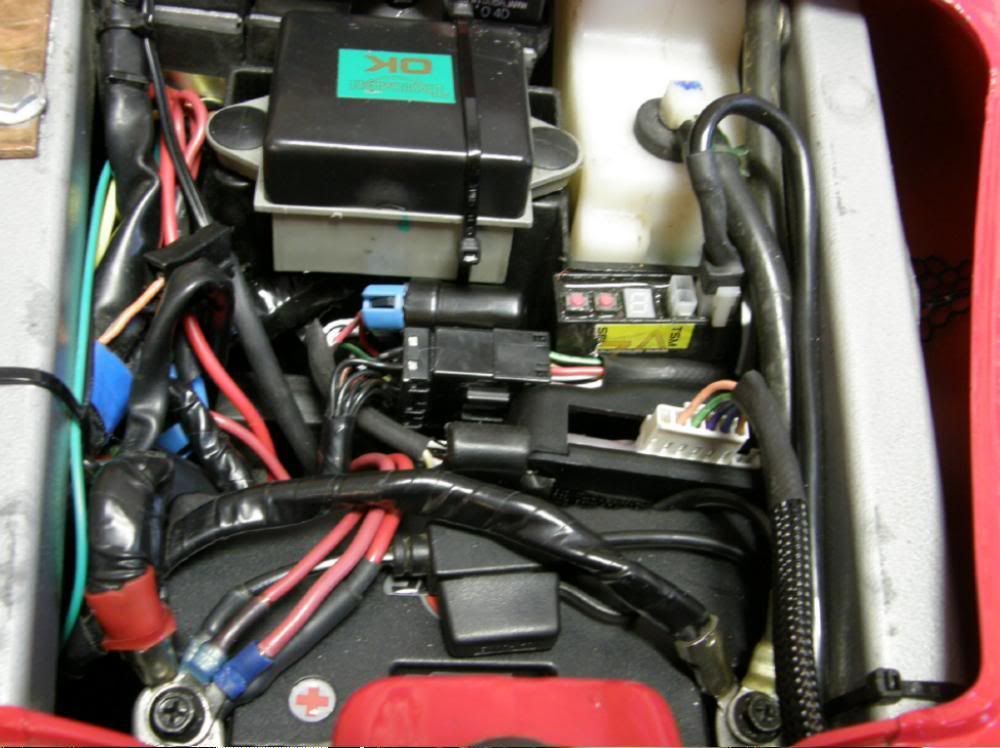 And the Receiver module, with its antenna stalk removed.
I'll try to generate a video in the next day or two - I'm actually waiting for my dual colour LED to show up so will get that installed for the demo.
But it's now all operational and seems to be working reliably.
Incidentally the drain current from the Alarm module is only about 10mA when in armed state. (a bit more when the LED flashes but that is not constant)
So should be able to sit for weeks while armed and not significantly affect battery state.