Discussion Starter
•
#1
•
Sorta, in that yes, I got a Harley
but no, I won't be wearing a doo rag or assless chaps.
Picked up a new 2011 Softail Deluxe a couple months ago. Went for a test ride with my neighbor and came back and they talked numbers I couldn't refuse. Less than employee cost! They figure it's really good PR having me on one since I ride a lot with a lot of different types of riders and I'm very sociable in both meatspace and cyberspace. lol
Years of good history with me and our Harley shop tho this is my first Harley. They have the only dyno in town and they did my Duc for free on my BD a few years back. And my bikes have won a couple Sportbike nights they sponsored. They're also THE most community active shop in town. They also provide a free campsite w/shower for travelers. Great folks.
Here I am on the test ride. I negotiated having them remove the footboards and installing pegs for more clearance and leg/foot comfort. They said they've put a lot of footboards ON but this was the first time they've taken them off! lol I'm not planning on doing too much else to it. It's very very comfortable now and I tell everyone it's the funnest way to go the speed limit.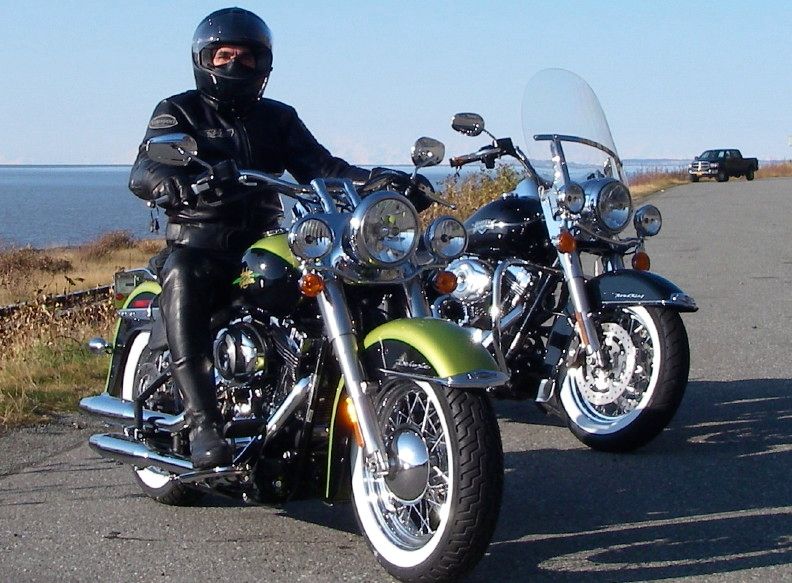 And here's a video that my brother shot of me picking the bike up during the shop's Biketoberfest party. I can't EVEN believe they let me ride it thru the crowd! Later, Mark H.
http://youtu.be/st_7Z3Yc9OY