Back in the spring in the Smokies I was talking to a bunch of guys around a campfire about heated gear. Turns out quite a few people make their own. After reading a bit and talking to a few people I've started making a heated jacket liner. If this works out I'll move on to gloves and maybe pant liners. I ride year round and really only need heated gloves for my commute but if I can make myself warm it'll open a wider range of riding. I'm not hard core, didn't even respond to that thread (seems a bit self fulfilling to me). This thread is for those that have made their own gear or want to. I'm electronically ignorant so I'll be counting on the electrical engineers at work to help with the stuff I can't figure out. I have read enough to know about what length of wire to use for each circuit of gear. I'm going with 28' of #30 teflon coated wire for my jacket liner. That should draw 60W at maximum output.
First you have to lay out your wire for the liner or vest. I used the 28' of wire and painters tape to get it where I wanted it, then stitched the another length of wire in using the original wire as a guide. I'll use that other length for gloves or pants.
layout...
Stitched in place my liner looks like this (inside out)...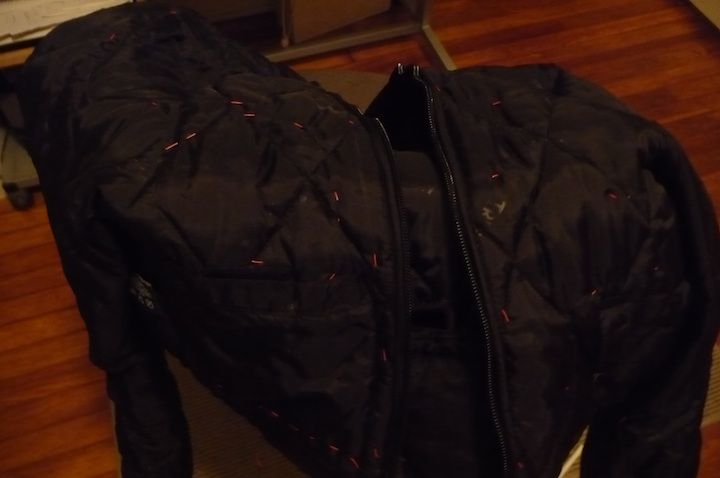 I've kept most of the wire just under the thin liner layer closest to my body. The stitches that are exposed are as small as I could make them so I don't snag them when putting my jacket on. The liner is inside out in that photo.
Tools required so far...
Note: beer and smokes are at the top of the list. So far I've got about 3 hours into the layout and stitching.
I'll be having the engineer at work put together a controller. The board is available online for around $20 and the case another $10, way cheaper than prebuilt units from Gerbings, etc. I'll post links as I purchase this stuff.