Discussion Starter
•
#1
•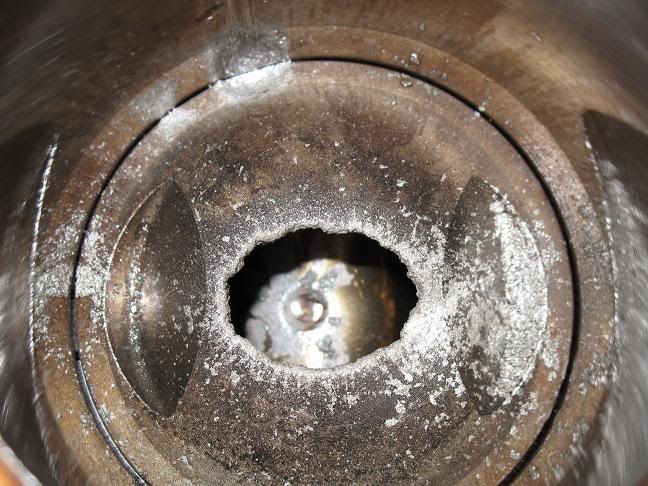 Yep.... I've learned a valuable lesson.... Don't ride my 79' T140E from Phoenix to Tuscon at high noon on one of the hottest days this summer, and pretty much wide open... yep....
Gnarly huh? But I'm looking at it from the perspective that I have time on my hands and am having a great time working on it....
Here's where I'm at....please fell free to advise me on anything i'm doing wrong....
I've got the pistons removed. There is some aluminum on the top of the connecting rod (see picture) that looks a lot like the metal build up that occurs on an abrasive saw. I've checked and I can "chip" it off with my fingernail. I'm going to try and remove it all by hand, but am thinking I might be able to clean it off with a very soft dremel attachment.
I am really hoping to flush metal out of the crankcase instead of opening everything up.....is that even do-able or must I take the dive? I've drained the oil, and removed the oil filter (just planning to put a new one in when it goes back together)....Plan to remove the filter on the bottom of the crankcase and replace it...am having troubles getting it off....can't even get it off with an impact. Will try to remove tomorrow with a breaker bar and hope I don't tip the bike over....
As for the head, I've begun to clean it up with the previously mentioned dremel attachment, being very careful to stay away from any sealing points. really just cleaning out the carbon I'm finding in the cylinder dome. I've figured out how to remove the valves, and am in the process of cleaning the carbon off of them as well with the dremel. I bought a lapping stick and some lapping compound and will lap the valves before I reinstall. Any necessary reason to replace the valves or guides if they have been seemingly mechanically sound?
Now for the cylinders.... In reviewing all the service records for the bike, it has already been bored out .020 over. The cylinder walls have no gouges or grooves or scratches perceptable to my touch. I'm a little wary of boring it out any more if the walls are happy. Should I just bring it to a machine shop and have them hone the cylinders and put a micrometer to it and see if it's still +.020?
My haynes manual should show up on Monday, but I feel I've done everything properly so far.....
Thinking ahead, one point that is unclear to me is how I can torque the nuts for the cylinder base. I had to grind down a 1/2" box wrench just to get it on the 12 point nuts. I'm hoping to read in the Haynes manual that you only have to torque the head to the jugs. Do you recommend the brass head gasket? For all the other gaskets, is there a preferable gasket sealant? Any spray ons?
Would also appreciate techniques for polishing the aluminum on the crankcase. How about polishing the head?
Hope I haven't inundated you with too many questions, but I truly appreciate all your help.
Rick
PS Here's what she looks like (except I have a corbin seat on it now)