Regarding 1997 model Triumph Tiger 900 / T400 Steamer, 885ccm with Mikuni carburetors:
Can anyone here tell me for sure the direction ( up / down and front / rear ) of the inlet rubbers depicted here?:
The inlet rubbers have a vertical v-shape in the middle section. Is the broader part supposed to be on the top or the bottom?
The inlet rubbers also have different shapes on the inside of the tubes. What way are the half circular shape on the inside supposed to be directed (towards the carburetors or the cylinders)? The inside on the other side of the tubes seems to me to be more triangular.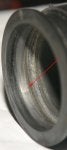 Will be thankful for all constructive inputs :smile2: