Discussion Starter
·
#1
·
BMC Air Filters for motorcycles provide increased protection while decreasing resistance to airflow as it travels from the atmosphere, through the airbox, and into the combustion chamber. The result is not only an engine that is better protected from road and atmospheric debris, but also has increased output performance. After all, greater air pressure entering the combustion chamber means more fuel can be added at the same time and more power can be created. In other words, if you're looking for the best possible engine performance and minimum wear due to atmospheric debris, BMC filters can help your realize your goals!
BMC air filters are not yet available on our site. For more information, call Mike at 866.931.6644 x 804 or send a message to FORUM at RIDERSDISCOUNT dot COM with TRIUMPH BMC FILTER in the subject line and be sure to include the year and model of your motorcycle for accurate availability and fast shipping.
To obtain performance without compromise, BMC filters use a special cotton gauze that is soaked with low-viscosity oil to trap particulate matter while allowing oxygen to pass through uninhibited.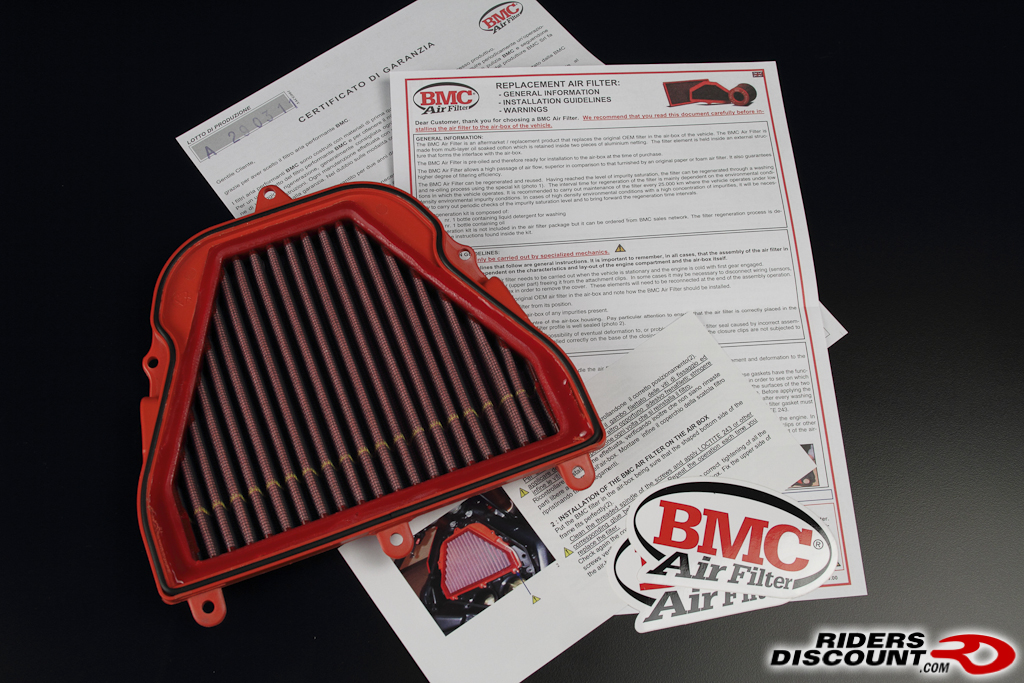 BMC air filters for most bikes are available in two different styles: street (left) and the race version with its distinctive yellow marking. The street version has more layers of filtering material to protect engine internals against debris that one could expect to encounter on public roads. The race filter, on the other hand, maximizes engine performance by using as few layers as safely possible to allow an ideal combination between performance and filtering on a racetrack where airborne debris is less likely to be encountered. Race filters increase air flow efficiency by 25% when compared to standard BMC filters.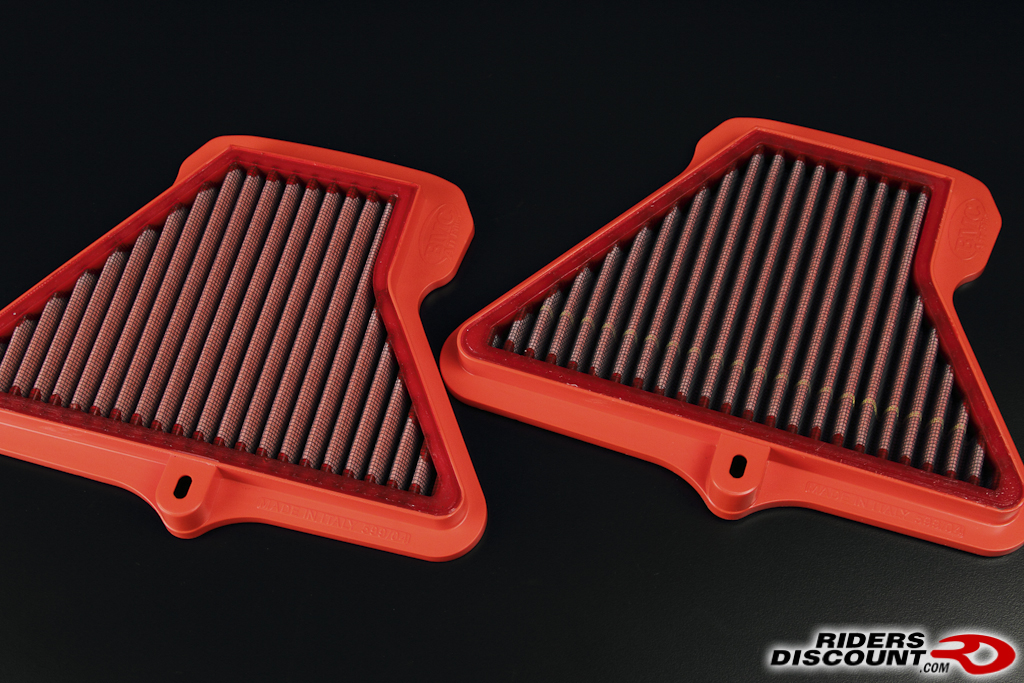 By using a special soft rubber chassis, BMC air filters seal against the OEM airbox better than stock so as to allow a greater degree of engine protection. The gauze element itself is surrounded on both sides by an alloy mesh that is coated with a thin layer of epoxy. This epoxy resin protects the filter element from damage; either by debris, backfire and/or other forces it can expect to encounter within the airbox.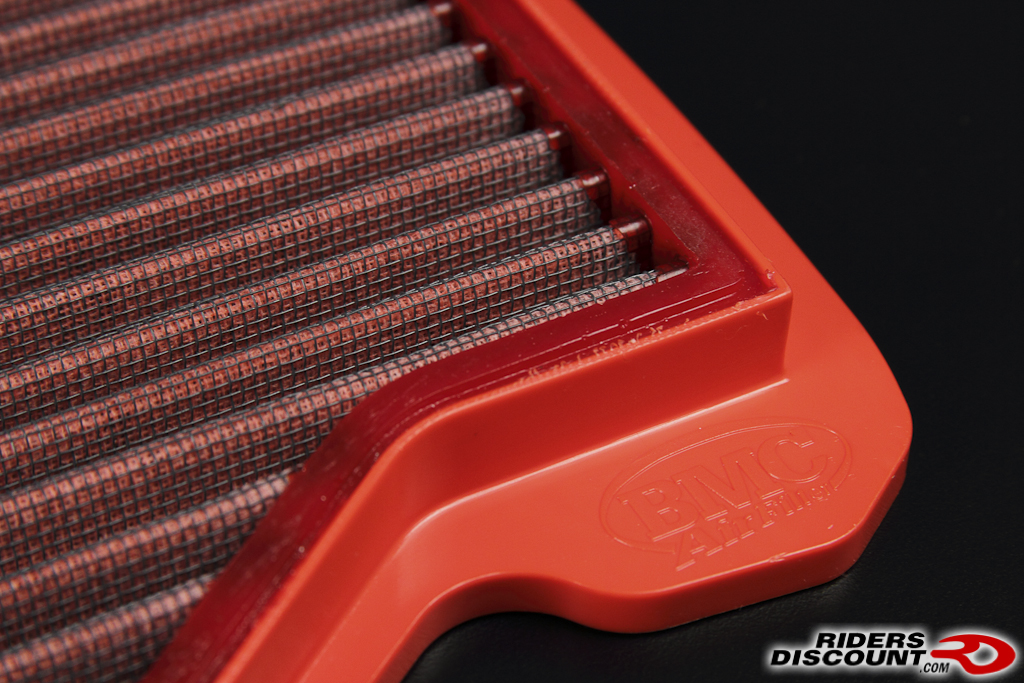 Every BMC air filter is made in Italy and packaged pre-oiled so they're ready to use right out of the box.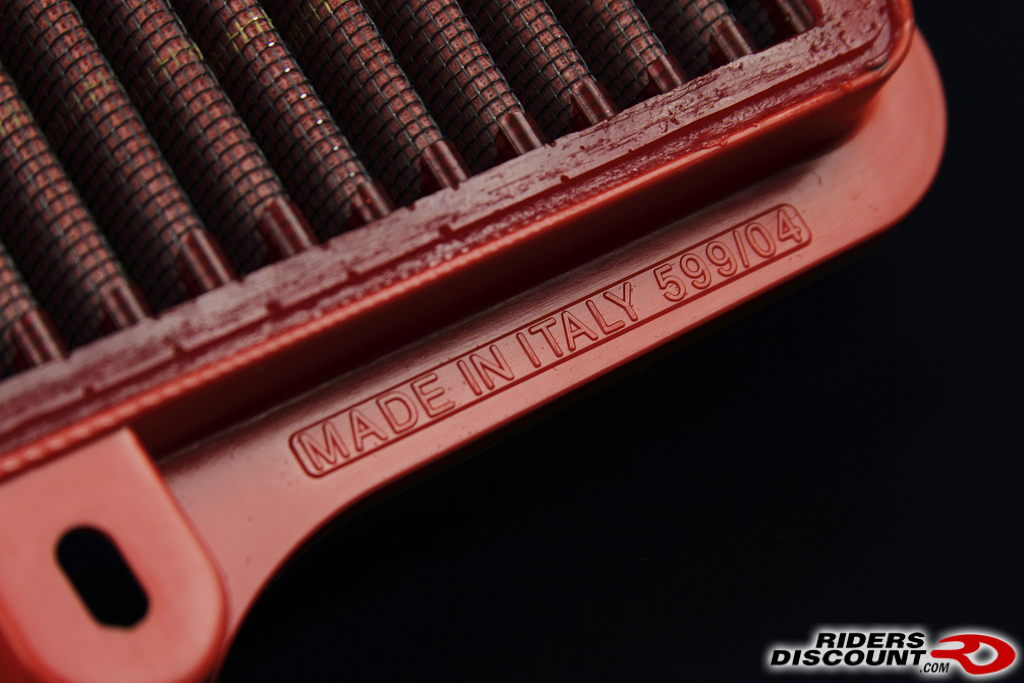 All BMC filters can easily be regenerated after any length of time so as to maintain maximum efficiency and protection for your motor. You won't need to throw yours away because it's dirty – simply wash as directed and reinstall in your motorcycle!