Discussion Starter
•
#1
•
This is why year-round insurance is worthwhile.
I put eighty pounds (yes,
eighty
) of ice melt on the driveway yesterday. That, along with judicious application of a snow shovel and (once or twice) a sledge hammer, produced a clear parking spot for Mrs. HiDesert, and a three-foot wide path through the glacier to the portion of the driveway that sunlight actually reaches. The polar bears were a little miffed, but I paid them off with a few baby harp seals.
Today my efforts paid off. I had some unexpected free time, the sky was clear, temperatures were reasonable, and my buddy was ready to go as well. We did 100 miles, getting home just after sunset. It wasn't too cold for most of the trip; probably about 25 to 30 degrees F. We took a route I took last February (past this store: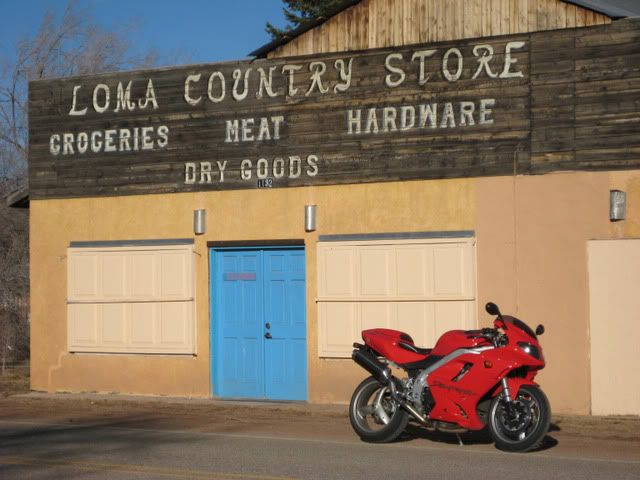 and this one:
) that Mr. 675 had never taken. I hadn't either, since then. I guess it's the official winter loop.
There were a few wet patches where snow was melting onto the road, and even a short muddy stretch on pavement, but overall the roads were dry. It was soooo good to be on two wheels again. One has to be extra careful, of course, when it's been a month or two since the last ride, but all went smoothly.
It was a 100 mile loop, finishing up with a great run up the curving hillclimb into our county. The quality of that run was put somewhat in jeopardy when a Nissan Shoebox pulled into the fast lane just as the curves started, but we were able to slip by (it's a three-lane road just there) and recover the joy of the bends. Probably aggravated the cages in question, but when you're managing to get in a January ride in the mountains, you do what you must.
We pulled in to top off the tanks when we got back to town, and I learned that my companion had worn middle weight gloves. I turned around, and he had both hands wrapped around my muffler. There's an advantage of conventional, old-fashioned sportbike mufflers over undertail or stubby exhaust.
Let's hear it for the odd warm afternoon. My blood motorcycling level has been restored to acceptable levels for the time being.