I bought my bike from a friends mother. Her Dad was British man who was a mechanic and worked only on English bikes and cars. For her first bike, her Dad insisted that she get something English. He had Nortons galore, but she got a Triumph. Here it sits in my garage.
Last registered in 1977. Last ran about 15 years ago. The owners kept telling me that it was going to be a "toss some oil in the spark plug holes. run some gas through and light 'er up." kind of project. But I decided to do an entire teardown once I realized that it wasn't going to turn over at all.
Brought the bike home, and assembled the bike to the basics. Put the sheet metal on and sorted through the box of pieces and parts that the bike came with.
Then started ripping it apart. Excluding the engine, the bike is in good condition. The frame, sheet metal, brakes...blah blah blah, they're decent. All in rebuildable condition. Freshen up the metal with paint. Do maintenance with pads and cables. Basic stuff.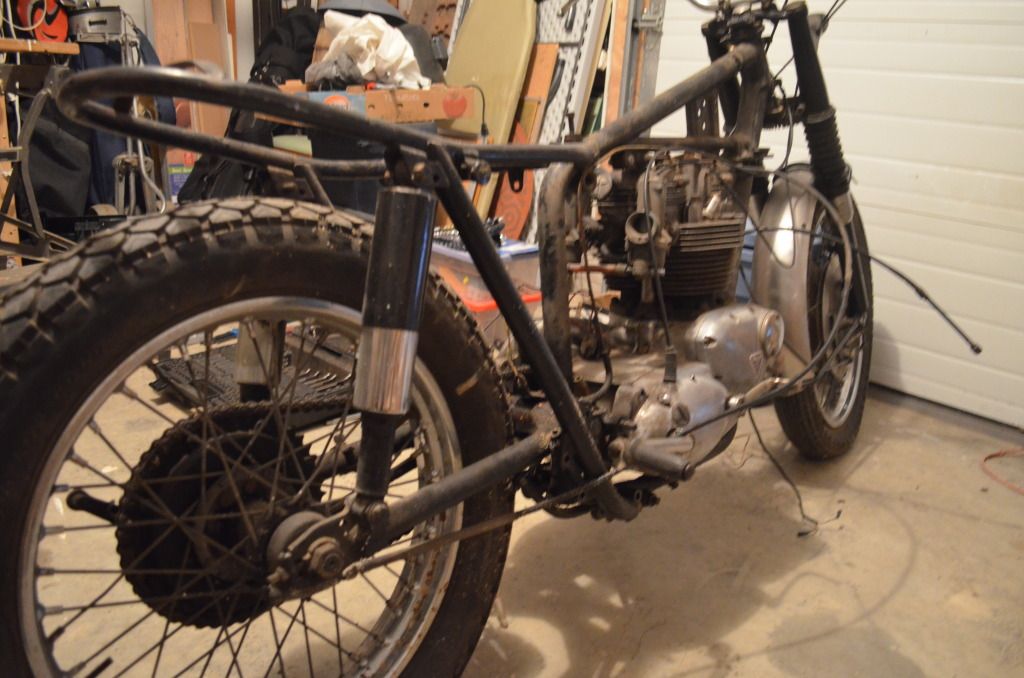 Then comes the engine. I have it torn down to the point where all side covers are off. Rusty balls and it looks disgusting. I took a mallet to the jug for about 10 minutes just to get the pistons free. You can see the rust piled on top of the pistons and in the sidewalls of the cylinder. Gets a little crazy.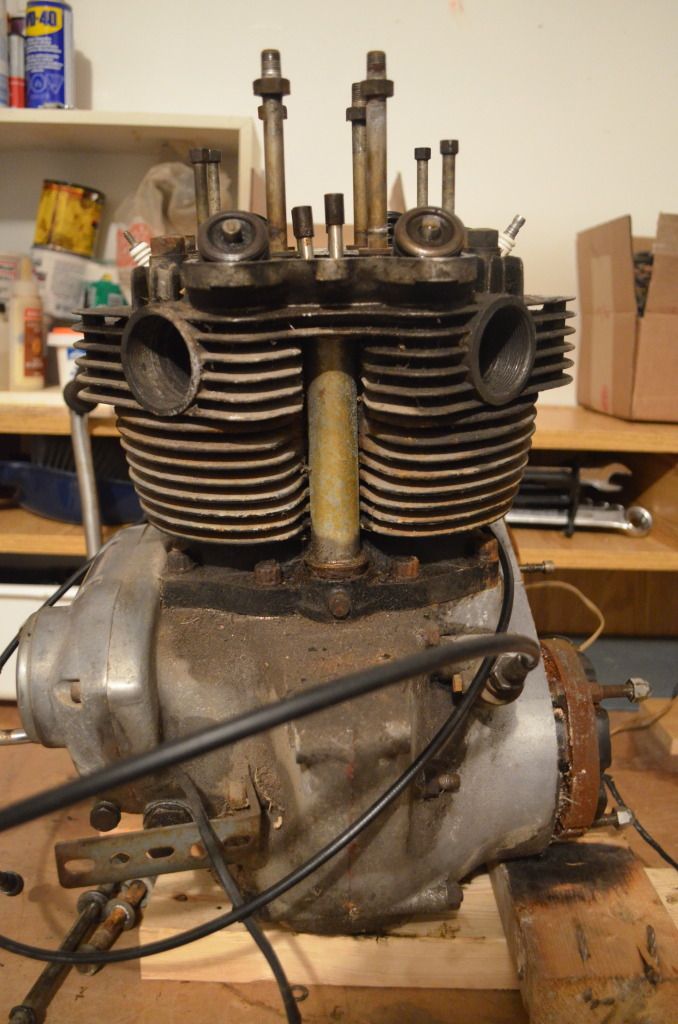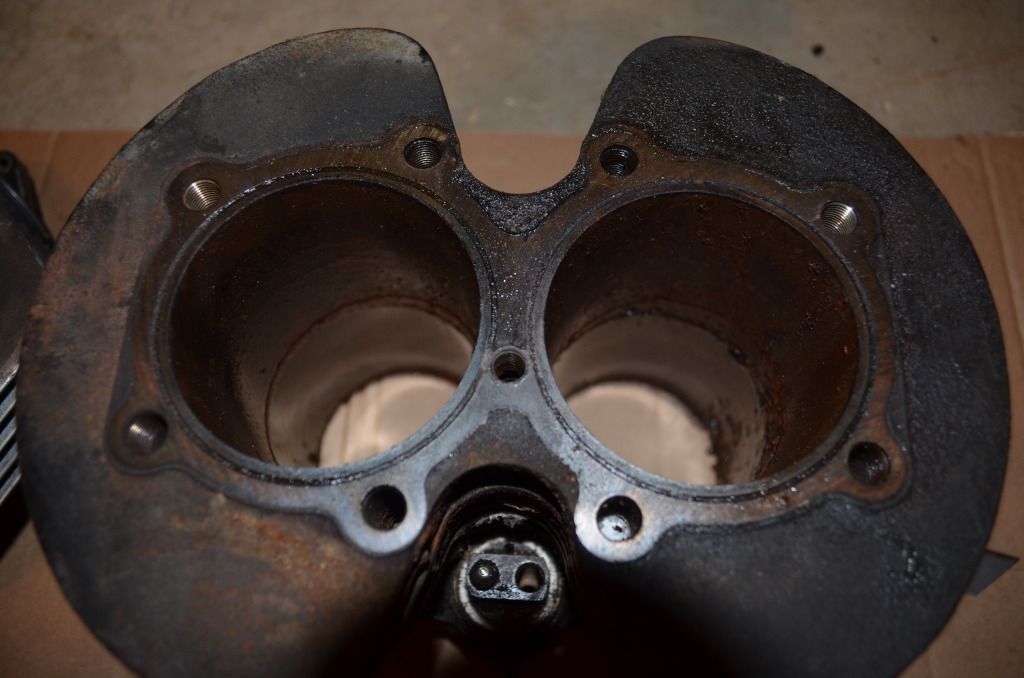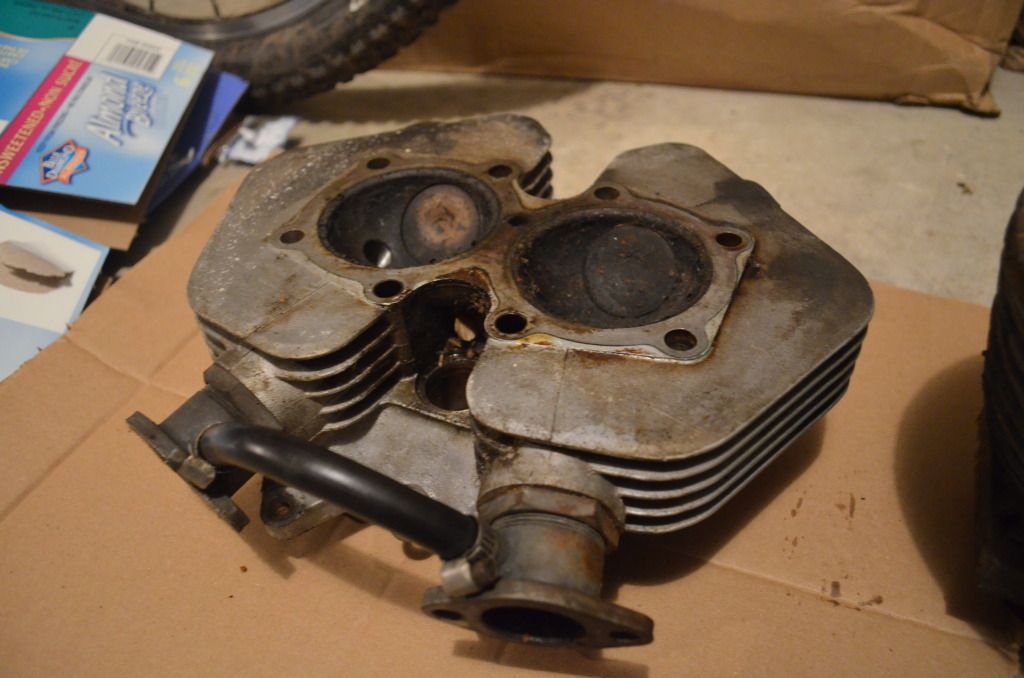 So enough of what it is. Where I am going.
Half cafe. I'm building this bike for me and my wife. So needs a 2-up seat. But also building it for my Dad. My Dad has not shut up about the Bonneville since I was a kid. He has made these bikes into god like bikes in my mind. This bike is on a pedestal. So while this bike is going to be my project, its pretty much going to be my Dad's summer whip to cruise around on.
Issues:
My (passenger side?) left exhaust port has stripped threads. I have done some research and found out about an over sized spigot. Who has done this? What are my options? I have a machinist friend who asked if he could put the head in a lathe. Not possible. Helicoil?
Sludge Trap. This sombitch is going to be the end of me. I have ability and means of taking it apart and putting back together successfully without blowing it up later. The hold back is budget. If I ensure that the crank spins...am I commited to oil changes every few thousand miles? I'm ok with that.
Honing and pistons. Whats the PROPER process to matching pistons and cylinders? Cylinder measurement, Piston purchase, Piston Measure, Cylinder Honing? I've been doing it a bit half assed with my last projects. Old dirtbikes haven't mattered. But I'd like to do this better.
Any input into this bike, even with things I haven't mentioned, let me know! Any insight is always useful, unless you're a know it all prick. But I'll still respect your opinion. Hah!
Link to my photo folder:
I'll update photos in the thread, but I'll keep my photobucket account updated with all my pictures.