Discussion Starter
•
#1
•
New member here (hello!) and in the beginnings of a resto on a 06 T-100. Mainly a dirt guy now but had a '77 tiger and when I saw this one just had to have it. Non-op for a number of years and it shows but think it can come back to life in good order.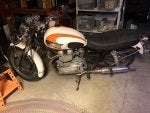 First off tank got severely dinged from Napa earthquake in 14. Location seems good for a rub-out but the rust seems daunting. On the other hand, carb tanks with this paint seem pretty rare and I'm guessing new ones not cheap either. If the rust can be addressed then maybe pop dent and touch-up paint.
Hate to fill and paint it, well, because Neil.
Lots of naughty rusty bits and rubbers pretty dead on tubes etc. Peg mounts has some swell, ahem, patina.
Tires are a shame. Front still has sprues, but rot is evident. Rear is new, too, and might not be as bad but not the place to save a buck for sure.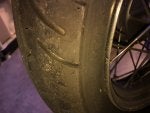 Valve cover has some crazing – I'll have to see if there's any remedy for that.
Interesting silencer. Not sure I've ever seen one of these. Stern warning reminds me of those old mattress tag labels. Anyhow don't know why they're on the bike.
Really appreciate any insights and I'll post more as I go. Next step is that tank tho, and see what can be done. Cheers!