Production 125
Main Motorcycle: 2014 Tiger 800 roadie
New Member
Join Date: Mar 2015
Location: Cleveland, OH
Posts: 9
New Tiger owner
---
So I picked up a leftover 2014 roadie on Saturday. Here's a pic: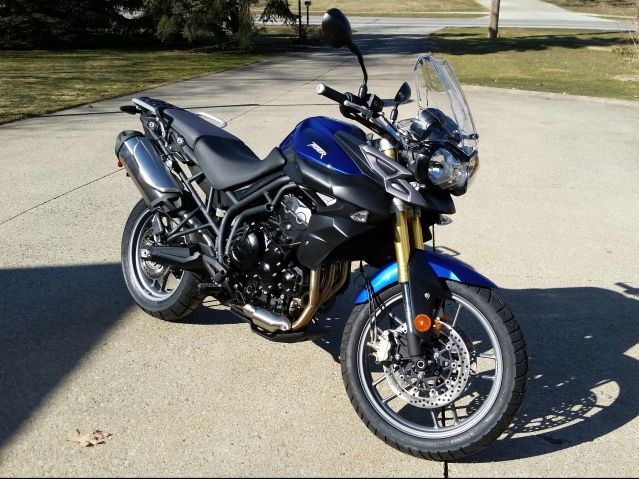 Got a chance to put about 40 miles on it tonight, it now has all of 42 miles on the clock. Can't wait for the weather to get above freezing reliably. This winter's been kinda rough.
Site Supporter
Nova
Main Motorcycle: 2010 Speed Triple.
Administrator
Join Date: Oct 2011
Location: Huntsville, Alabama.
Posts: 19,255
Other Motorcycle: 2015 Rocket X.
Extra Motorcycle: 1969 T120R Project.
Welcome to the forum!
---
Sean Patrick
2010 Speed Triple
2015 Rocket X
1969 T120R Project
Chairman, TOMCC USA
www.tomcc.org
[email protected]
Production 125
Main Motorcycle: 2014 Tiger 800 roadie
New Member
Join Date: Mar 2015
Location: Cleveland, OH
Posts: 9
Thanks, been lurking around and reading up on stuff for a while.
Posting Rules

You may post new threads

You may post replies

You may not post attachments

You may not edit your posts

---

HTML code is Off

---