Production 125
Join Date: Mar 2009
Posts: 8
This is my baby. What do you all think?
Minitwins
Main Motorcycle: Tiger 955
New Member
Join Date: Mar 2008
Location: Norfolk, UK
Posts: 20
Other Motorcycle: Trophy 1200 + sidecar
Extra Motorcycle: Yamaha TT600
---
Last edited by Phineas; 04-13-2009 at

03:08 PM

.
Grand Prix 500
Main Motorcycle: my 02 Triumph Trophy BBBB
Senior Member
Join Date: Jun 2008
Location: Porter/New Caney TX.
Posts: 142
wow! nice looking bikes! i will post mine after i get it painted.
<------thats my bike.
---
2002 Triumph Trophy

PGR # 126703
96 900 Trophy
---
My wife and I do two up riding 80% and the Trophy is awesome in that role. I love my Trophy. Here are a few shots.
This was my trip last year to the Big Bend area of Texas.
This was my first trip where the Trophy got a lift on a river ferry.
My wife and I getting ready to ride into Arkansas.
Deals Gap last year
Grand Prix 250
Main Motorcycle: Trophy 900
Member
Join Date: Jul 2008
Location: East Anglia - England
Posts: 73
1998 Trophy 900 (AKA "Trigger")
---
Just got Trigger back from the winter refurb!
New tyres, headlamp lens (last one smashed by stone rash!) respray and Hayabusa calipers. Worth every penny
Wheels
---
"The Major" like what you did to your wheels!
Are they stripped and polished?
Are they stock Trophy wheels or another brand?
World SuperBike
Main Motorcycle: Thruxton
Senior Member
Join Date: May 2009
Location: Griffith NSW Australia
Posts: 2,235
Other Motorcycle: 08 Bonneville efi
The old girl just before I swapped it for a thruxton, 14 years old and look at the finish. Wish I could say the same for the thruxton finish
Minitwins
Join Date: Mar 2009
Posts: 18
pride and joy ,96 trophy
---
pride and joy
Production 125
Main Motorcycle: My Trophy 900
New Member
Join Date: Jul 2009
Location: Spain Europe
Posts: 5
Other Motorcycle: Puch Condor off-road
[IMG]
[/IMG]
Hi everybody. Here's a photo of thr 1st national Trophy Reunion in Spain. We were only 3 Trophys, very few Trophys sold in Spain but I hope to be more in the next one. We rode the county of Guadalajara Spain's one not Mexico's. This is the Duke's Palace in the villlage of Pastrana now an University of Alcala de Henares building.
Hope you like it
Grand Prix 250
Main Motorcycle: '03 Trophy 1200
Member
Join Date: May 2008
Location: St. Simons Island, GA
Posts: 58
Other Motorcycle: '73 Tiger 750
My 03, 1200.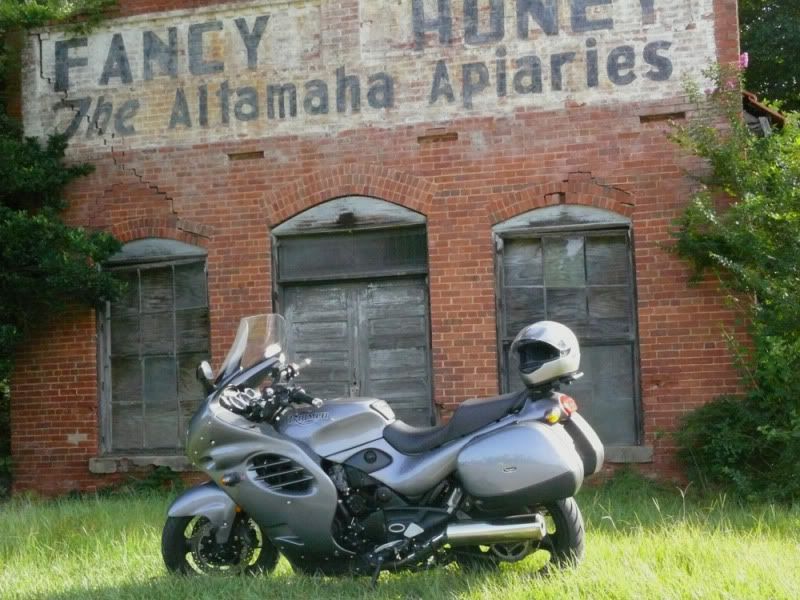 Posting Rules

You may post new threads

You may post replies

You may not post attachments

You may not edit your posts

---

HTML code is Off

---