Site Supporter
Legend
Banned
Join Date: Apr 2006
Posts: 10,016
Country, Branch of Service and Base Location...
---
If you can post the Country you are from, Branch of Service and your Base location in the Title Box and then a small blurb about your self. Thanks Lee
Site Supporter
Legend
Banned
Join Date: Apr 2006
Posts: 10,016
USA, United States Air Force, McGuire AFB New Jersey
---
I am no longer in the service I did this just to see how this works. I think if we all follow suit it will be better for us to contact one another and we can file through to see if someone is stationed near us. Thanks again Lee
Grand Prix 250
Member
Join Date: Oct 2009
Posts: 41
USA, Marines, Camp Pendleton, CA
---
Great idea for a forum, I am currently 3 1/2 yrs removed from active duty. However, I still live mere miles from where I was stationed; Camp Pendleton, CA. I was in the Marines for 4 yrs...one tour in Iraq (Ramadi-2004) and 2 tours in Okinawa Japan. Looking forward to meeting fellow veterans on the forum!

To be Goat is to be Forever.
2009 EFI Bonnie Black (stock as stock gets)
---
Last edited by goat2321; 01-29-2010 at

07:25 PM

. Reason: left out info
Minitwins
Main Motorcycle: Sprint ST 1050(2009)
New Member
Join Date: Sep 2009
Location: Sydney
Posts: 12
Australian Army, currently serving
---
This seems like a good idea so I thought I would add my bit, I am currently living in Sydney.
---
Riding is life!
Grand Prix 500
Main Motorcycle: 71 Triumph T120RV Bonnie
Senior Member
Join Date: Nov 2007
Location: Central Texas
Posts: 137
Other Motorcycle: 72 BSA A65L Racer
Extra Motorcycle: 71 BSA A65 T-Bolt Bobber
ROK, Active Duty US Army, Camp Humpreys
---
Just got here and I think I am on the oldest Triumph south of the DMZ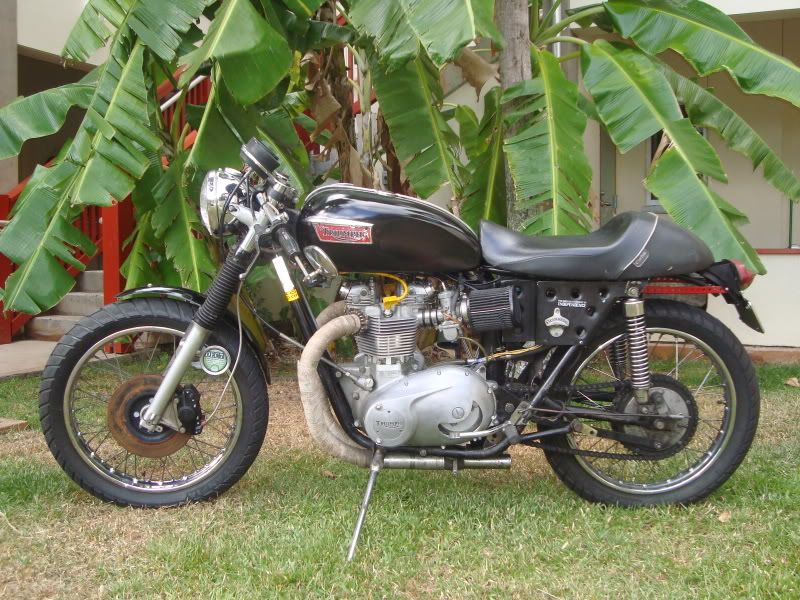 Cheers
Site Supporter
SOTP Vintage Series
Main Motorcycle: Tiger Explorer 1200 XC
Lifetime Premium
Join Date: Mar 2005
Location: Gold Coast, Australia
Posts: 7,361
Other Motorcycle: T120 Bonneville
Extra Motorcycle: Moto Guzzi V7 Classic
---
Man, I love that bike, its a killer!
---
She said, "You can`t take ANYTHING seriously, can you?" I just laughed.
World SuperBike
Main Motorcycle: The Creamsicle!
Banned
Join Date: Jun 2009
Location: Currently in Japan
Posts: 2,175
Other Motorcycle: FXDWG
US Air Force...15 years active duty so far.
Career field: petroleum oil and lubricants (POL)
Assignments:
Yokota AB, Japan - 3 tours
Osan AB, South Korea
Kunsan AB, South Korea
Fairchild AFB, WA - just 12 months
RAF Lakenheath, UK - leaving soon
Misawa AB, Japan
Too many deployments and TDYs (temporary duty assignments) to list and probably will list them out after my service to country is done. Better to be safe but I feel I have been lucky to be able to see as much of the world as I have.
POL slogans:
"if you can't truck it...F**K IT!"
"what the f**k...BIG GREEN TRUCK!"
"whooooooooooooooo-da-hell...POL!"
"Without fuel pilots are pedestrians"
"He who controls the fuel, controls the world!"
I am stoked this section has begun. I would also like to say a thank you to Lee and Saphena for taking the added responsibilities in moderating this section...thanks guys!
Sometimes the grind can get to you, especially with the ops tempo and the direction things are going in but it has been my honor to serve my country in the Air Force. Something I will be grateful for and will never regret it. A few more years and it will be time to take the uniform off though. Heading back to New York so I can go on a Hudson Valley pizza run with Lee
SuperStock
Main Motorcycle: Rocket III
Senior Member
Join Date: Jun 2006
Location: Mooresville, N.C.
Posts: 238
Other Motorcycle: GSXR 750
Thanks for setting this up Lee, from an old Marine.

USMC 1974 - 1980

oldsprint03
Site Supporter
Legend
Banned
Join Date: Apr 2006
Posts: 10,016
BT when you get back we will tour the hudson valley for Pizza...also the great scenary in the hudson valley as well....Looking forward to it...

We need to give Saphena credit for this it was his idea ...I merely have the opportunity to assist with it.
World SuperBike
Main Motorcycle: The Creamsicle!
Banned
Join Date: Jun 2009
Location: Currently in Japan
Posts: 2,175
Other Motorcycle: FXDWG
Actually I sent a PM to Saphena, Wombat, and HiD asking them about this. To their credit and my appreciation, they jumped right on this and got it started. I think it was a matter of two days from the time I asked the question and this section appeared; thank you very much for this guys! I started thinking about this because Doodledog and I were able to meet up after finding out through some random thread that we are both career military and don't live that far from each other. It was a great meet and I feel fortunate to have that opportunity. I still owe you that rootbeer too Doodle and I will get it to you before I leave
It just made me start thinking that this could possibly be a great network tool to have for the people serving. These kinds of things are great for someone like me who has been doing their entire time in service overseas and having this chance to meet up or talk with other Trumpeters is awesome. I am definitely the odd man out on base as I ride my British twin alongside a sea of Harleys
So a big thanks to everyone that made this happen and to both Saphena and Lee for taking this portion of the forum under their wing. I will also try my best to get some Japanese RATS in here as well once my move is over. You would be surprised the following Triumph has over there. I think a lot of people make the assumption that there isn't much of a following because of the strong hold on the bike industry they have but there is a good sized following on the western bikes. There is the language barrier when it comes to membersip on the forum but who knows until you actuall start looking around...
Similar Threads
Thread
Thread Starter
Forum
Replies
Last Post
Base Decal

Tarr

Air Cooled Twins Talk

20

01-24-2011

04:53 AM

Best price on an 09' base Bonne?

rsands

Air Cooled Twins Talk

3

08-25-2009

10:59 AM

Base prices

pre unit Thruxton

Classic, Vintage & Veteran

5

01-19-2009

12:50 AM

RAT.NET UK Branch.

webonnielad

Air Cooled Twins Technical Talk

4

06-22-2007

02:07 PM

Base nut wrench

wudstoc

Classic, Vintage & Veteran

6

02-22-2005

01:46 PM
Posting Rules

You may not post new threads

You may not post replies

You may not post attachments

You may not edit your posts

---

HTML code is Off

---