Minitwins
Main Motorcycle: 2003 Triumph Thunderbird
New Member
Join Date: Feb 2015
Location: Wyoming, Ohio USA
Posts: 19
Waking up my 2003 Thunderbird - Spark Plugs and Gauge Gaskets
---
I posted elsewhere in the general forum as a Reply but don't know how well that will do - I do not have an OEM tool kit and am having trouble getting my spark plugs out. The right side came out very easily but cannot even seat the socket on the Left side.

Gauge gaskets - I replaced the gasket on the Tach easily but the Speedo has the Trip Odometer knob in the way of removing the gauge or the gasket. Has anyone replaced this gasket or how do I remove the Trip Odometer Knob?
World SuperBike
Main Motorcycle: my 1995 Triumph Tiger
Senior Member
Join Date: Aug 2007
Location: Southern Adirondacks NY
Posts: 2,314
Other Motorcycle: 1999 Triumph Legend
You need a thin wall socket for the plugs. I had a machinist turn a regular one down, or you can buy one from a tool company. Snap On or Matco will have one, but it will not be cheap. Others have found an inexpensive alternative in some of the cheaper models from hardware stores. Someone may chime in, or you can use the search button.
I use a long handled 3/8 drive ratchet with a short extension to remove mine. Drop the socket on the plug, then push the extension into the socket, then attach the ratchet to the extension. Remove in reverse order, and use one of those small telescopic magnets that look like a radio antenna to retrieve the sock and plug. Installation goes easiest with a short piece of heater hose over the ceramic of the plug, turning it counterclockwise until you feel the "click", and then clockwise to thread in. Once the plug gets tight, the hose will begin slipping on the ceramic, and then you know it is time to use the torque wrench. I also use just a tiny bit of Never Seize on the threads of the plugs, being careful not to get it near the electrode. Applying some and then wiping it with a rag to spread it evenly seems to work for me. Since you probably won't be able to get the torque wrench into the middle plug, use your ratchet to feel the already torqued plug, and then find this same tension on the middle one. Also, it is worth the time to pull all of the coils off to give yourself as much room as possible.
Some trip knobs had tiny screws holding them on, and some were a snug friction fit. Use a light to see if there is a screw in yours. If not, just use a small pry bar with a notch to gently pry it off.
Site Supporter
SuperStock
Main Motorcycle: 2001 Legend TT
Premium Member
Join Date: Jul 2008
Location: Hershey PA
Posts: 283
Bought a Sears Craftsman 18mm last Spring for the plugs. Works perfectly and was very inexpensive. I do it just like ssevy does and have even used an angle extender when they aren't too tight. Hard part is finding a socket that fits all the way down. It gets narrow down there.
SuperSport
Main Motorcycle: 2006 Sprint ST
Senior Member
Join Date: May 2012
Location: ABQ, NM
Posts: 993
Other Motorcycle: 1999 Legend
Extra Motorcycle: 1998 TBS 1997 Adventurer
I purchased the 18mm deep well socket at sears. It was 8$. I ground down some of the outside and put a taper on the bottom. Not sure if it was completely necessary, some people said it fits without issues, I did it anyway.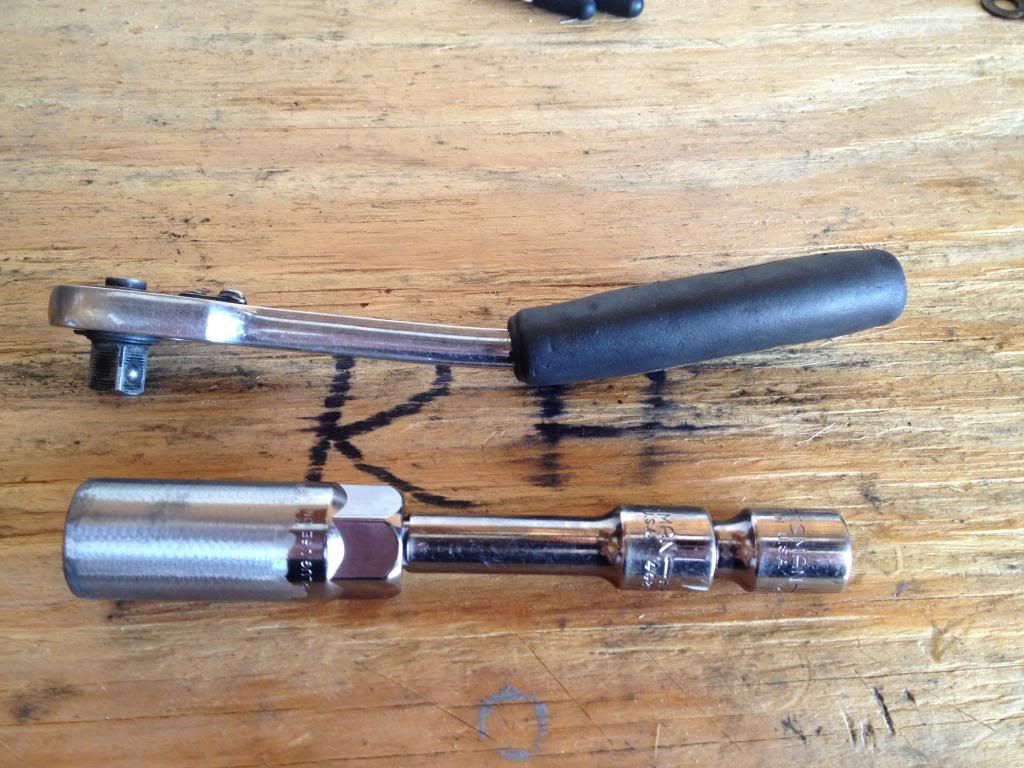 Here is my method for the dreaded center plug. A 3" extension, with 1" extension and offset head ratchet. You have to feed each tool in one at a time and the same goes for removal, disconnect the short extension, then the long then wiggle the socket out. Takes me all of 5 minutes, with the fuel tank off.
---
He who dies with the most toys wins!

Triples Only
Minitwins
Main Motorcycle: 2003 Triumph Thunderbird
New Member
Join Date: Feb 2015
Location: Wyoming, Ohio USA
Posts: 19
Great, Thanks!! I bought a "Motion Pro" Spark Plug Socket which should do the trick. Like I said, my Craftsman 18mm socket worked on the right side but wouldn't work on the left.

Thank You for your help!
Minitwins
Main Motorcycle: 2003 Triumph Thunderbird
New Member
Join Date: Feb 2015
Location: Wyoming, Ohio USA
Posts: 19
What Torque spec do you guys use?
Formula Extreme
Main Motorcycle: TBS
Senior Member
Join Date: Aug 2006
Location: Lincolnshire England
Posts: 671
just changed the 'gaskets' on my instruments, and can confirm my trip knob had a small screw in the end holding it on... had a bit of fiddle putting it all back together as the threads on one of the mounting posts had stripped... ended up using a flanged plain nut rather than a dome..
Grand Prix 500
Main Motorcycle: 2016 Bonnie
Senior Member
Join Date: Dec 2008
Location: Norwich, Norfolk, UK
Posts: 121
A good youtube video on changing the spark plugs. He has a neat way of getting the centre plug out.


---
"Calling upon my years of experience, I froze at the controls."
– Stirling Moss
Site Supporter
Grand Prix 500
Main Motorcycle: 2000 Adventurer
Premium Member
Join Date: Apr 2018
Location: Brooks, Georgia
Posts: 145
Huh
Thats my bike and its former owner!!
Posting Rules

You may not post new threads

You may not post replies

You may not post attachments

You may not edit your posts

---

HTML code is Off

---