Old
08-19-2012, 01:17 PM
Thread Starter
Site Supporter
Supernova
Main Motorcycle: Custom 955 Speed-Tona
Super Moderator
Join Date: Feb 2005
Location: Pleasanton CA
Posts: 20,525
TuneECU Cable Caution
---
We've seen a couple of threads recently where a map download has crashed part-way through and appears irrecoverable
A strong caution on taking a careful look at what cable you have purchased - there are many clones out there, built with low-cost chip-sets and not genuine FTDI
I have made this point before about how it's not how they
LOOK
it's what they
ARE
inside!
Take this one for example:
http://www.amazon.com/OBD2-Diagnostic-Cable-KKL409-1-VAG-COM/dp/B002WIN8VQ/ref=pd_sim_e_5
It actually
looks
(outwardly) identical to one I have used personally.
If you read the reviews you will find several Triumph users who said it worked for them and were actually very happy.
HOWEVER
you will also find these reviews -
Quote:
The cable I ordered was not from FTDI and did not work with the FTDI drivers. OBD-HOTSALES was trying to help me but could not provide the correct drivers.

After some research if found out it is a Nanjing Qinheng Electronics USB-Serial adapter, type CH-340 or HL-340.

Vendor ID: 1A86
Product ID: 7523

You can check these VID and PID via Device Manager > Properties > Details.
Quote:
Those wishing to purchase this cable to use with Tune ECU be aware that this cable does not contain the FTDI chipset.. This cable would not work with my 2007 Triumph Tiger and the latest FTDI CDM (D2XX) drivers. The vendor ID shows the code belong to QinHeng Electronics. This cable uses the HL-340 USB-Serial adapter chipset - not FTDI.
Quote:
Purchased one of this cables, looks exactly like the picture but it seems there are different versions of the cable (diffident internal parts). Some seem to work, according to previous reviewers. Others, like mine, DONT.
Mine does NOT work with TUNEECU
Tested in different computers with the correct driver, is not an issue of the computer nor the driver.
Quote:
I needed this cable to use the TuneECM software on my Triumph motorcycle; other Amazon reviews indicated that this cable has worked for others doing the same. The first cable I received seemed to load the CDM20814 drivers okay (NOT the ones supplied with the cable), but TuneECM failed to connect to the Triumph's computer; there appeared to be some fault in the cable, so I sent the first cable back and ordered a second cable. The second cable looked different than the first one, and it failed to load drivers at all; its properties showed its name as "USB2.0-Serial". Using a utility called USBView, I discovered that the second cable did not contain the necessary FTDI chip, but instead was from QinHeng Electronics, and used their HL-340 USB-Serial adapter chipset. I sent the second cable back to Amazon. With advice from the Triumph Rat Motorcycle Forum, I ordered a proper cable from Lonelec in London, UK ( [...] ); it cost twice as much, but it works.
What I would suggest to all, is that
BEFORE you attempt to DOWNLOAD
(your cable may appear to be working just fine in Diagnostic),
verify that you indeed have a genuine FTDI Chipset
in your cable.
Here's how you can validate, courtesy of Tom Hamburg
Quote:
Originally Posted by Tom Hamburg
The chip detection, can be accomplished much easier.
Download from the FTDI site, the tool "FT Prog v 2.6.8" and unpack it.
Now simply start the "FT_Prog.exe" and press in the program the "F5 key".
Now be, in the upper right window the chip-type and additional information displayed.
OR
Quote:
Originally Posted by Tom Hamburg
Here is the way described how from Jonathan, but in Windows 7
Step 1
open device manager
Step 2
select the cable (double-click on usb-serial-converter)
Step 3
select the tab "Driver" and now select "from bus reported device description
BR, Tom
You can also use this Utility
USBView
(download link directly from FTDI website)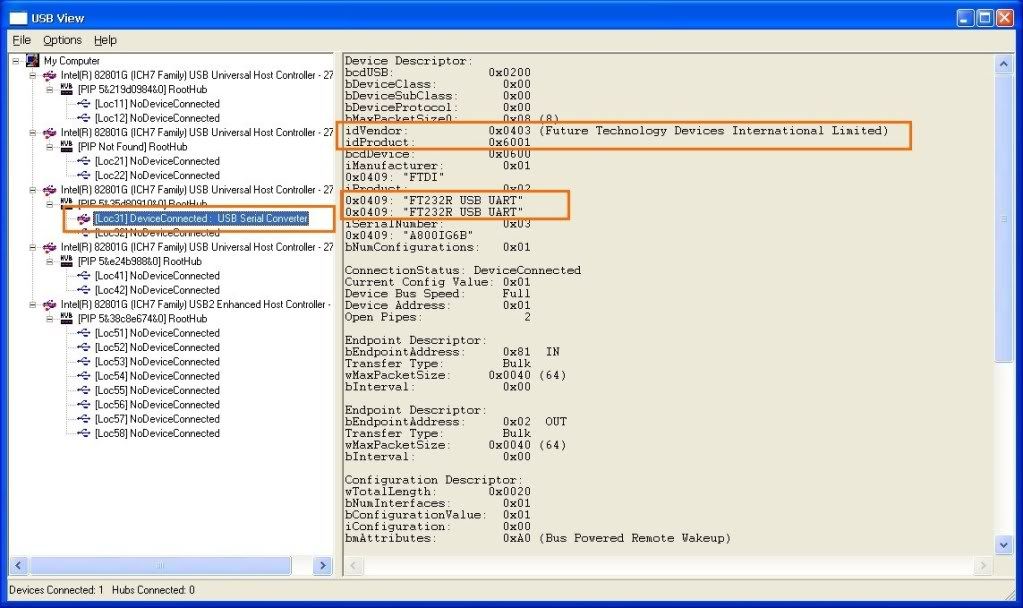 Old
08-19-2012, 08:49 PM
Thread Starter
Site Supporter
Supernova
Main Motorcycle: Custom 955 Speed-Tona
Super Moderator
Join Date: Feb 2005
Location: Pleasanton CA
Posts: 20,525
If you do find that you have disconnected during a download and cannot recover, see the following processes from Tom Hamburg that may help to restore your connection and download.
Site Supporter
Supernova
Main Motorcycle: 2009 Bonneville SE
Lifetime Premium
Join Date: Jun 2009
Location: Asturias, Spain
Posts: 20,518
Other Motorcycle: Yamaha XV1100
Extra Motorcycle: Qingqi QM200GY-BA
Formula Extreme
Main Motorcycle: Triumph Speed Triple 1050
Senior Member
Join Date: May 2010
Location: Germany
Posts: 735
Other Motorcycle: Triumph Rocket Roadster
Hi,


in TuneECU under options please remove the hook for automatic connections.
The option "automatically connect" with a few bikes makes problems.
Choose the connection to the ECU via the menu "ECU" --- "Connect" .

Make sure that your battery is fully charged and remove only the fuse No.8 for the front light (20 amps).
Your computer you operate best with a power supply.
Make sure that no energy-saving programs and no antivirus software is active.

Switch on the ignition.
The kill switch must be in run position.

Now you need a lot of patience.
Now waiting for the message: "could not connect to the ECU, please check cable connection, please switch ignition off / on",
this message will come some times, you must confirm this message every time, after 2 or third time should see the following message:
"ECU is connected but not responding. RUN the ECU recovery ?"
After clicking on "OK", should start the process.

BR, Tom
Formula Extreme
Main Motorcycle: Triumph Speed Triple 1050
Senior Member
Join Date: May 2010
Location: Germany
Posts: 735
Other Motorcycle: Triumph Rocket Roadster
Another possibility that can help:
Turn off the VCP, this is not required for TuneECU.
Do this, open the Device Manager and then switch to the USB-Serial Converter. Under Properties, select "Advanced" and uncheck the "VCP"
Now disconnect the cable from the computer and reconnect again.
BR, Tom
Posting Rules

You may not post new threads

You may not post replies

You may not post attachments

You may not edit your posts

---

HTML code is Off

---