SuperStock
Main Motorcycle: 2009 Bonnie Black A1
Senior Member
Join Date: Jul 2011
Location: OR
Posts: 223
Flyscreen on a Bonnie: Worth It?
---
I'm thinking of getting this:
http://www.british-customs.com/trium...flyscreen.html
Anybody have a small flyscreen on their Bonnie? Does it make a difference in terms of cutting drag and wind?
I actually prefer the way my bike looks without a flyscreen. But when I get on the freeway, Jeez Louise, the wind resistance is just plain nasty. I don't know if a little screen like this Dart model will help, but if it will then I'm sold.
Is British Customs the cheapest place to get a Dart? Any other windscreens that look more period than this clear Dart? I've got a Black 2009 Bonneville. Right now, I have a stone guard on it, and I don't want to take it off. Not sure if the Dart could go on, along with the Stone Guard. I paid good money for that stone guard and it was a bear to put on. It's not coming off, even for a flyscreen. I suppose another route on this problem would be to get a removable bigger screen and just put it on for long freeway trips. That seems like a hassle though.
p.s. Yeah, I know there have been other posts on this topic years ago. I would love some fresh opinions
.
---
Last edited by brainbucket; 12-19-2011 at

12:41 PM

.
Grand Prix 250
Main Motorcycle: Tiger 800XC
Member
Join Date: Oct 2010
Location: Santa Clara, CA
Posts: 64
Other Motorcycle: thruxton 1200 r
I have the Thruxton screen on my bonnie (had to modify it a bit to allow for the turn signal stalks):
It has helped a bit with the wind on my chest at highway speeds, but I wouldn't say it's night and day different. I bought mine primarily for looks. Some may disagree but I don't find the small windscreen to be all that when it comes to wind reduction. Sure it helps some, but am I relying on it to cut the same amount as if it was a larger one, definitely not.
Formula Extreme
Senior Member
Join Date: Aug 2006
Location: augusta ks.
Posts: 744
I have a national flyscreen on my bonnie. works pretty good, and keeps most of the bugs off.
---
2006 Bonnie Black
1980 Yamaha xs650 sold 4-30-2011
Supersport 600
Main Motorcycle: Bonnie SE
Senior Member
Join Date: Aug 2011
Location: Downham Market Norfolk England
Posts: 157
Quote:
I have a national flyscreen on my bonnie. works pretty good, and keeps most of the bugs off.
See my recent test on the Dart,
Rick
Grand Prix 500
Main Motorcycle: 2003 Bonneville T-100
Senior Member
Join Date: Jul 2011
Location: Chicago burbs, Illinois
Posts: 145
Other Motorcycle: 1974 Kawasaki KZ400
Extra Motorcycle: 1967 BSA A65H Hornet
I know what you mean about the wind speed on the highways. When I bought my bike, I got two windscreens with it, a Givi A34+D45 & a smaller fly screen, not sure the make and model, I haven't put it on yet. The Givi one is great for cold weather, I like the painted look of the one Bier has, so I might have to do something like that, but want to try out the smaller one that I have first to see how it works with the airflow. I spend more time on the backroads and smaller "highways" than "superslabs".
Site Supporter
Commentator
Main Motorcycle: '04 Thunderbird Sport
Senior Member
Join Date: Jan 2004
Location: Ex-pat Aussie in Honolulu, Hawaii
Posts: 9,798
Other Motorcycle: I wish!
Quote:
and keeps most of the bugs off.
I tried fitting a flyscreen to my Ural, but it did not work out as well as I expected.
It certainly did not keep the flys off.
---
Bob
:AustralianFlag
Click to see
My Photo Album
Age is of no importance, unless you are a cheese.
Formula Extreme
Main Motorcycle: Black T100
Senior Member
Join Date: Dec 2010
Location: Auckland NZ
Posts: 469
Should have used a different tint for the glass then ;-)
I like the Dart on my Bonne!

From the outside of the asylum.
---
From the outside of the asylum.
SuperBike
Main Motorcycle: '07 Black
Senior Member
Join Date: Nov 2008
Location: Prescott, AZ
Posts: 1,579
The Dart flyscreen does a very nice job of keeping the wind off your torso, making highway speeds much more pleasant. It's well worth the investment, IMHO, and I think it'll mount up fairly well, stone guard or not.
If the thought of a clear screen on your black bike is putting you off, you could always paint it:
Profile view: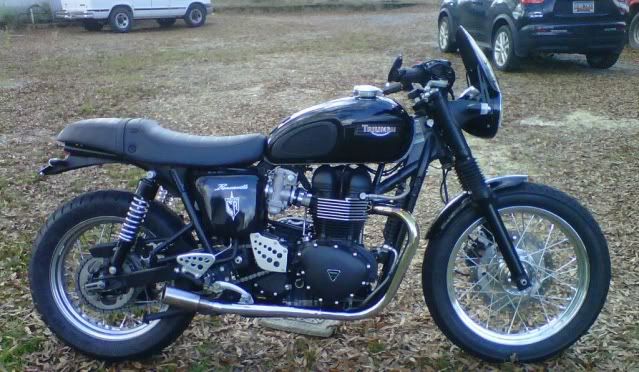 Hope this helps you decide.
---
"Cognito Ergo Wrenchum"
Team Owner
Main Motorcycle: 2010 Bonneville T100
Banned
Join Date: Mar 2010
Location: Philadelphia, PA USA
Posts: 4,433
Other Motorcycle: 2007 150cc Retro-scooter
I have the Dart, it really improves the buffeting at highway speed, smooths out the windstream where it does hit you.
Moto Grand Prix
Main Motorcycle: 2010 Bonneville T100
Senior Member
Join Date: May 2009
Location: Canada
Posts: 3,195
Other Motorcycle: '82 cb750 f
I have the Triumph flyscreen and it works great.
Bought one of these but don't have it on my bike yet (not sure whose bike this is, maybe a forum member) Can't wait to try it out
---
Nothing in the world matters to me, except myself, my family and those I consider family. Absolutely nothing else.
Posting Rules

You may not post new threads

You may not post replies

You may not post attachments

You may not edit your posts

---

HTML code is Off

---