Grand Prix 250
Member
Join Date: Dec 2006
Location: Notts/Bucks, UK
Posts: 69
OK, this is a TT600 owners
only
picture thread! :-D So, if u own (or used to own) a TT600 please post some pics of it below (as many as you like :wink: !) with a model year and list of any modifications you have made! I'll start...
New favourite pic!!!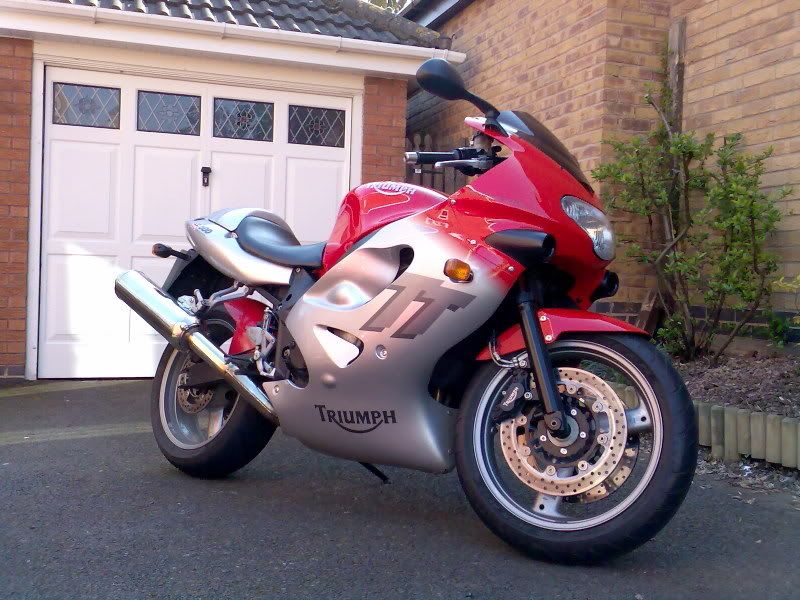 Triumph TT600 Year 2000 W-reg (UK)
Tinted double bubble screen
Colour coded pillion seat cowl
Colour coded rear hugger
Triumph carbon fibre tank pad
Oxford tankbag
At the showroom:
Day of delivery:
Safely tucked away with its new found friend:
With a few other fast friends...WRX, TT600, DT125R (green laning, etc):
So c'mon then, show us yours...! :-D
[ This message was edited by: MickyC on 2007-04-17 16:00 ]
World SuperBike
Main Motorcycle: Speed Triple, baby
Senior Member
Day of delivery (bought it sight-unseen from a guy in Ocala who'd advertised it on the classifieds here).
Added sliders, Pazzos, new Pilot Sports and brake pads and here you have the reason I bought it:
---
"I hate to advocate drugs, alcohol, violence, or insanity to anyone, but they've always worked for me."
— HST
Grand Prix 250
Main Motorcycle: Triumph TT 600
Member
I dont want to be the one to tell you this but riding like that lets people see that the underside of your bike is dirty
Love the yellow, that was the second choice for me. I ended up with the 01 Blue! WIll post pics when i get some pics that are good enough to show in that group
Supersport 400
Member
Join Date: Aug 2005
Location: San Francisco
Posts: 91
i'll bite...here's the before...
and the after...
Minitwins
New Member
Join Date: Jan 2007
Location: Seattle
Posts: 19
Wow, great looking bikes guys!
Site Supporter
SOTP Vintage Series
Main Motorcycle: Very fast 675
Official Leathers Tester
Join Date: Jan 2002
Location: Seattle, WA
Posts: 7,837
Other Motorcycle: DRZ 400 Bad Idea
Extra Motorcycle: Mad Max the Husqvarna
Here you go- lots of history. The 2001 on the day I brought it home. I don't look very happy, because it was snowing! Next, it is on the track a few years later and then it's engine after it died the most honorable death possible for a sportbike- blowing up on the track. The rec and silver on is the 2000 I had after the yellow one blew up and I got a 675.
---
Will
It's a squid thing. You wouldn't understand.

Go soothingly on the grease mud, as there lurks the skid demon.
Site Supporter
Supernova
Main Motorcycle: Speed Triple
Lifetime Premium
Join Date: Feb 2005
Location: South East Nevada
Posts: 24,169
Other Motorcycle: CBR1100XX
Extra Motorcycle: Piaggio MP3
Will,

If you gotta boom, boom big! Congrats on maxing out the machine!
Minitwins
New Member
Join Date: Mar 2007
Location: indiana
Posts: 12
how do you post pics? newbie me
---
\
Here's a couple of mine. Its a 2003, Triumph stainless can, polished frame/swingarm, custom paint
---
Red is faster than yellow
Grand Prix 125
Member
Join Date: Mar 2007
Location: Colorado
Posts: 40
Well, here is my 01.. Bone Stock.. But not for long..
moa2:
Posting Rules

You may not post new threads

You may not post replies

You may not post attachments

You may not edit your posts

---

HTML code is Off

---