Production 125
New Member
Join Date: Jun 2010
Posts: 5
Valve Timing on Tiger T400
---
Anyone out there that can help me on the correct valve settings for The Tiger T400 - I am looking for the Degree position for opening and closing for each set of valves regarding TDC and BDC - As I am in a very remote part of the world and not able to lay my hands on a manual - Thanks
Site Supporter
Formula Extreme
Main Motorcycle: 1998 Sprint Executive
Lifetime Premium
Join Date: Nov 2009
Location: Scottsdale, Arizona
Posts: 789
Extra Motorcycle: You're kidding right?
Welcome.
I'm not entirely sure what year Tiger you've got as you don't have your profile section filled out yet, but I'm pretty sure you wont get much traction in this section if you're dealing with valve timing.
I think all the T400's were the carburetor fed Tigers known as "Steamers", but I'll be the first to admit I could be quite wrong. With regard to the modern Tigers, Steamers were from 1992-1998, Girlies from 1999-2006 and Roadies from 2007 and on...not sure which one you have.
Here's a carburetted "Steamer"
And here's a fuel injected "Girlie"
and the more modern "roadie"
On the off chance that you really have the carburetted "Steamer", this is the information you're after. What you are looking for is the specification for your year bike, found in the factory service manual. FYI, these are available on ebay, although, if you really do live in a very remote part of the world, the factory manual might be hard to come by...parts even harder.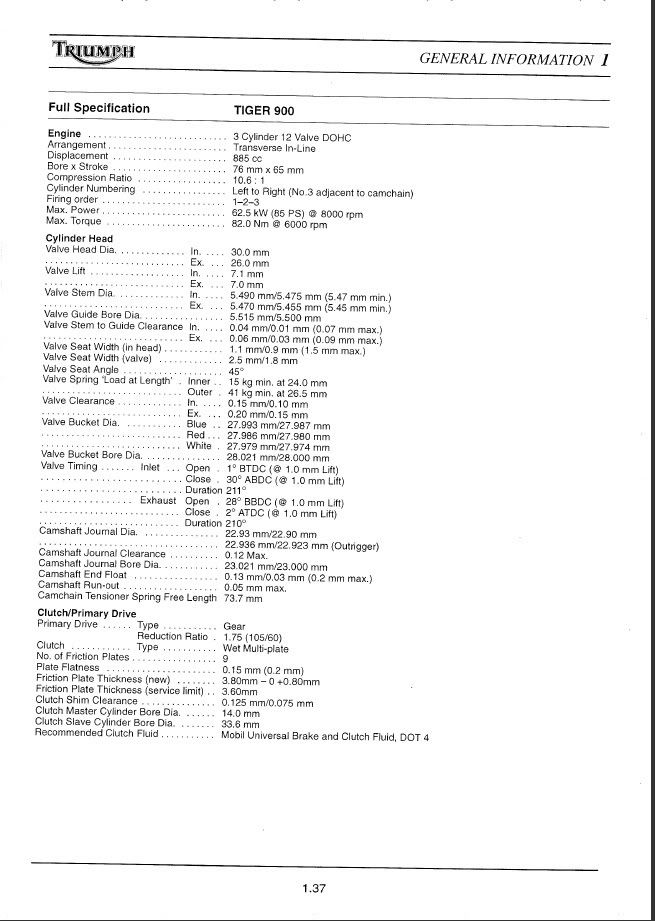 Sorry, I dont have a specification sheet for the Girlie or Roadie.
While this forum has a dedicated Tiger section (
http://www.triumphrat.net/tiger/
) and I'm sure you could get help, I'd recommend you go here instead and add the appropriate bookmark for your machine. These guys have a better following for the modern Hinckley Tigers
Carburettor "Steamer" forum
http://tigertriple.com/forum/viewforum.php?f=6
Fuel injected "Girlie" forum
http://tigertriple.com/forum/viewforum.php?f=5
Fuel injected "Roadie" forum
http://tigertriple.com/forum/viewforum.php?f=4
You're of course absolutely welcome to hang out here... lots of great info and lots great people to be found regardless of where you hang out really.
Best of luck in your search.
---
Dave - 1998 Sprint Executive
Production 125
New Member
Join Date: Jun 2010
Posts: 5
Thanks this will help a lot
Posting Rules

You may not post new threads

You may not post replies

You may not post attachments

You may not edit your posts

---

HTML code is Off

---