Newbie
Main Motorcycle: 1967 xlch
New Member
Join Date: Nov 2012
Location: hoffman estates
Posts: 2
1960 triumph trident 750
---
I am trying to determine if this bike is a triumph or BSA. I am told it is a 1969 triumph trident 750. Is there any way to confirm what it really is? I am attaching a photo.
This is suppose to be a 1969. I had doubt also after looking online and first saw the engine didn't llok like the ones I saw. The second was the inclined engine. Maybe a BSA I am not sure.
---
Last edited by ssswdon; 11-03-2012 at

10:34 PM

. Reason: typo in title
Formula Extreme
Main Motorcycle: 2016 Thruxton R
Senior Member
Join Date: Sep 2006
Location: Sea Girt, New Jersey
Posts: 698
Other Motorcycle: Yes
Extra Motorcycle: Several
Neither. First of all it's a twin, not a triple. And I don't recognize the engine as anything from Triumph or BSA. And it looks older than a '69. Someone here might be able to ID it more accurately, but it's not what you've been told.
Sent from my iPhone using
Motorcycle.com App
---
'16 Thruxton R/ '70 Bonnie/ '06 Bonnie
Tiger 800/ Daytona Super III
Speed Triple (in Cali)
1968 Norton P11 Ranger
1961 Moto Morini Tresette 175
SuperSport
Main Motorcycle: 2015 Rocket III Touring
Senior Member
Join Date: Jul 2010
Location: 50 North and 40 West
Posts: 968
Other Motorcycle: 100th Anniversary T100
Extra Motorcycle: 2015 Tiger Explorer ABS
Looks like a 2 stroke. Not British at all. Maybe a Puch? Maybe a 175 or 200?
Team Owner
Main Motorcycle: Hinckley Triumph
Senior Member
Join Date: Dec 2006
Posts: 4,978
Yamaha YDS-3 246 cc
---
NOT a Triumph Trident or BSA Rocket 3 for sure!
What you have here I do believe
began life
as a circa 1964-1968
246 cc
parallel-twin cylinder 2-stroke
Yamaha YDS-3
At the time, they were very popular in the US, the YDS-3 being Yamaha's
breakthrough
bike into the US market.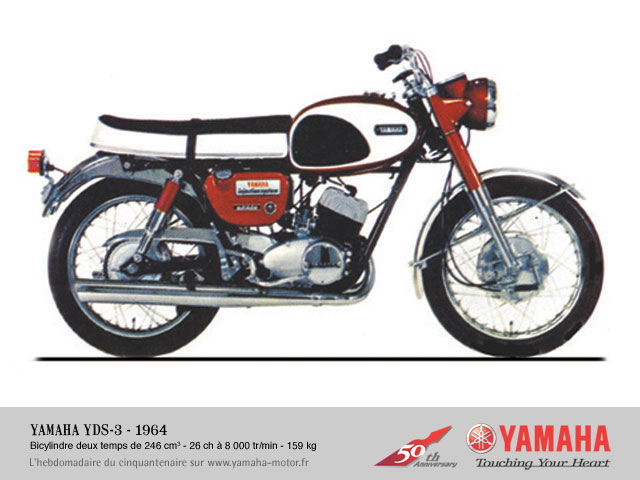 Yamaha YDS3 Super Sport Road Test
:
http://auction.netbikes.com.au/vjmw....yds3&page=yds3
HTH
Newbie
Main Motorcycle: 1967 xlch
New Member
Join Date: Nov 2012
Location: hoffman estates
Posts: 2
Thanks a bunch for all your feedback. This seems to be spot-on for the yamaha. I have what I need. I will continue my search for a early model triumph.
I finally got the real photo I was looking for. Anyone have an idea what this may be worth. I am just looking for guidence as to what I should be paying for this. I think they are asking 2000
---
Last edited by ssswdon; 11-05-2012 at

04:06 PM

. Reason: new picture
Posting Rules

You may post new threads

You may post replies

You may not post attachments

You may not edit your posts

---

HTML code is Off

---