Senior Member
Formula Extreme
Main Motorcycle: street triple
Join Date: Jul 2011
Location: france
Posts: 571
Did I ruin my clutch?
---
The weather was good today and after a lot of commute-only kilometers I went out to have some fun on my striple and work on my riding skills.
Practicing slow manoeuvres, eigths, short turns, hard braking/stoppies and riding off from a stop with clutch wheelies in first and race starts on an empty industrial terrain... Good stuff (all safe, wife knows where I am and how late I'll be back, full gear on, empty place no obstacles)
I've done 33000 kilometers including 8 track days , twisties in the alps this summer and a lot of commuting and a lot of wheelies I must admit. Last two weeks I've been specifically working a bit on hard acceleration from stops, about six times a day where my commute allows it.
So after another race start after I did a couple in a short time frame today (I'm calling it like this because of a recent thread here..) I was riding along and breaking hard with the back brake to practice controlling back wheel slides. I stopped to check out the back wheel, which had melted rubber on it, hopped on again and then noticed that if I revved high I didn't feel a corresponding increase in acceleration.
The gas handle functions well, revving is as it should be. When I dump the clutch with high revs, the bike doesn't wheelie anymore.
When I just rev it up it seems that the bike is only slowly catching up with coming up to speed..like it lacks power. No immediate response.
I didn't change anything on the clutch cable, but tried some adjustments after I noticed this. Didn't have any effect.
I stopped the bike for about five minutes to let it cool down a bit cause I was already thinking it might be the plates (don't know if that's enough to cool down though) and nothing was changed. I was able to pull a powers wheelie but it wasn't as immediate as before.
No funny smell(oil) bike handles fine as it is, but in first and second there is no immediate response when I rev it. Just a slow increase in speed.
My assumption is that because I was putting a lot of stress on the clutch plates at the time that I somehow fried them.
I don't have any experience with this....
What do you think??
Are they glazed?
Can I drive on?
What should I expect to pay at the dealer?
Sent from my iPhone using
Motorcycle.com App
Senior Member
SuperSport
Main Motorcycle: '10 ST3R
Join Date: Sep 2010
Location: S FL/USA
Posts: 1,077
Short answer .....yup
Our bikes clutch does not take kindly to repeated race starts or heavy slipping without plenty of cool down time between actions. Order a new set of fiber plates and a clutch cover gasket (I always order 2 gaskets at a time just in case) before you warp the steel ones. Springs are also cheap and a good idea to change while you have it apart. Personally I prefer the stock springs over the aftermarket because the aftermarket are stiffer but then again I also have a slipper clutch so am well versed in changing plates
.
---
.
..
My Bike
.......has a new owner :(
Senior Member
SuperBike
Main Motorcycle: '06 Speed Triple
Join Date: May 2010
Location: NorCal
Posts: 1,748
Other Motorcycle: '96 Adventurer Cafe Racer
Extra Motorcycle: Not any more
Gotta agree - you pretty much gave the textbook description of a slipping clutch, and it isn't going to get any better on it's own.

Should still be rideable so long as you're easy on it, especially in the lower gears, but you'll need to rebuild it as soon as possible.

Can't say I have any idea what a dealer would charge for the job though.
---
Don
'06 Speed Triple
'96 Adventurer Cafe Racer
and a bunch of other stuff
If everything seems under control, you're just not going fast enough - Mario Andretti
Senior Member
SuperStock
Main Motorcycle: 09 STriple
Join Date: Dec 2009
Location: McKinney, Texas
Posts: 262
you need to make sure the cable is adjusted correctly first
---
Street Triple > Street Triple R

09 Street Triple
06 Track Triple
Lifetime Premium
Site Supporter
Pole Position
Main Motorcycle: 2010 Rocket 3 Touring
Join Date: Aug 2010
Location: western NY
Posts: 3,217
Other Motorcycle: TT600,Sprintona, K1200GT
Extra Motorcycle: BMW r65/sidecar, CBR1000
---
The greatest obstacle to discovery is not ignorance -- it is the illusion of knowledge. - Daniel J Boorstin

Carpenter Racing 2010 Touring 241 hp, 185 ft lbs
Senior Member
Formula Extreme
Main Motorcycle: street triple
Join Date: Jul 2011
Location: france
Posts: 571
thanks for the replies guys. this morning seemed better...
will test a bit on the way home. I did adjust the cable more and it -seemed- it made a difference. Was not able to check extensively on the commute.

i'll update later


Sent from my Motorcycle idevice
Senior Member
Formula Extreme
Main Motorcycle: street triple
Join Date: Jul 2011
Location: france
Posts: 571
well, I'm bringing it to the dealer. It's definitely not working as it should.

I have the haynes manual and it seems like a doable job, but I don't have the space nor time to tinker with it. And the bike is under warranty.

Dealer says about 400 euro in total...
Senior Member
SuperSport
Main Motorcycle: '10 ST3R
Join Date: Sep 2010
Location: S FL/USA
Posts: 1,077
Dealers charge waaaaaay too much for this "service" because for some reason even experienced riders are reluctant to do it themselves..... it is really easy.
If you have a low range torque wrench (inch lbs) and can change your spark plugs you can change the clutch plates and springs (for about 1/4 that cost) You don't even have to drain the oil. The hardest part of the whole thing is cleaning the old gasket off of the engine case the first time it's done. Just make sure to tape your frame around the clutch cover so you don't scratch anything and stuff a bunch of rags down in the hole for the oil pump drive chain as soon as you remove the cover so you don't get any junk, gasket material, tools, small children, falling down there. After the first time and now that I use a coated gasket the plates can be changed out in about 30 minutes. The only tricky part is getting the clutch pull rod re-engaged when you put the cover back on but that just takes making sure it is pulled all the way forward before tryng to re-fit the cover, a little patience, and not forcing it.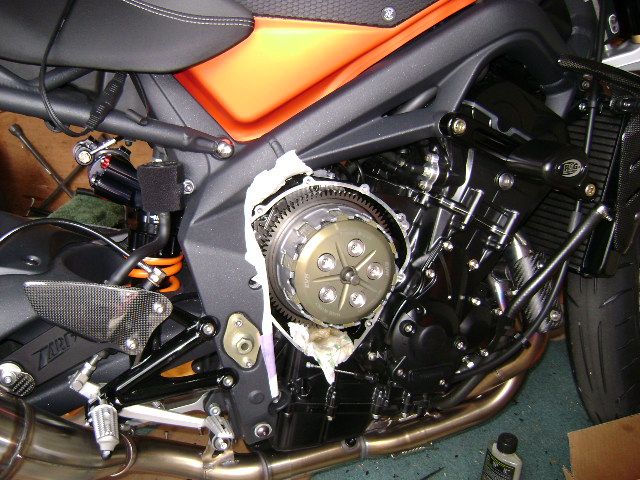 .
---
.
..
My Bike
.......has a new owner :(
---
Last edited by Orangeman; 11-13-2012 at

05:07 PM

.
Senior Member
Formula Extreme
Main Motorcycle: street triple
Join Date: Jul 2011
Location: france
Posts: 571
nice color of the bike. orange is my favorite. and now i get where the name comes from
tnx for the explanation. do you have a link to the plates you got?
they charge about 240€ for oem plates and small parts and then some labour.
can't do it for that. ill just work for it and ride...
plus the bike is a company bike so all costs are tax deductible so cost me about half.
Sent from my Motorcycle idevice
Senior Member
Formula Extreme
Main Motorcycle: street triple
Join Date: Jul 2011
Location: france
Posts: 571
and thanks for the warning about kids lol


Sent from my Motorcycle idevice
Posting Rules

You may not post new threads

You may not post replies

You may not post attachments

You may not edit your posts

---

HTML code is Off

---