Powerbike
Main Motorcycle: '12 Street Triple R
Senior Member
Join Date: Apr 2012
Location: SF Bay Area
Posts: 334
Put Clip-On's ...on
---
I know! Blastphamy! I like the cafe racer style though. Anyways. Posted this up at 675.net but figured i'd do it here as well in case someone found something useful in it.
ok took a bunch of pics during my install - pretty straight fwd but i feel it always helps to have seen it done first or 'ballparked' before doing it yourself. Please note I'm not a mechanic nor a professional, just trying to give my experience here for whatever it's worth.
I'm also curious if theres things i could've done better, and or if you do something you think might be better. Please post it up here. Thanks.
here's what i ran into, i think i still have some work to do to clean things up a bit but overall they work without any major adjustments. Was able to re-use the OEM fuel res. bracket too....though i might try and make a diff. one later.
for now though.....
take the bar ends off.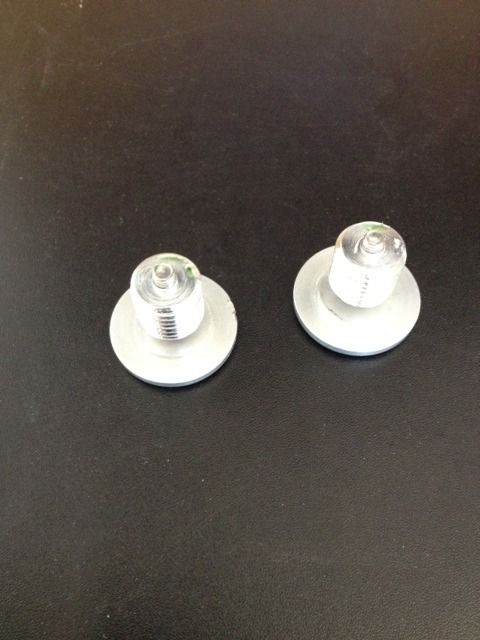 I started with the left side, take the left grip off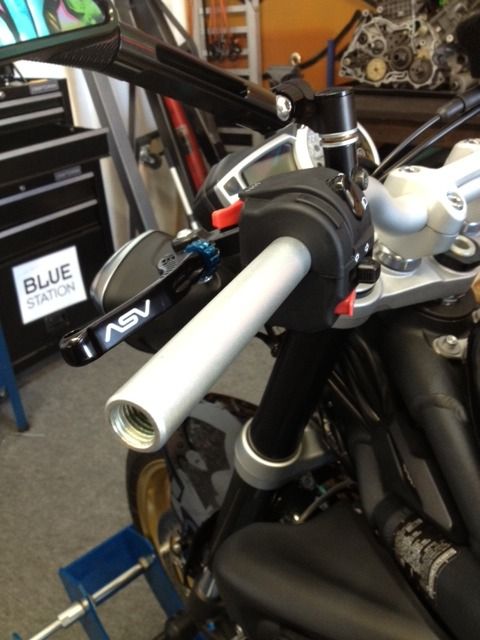 losen up your bolts and screwed housings. (yes my mirrors have ugly washers right now - that's what you get for ebay mirrors - shorter bolts are in the mail)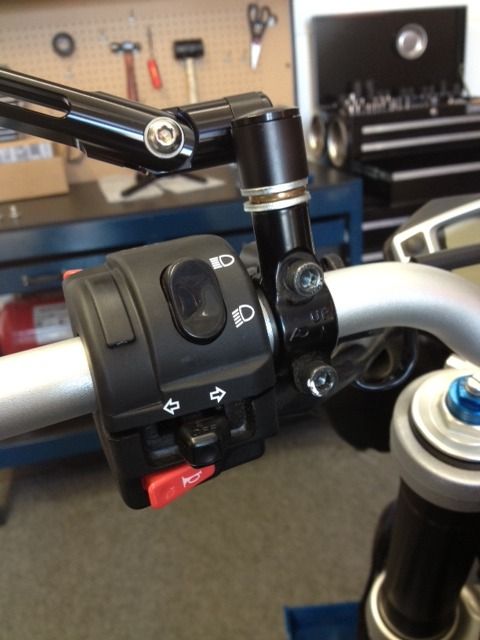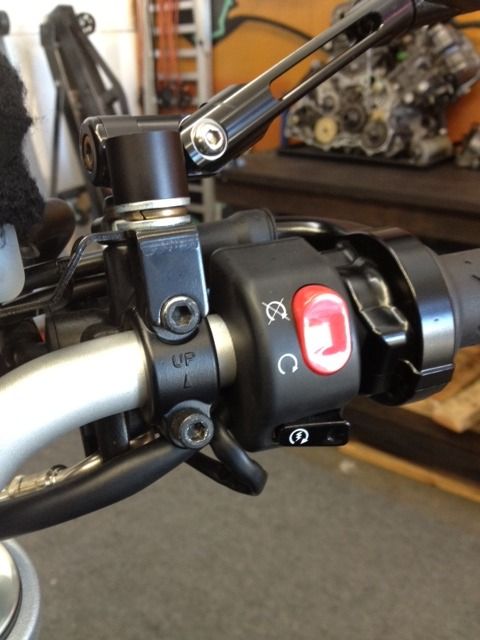 hole on left side
hole on right side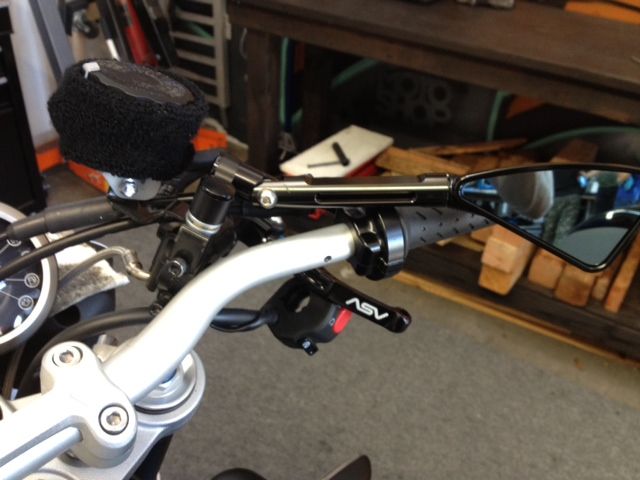 Then when you get to the throttle housing you'll either have to get some slack in your throttle cable to get it off the bar. OR what i did was to remove everything but that, then remove the handle bars completely and slide it off.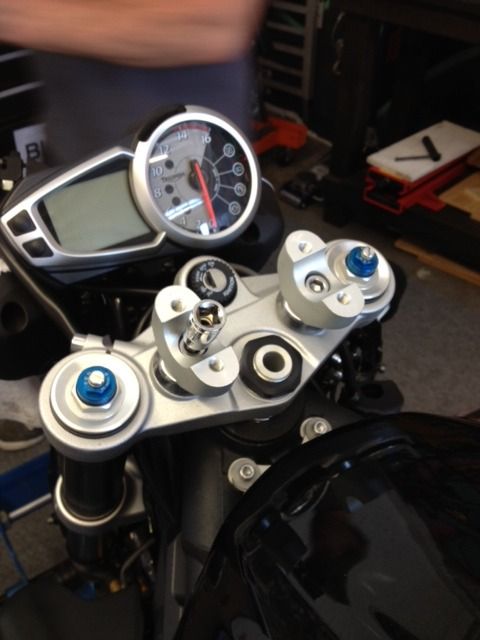 Then your all set to take off your top triple tree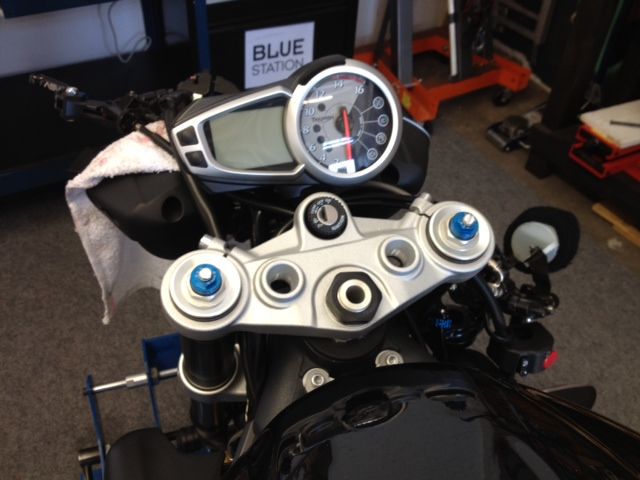 Powerbike
Main Motorcycle: '12 Street Triple R
Senior Member
Join Date: Apr 2012
Location: SF Bay Area
Posts: 334
NOTE: The key housing WILL come with it. It's hard bolted underneath and i wasn't sure how to get it off without it, so I just pulled it up all together and it worked just fine. here's what the bottom of the triple tree looks like.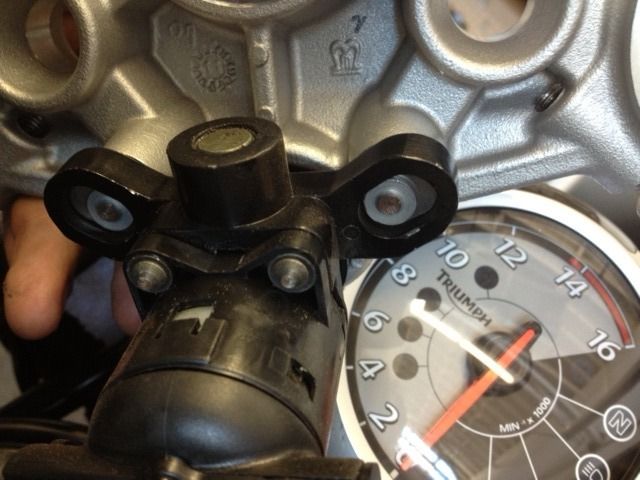 Now go throw your clip ons on and get them in the 'ballpark' of where you want them. Might also help to tighten them down a little just to check clearance before moving on. Note this positioning. It didn't work for clearance for me....I took a pic anyhow.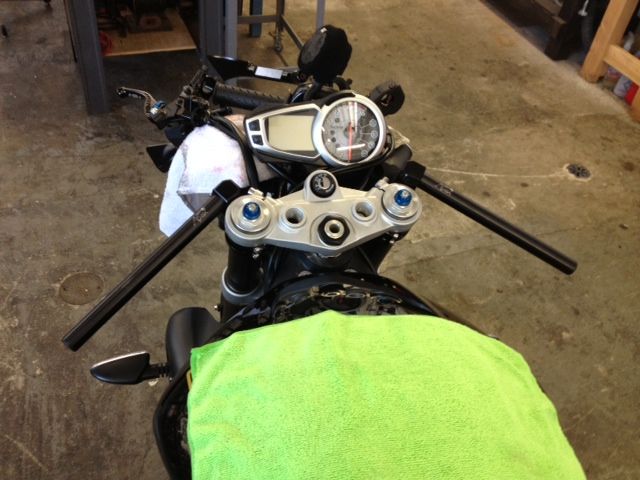 Then once your in the 'ballpark' of where you think you wanna be go ahead and start putting your turn signals, clutch, etc. back on. Things will change once you get it all on for 'clearance' so make sure to just lightly tighten things on as they'll possibly need to be re-adjusted to your likeing / clearance prefs.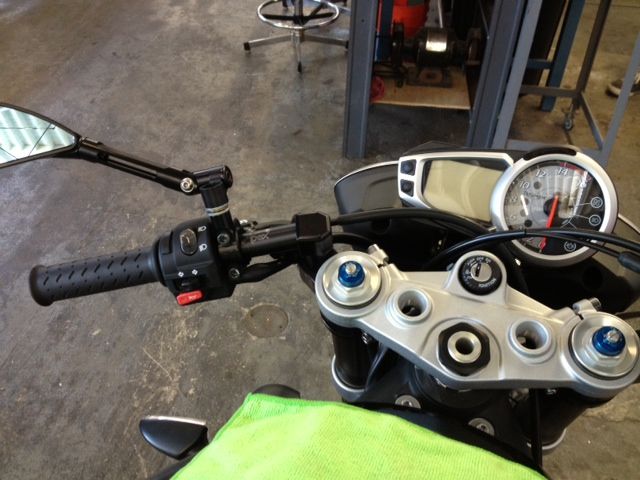 Once you get the left side sorted out for the most part I did the right side. One trick is to make sure you put the throttle back on the bars before you connect them (ie. reversing how you took them off with the OEM bar) so you don't put everything on and then realize you can't fit the throttle housing back on. In this pic you can see the brake res. is flat and good but i had to bend my wrist up to get the brake lever. vs. the clutch side which was really nice and smooth to grab. So i had to make some changes.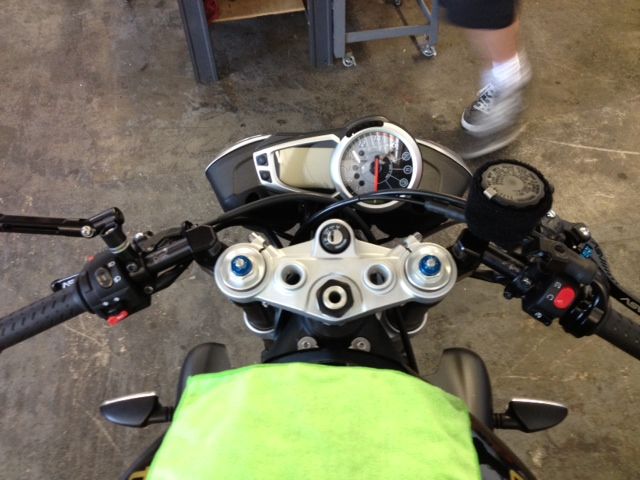 This is the snag for me, this part of the brake line kept getting in the way of my 'ideal' brake lever setting. So i eventually moved the Apex bars from their original position to a +1 fwd position which raised the bars a little and allowed this to fit behind the clip ons around the forks. (if that makes any sense!)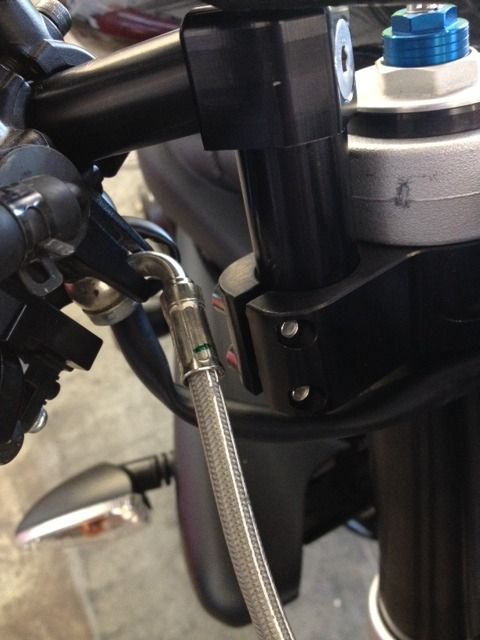 You'll also notice that the clip ons are up almost all the way, that's because i couldn't get any clearance (maybe i was doing something wrong) while they were all the way down. I was a little bummed at first but after my ride home i'm glad they're a little higher i think. At least my back is happier i'm guessing.
The front brake res. was at a serious angle with the OEM bracket so i undid the nut holding it in place, and then dremeled down the knot that was holding it in place for the oem braket. That allowed me to rotate it upwards a little more getting it a little more parallel with the ground. I could probably have gotten it even flatter but ran out of time.
Here's how it's setup now. I never could get the brake lever and the clutch lever to mirror each other angle wise so for now the brake lever is slightly lower (angle wise) than my clutch lever. Only solution i see is moving the bars to 'straight bars' or getting a different brake line that doesn't have the metal kink ours has (only those with the new round reservoir will have this issue).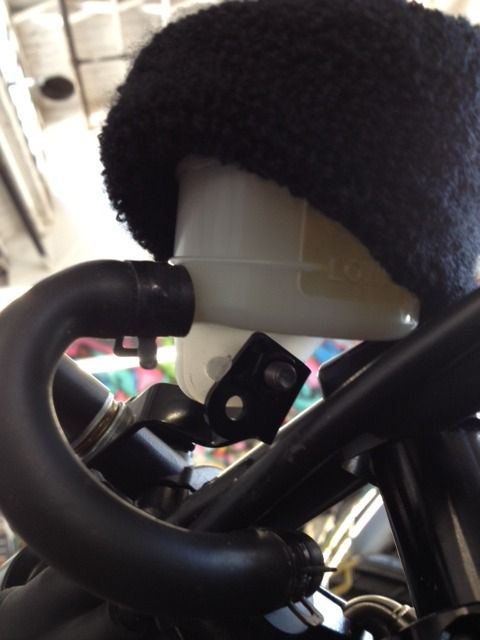 In the end. Here's clearance on both sides.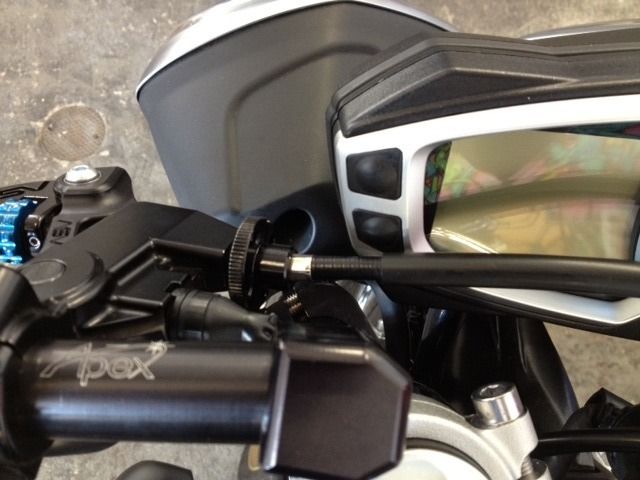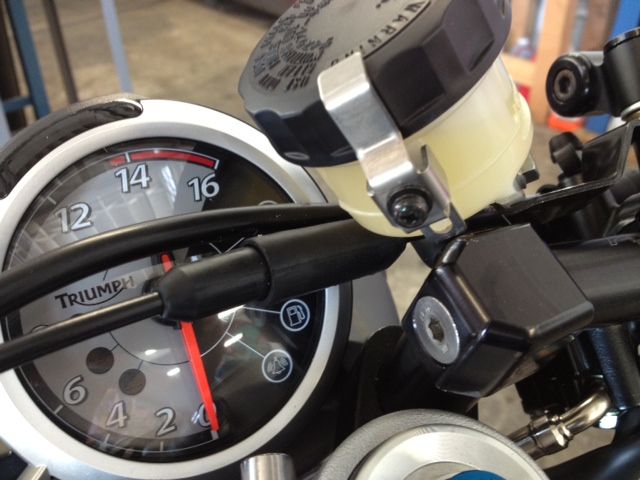 For now, it's Done. Rides a lot more aggressively and leans a lot easier, and of course looks good IMO.
up: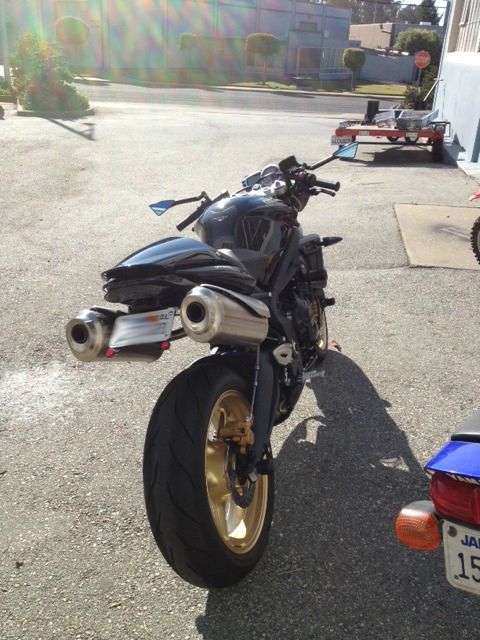 Love it! looks like hard work though but probably worth it.
Powerbike
Main Motorcycle: '11 ST3 Poorboy Edition
Senior Member
Join Date: May 2012
Location: Awaiting Puberty
Posts: 334
Other Motorcycle: '92 Radio Flyer 3 Wheel
Extra Motorcycle: '14 Polaris Sportsman 570
Looks purty. I hope to put some clips on my triple sometime in the future...I may have to reference this again.
---
I'm not saying let's go kill all the stupid people. Im saying let's remove all the warning labels and let things work themselves out.
Powerbike
Main Motorcycle: '12 Street Triple R
Senior Member
Join Date: Apr 2012
Location: SF Bay Area
Posts: 334
Thanks guys!
here's another pic finished. You can see how, even though i know this pic isn't exactly straight, nor are my bars in the pic, but the brake lever is a TAD lower than the clutch, thanks to that fancy bend in my master cylinder brake line. Doesn't really make a diff. when riding, but stuff like that bugs me. I can't stand when things don't line up perfectly. Going on vacation for a week and hopefully will have some more time to sort out a solution when i get back.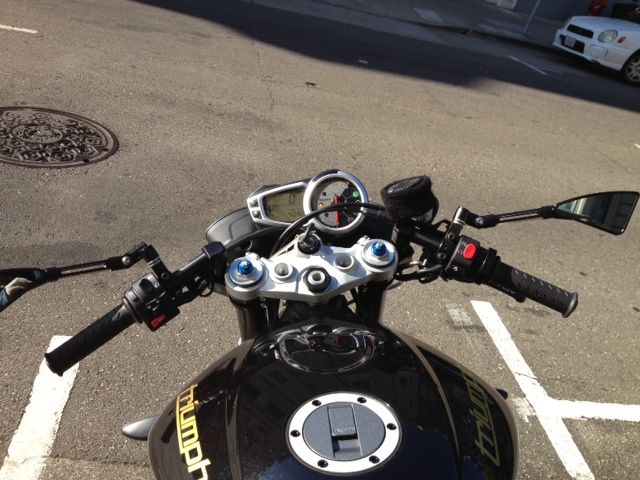 Formula Extreme
Main Motorcycle: street triple
Senior Member
Join Date: Jul 2011
Location: france
Posts: 571
Thanks BB! awesome write up, I think you convinced me to go the same route lol
It's just that I have a pretty long commute at the moment and am sure it will be uncomfortable there...
Powerbike
Main Motorcycle: '12 Street Triple R
Senior Member
Join Date: Apr 2012
Location: SF Bay Area
Posts: 334
Cool. Well if you get the apex clip ons you can also make them into straight bars to find a slightly less aggressive in between. Or at least have the option. Glad it was somewhat useful to ya. =]


Sent from my iPhone using MO Free
Supersport 400
Main Motorcycle: '05 Bonneville
Member
Join Date: Aug 2009
Location: San Francisco
Posts: 93
Good job buddy - what's the next project?
Supersport 600
Main Motorcycle: Street Triple
Senior Member
Join Date: Jun 2010
Location: Bay Area, Ca
Posts: 185
---
Man... Excellent job!

It sure looks nice, and the chance to do it yourself is awesome!!!
Motoshop is an awesome place to give you everything you need to work on your MC, w/ help and tips.... We in the bay area, are very lucky!!!
Hope you get it all perfect when you get back. Have fun!

Ride safe!!
SuperSport
Main Motorcycle: 2010 Street Triple
Senior Member
Join Date: May 2010
Location: Atlanta, GA
Posts: 966
Love the look, but my back loves the upright seating more.
Coming from a CBR600, the striple was basically my compromise, sporty yet fairly comfortable. But I DO love the look...
Posting Rules

You may not post new threads

You may not post replies

You may not post attachments

You may not edit your posts

---

HTML code is Off

---