Senior Member
Powerbike
Main Motorcycle: 2006 Speed Triple (black)
Has anyone converted there S3 to a Single Headlight? Where did you get it? I have only seen a conversion kit on NewSpeed3.com.

Most importantly, Do you have any pics?

thx -Matt
Banned
Team Owner
Join Date: Nov 2005
Posts: 5,284
Sin138's bike...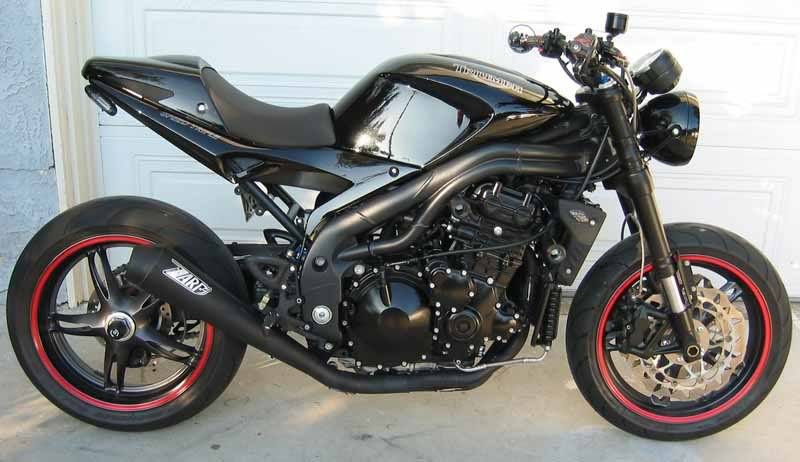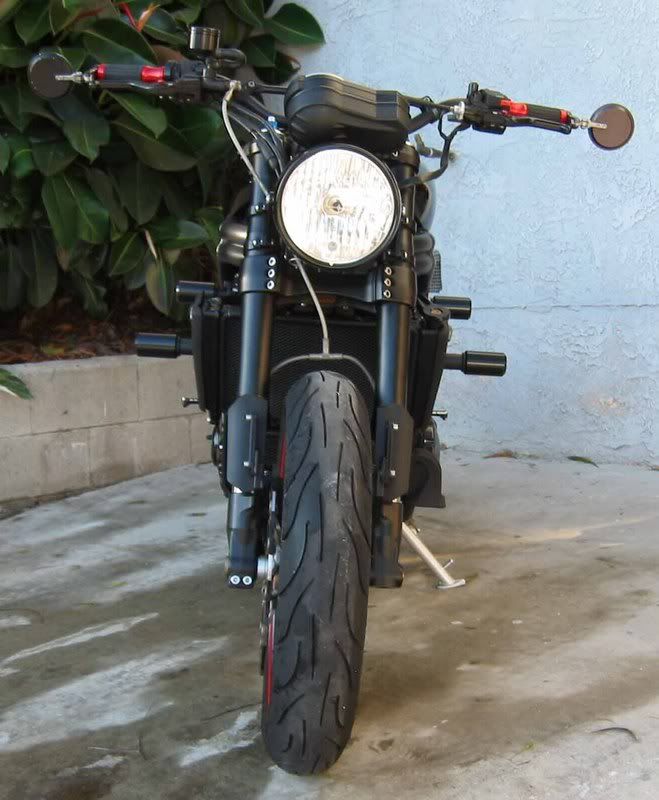 Senior Member
SuperBike
Join Date: Mar 2005
Posts: 1,589
Something about that just isn't right...
Senior Member
Powerbike
Main Motorcycle: 2006 Speed Triple (black)
Thanks CB, i was looking for the headon pic.

I like it. I think I am gonna get one this spring in chrome.

[ This message was edited by: KarmaPunk1 on 2006-12-10 12:54 ]
Senior Member
Formula Extreme
Main Motorcycle: Triumph
A single headlight totally kills the hooligan look of the Speed Triple and it's the one thing that really makes it stand out in a crowd. Without it it's as if you ripped off its brand mark. Example: take a Coca-Cola and rip off its label, what do you have..? A cola..
Senior Member
Formula Extreme
Join Date: Aug 2005
Location: Washington D.C. metro area
Posts: 528
Definatly don't like it. The speed triple has the distinct dual headlights that really set it apart from EVERYOTHER bike. Why make it seem like its just another bike.

But to each his own. Ill keep my dual headlights. :-D
Senior Member
Powerbike
Join Date: Nov 2006
Location: Round Lake, IL USA
Posts: 373
Other Motorcycle: CB400F cafe'
Extra Motorcycle: CM400E
Exactly. It kills the the whole original mojo thing.....
Senior Member
SuperBike
Join Date: Aug 2006
Location: Honolulu, Hawaii, America\'s Pacific Paradise
Posts: 1,787
Two small headlights? Fugly. I like the black single light. Go for it.
---
Triumph old, Triumph new, any Triumph will do.
Senior Member
Team Owner
Main Motorcycle: Hinckley Triumph
Join Date: Dec 2006
Posts: 4,978
If you want a single headlight can I suggest that you buy a Suzuki Bandit. The double headlighted S3 has become its trademark!
Senior Member
Formula Extreme
Main Motorcycle: 2005 Rocket III
Join Date: Jan 2005
Location: pennsylvania
Posts: 572
Other Motorcycle: 2001 Speed Triple
Extra Motorcycle: 1974 CB360
Are we forgetting the roots of the S3?
Do what you want man, be opinionated it's a free country! I really like both. With clip-ons I like the single, and with regular bars I like the double. I guess I'm just weird. Have you seen the LSL Cafed S3? If I was going to buy a 05+ S3 it would look alot like that. I first saw this bike in a German Streetfighter mag that I bought In Germany this summer when I was at the MotoGP at Sachsenring. Check it out here.
http://www.motorradonline.de/d/214309
---
Expelled From Old School
Posting Rules

You may not post new threads

You may not post replies

You may not post attachments

You may not edit your posts

---

HTML code is Off

---