Site Supporter
Nova
Main Motorcycle: Custom 955 Speed-Tona
Super Moderator
Join Date: Feb 2005
Location: Pleasanton CA
Posts: 19,486
I thought you were conspicuous by your absence!
Make it happen Norm
Site Supporter
SuperBike
Main Motorcycle: 2007 Speed Triple
Lifetime Premium
Join Date: Jun 2008
Location: Seattle
Posts: 1,561
Other Motorcycle: 2006 Speed Triple
Site Supporter
Commentator
Main Motorcycle: 2006 Speed Triple GT
SUPERcharged Moderator
Join Date: Mar 2010
Location: RMH, Alberta Canada
Posts: 8,822
Extra Motorcycle: 2012 SV650S
* slaps Money on the table *
I'm in
The Speed was my Grad present from first year so this lift will be it for this year .
Let me know when the buy goes down .
Really anyone who does all the work on the Speedy at home should have one .
And the shipping cost to Canada can not be beat .
Site Supporter
Nova
Main Motorcycle: Custom 955 Speed-Tona
Super Moderator
Greg at
Motomfg
kindly sent mine on ahead of the full commitment to get a confirmation on fitment for the earlier models.
This is a beautiful piece of kit, even better than expected - very nice quality, everything fits together extremely well.
I have to say I am totally ecstatic with this purchase.
First off, the packing is first-class!
It goes together extremely quickly & easily - put the wheels on, insert the vertical lift component into the base and bolt it together, then finally the adapter plate.
All the bolt holes line up
exactly
as they should and the powder coat finish is first class.
(Note that the hardware is not Metric - you will need SAE tools - wrenches and hex keys)
The Adapter Bushing is permanently fitted to the bike - remove the lower left-side Frame to Sub-frame bolt, (the one in the pocket in the frame) for which you will need a T55 Torx bit
Then insert the bushing and re-install with the replacement bolt *
* a new nut & bolt will be supplied (original is a flanged bolt)
The adapter bushing only protrudes by about 10mm from the frame, relatively unobtrusive.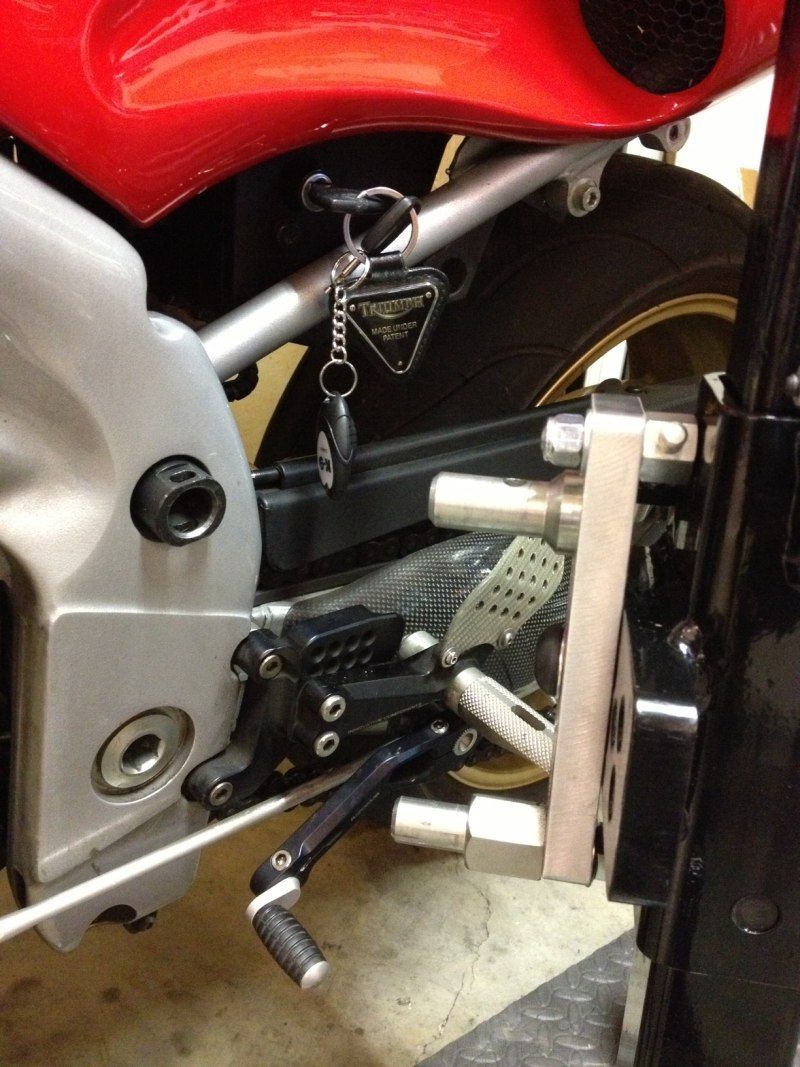 Then simply follow the included directions to align the adapter plate and pins between the bike and stand & tighten down. There is excellent range of adjustment built in to the design.
In my case I have Rizoma Rear-sets and I actually used a different mounting hole on the lift frame plate from the recommended hole per the instructions in order to clear the gear-shift pedal.
Very easy to operate and does not require super-human strength to raise the bike. It has good lever advantage. The locking pin is also very nice added safety feature.
It's
extremely
stable on the stand, even when moving the bike around on it.
Lowering is equally low-effort - you never feel like it is getting away from you dropping on its own weight.
The double casters are REALLY nice - effortless to move the bike around. The two closest to the left side lock to keep the bike from moving when you
don't
want it to!
I would highly recommend the casters unless you are seriously budget-constrained to not be able to include them at time of purchase:
- you can always get them later if that is the case.
Stand is fairly heavy, so even without considering their best asset of being able to move the bike around, even just moving the stand by itself is much easier to roll than have to pick it up!
I can rotate the bike on its own axis in a single bay of the garage.
Then could move the bike directly parallel to the rear of the garage for minimal intrusion into the garage space.
Before-hand it was in the same general space but only about 45 deg to wall - I would also have to first back the bike into the garage from outside.
Now can ride in, raise bike on the Motomfg Stand, spin it around and push it into the space as in parallel parked!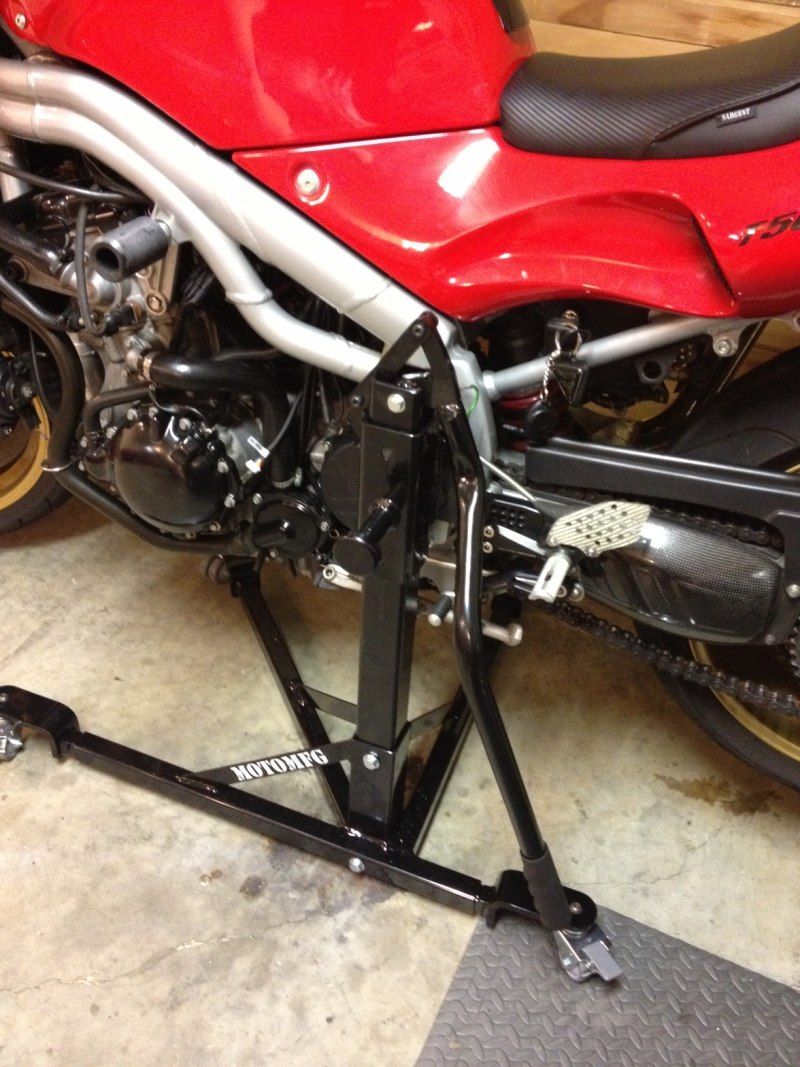 Here's a wide-view so you can see how tight the bike now tucks into that space: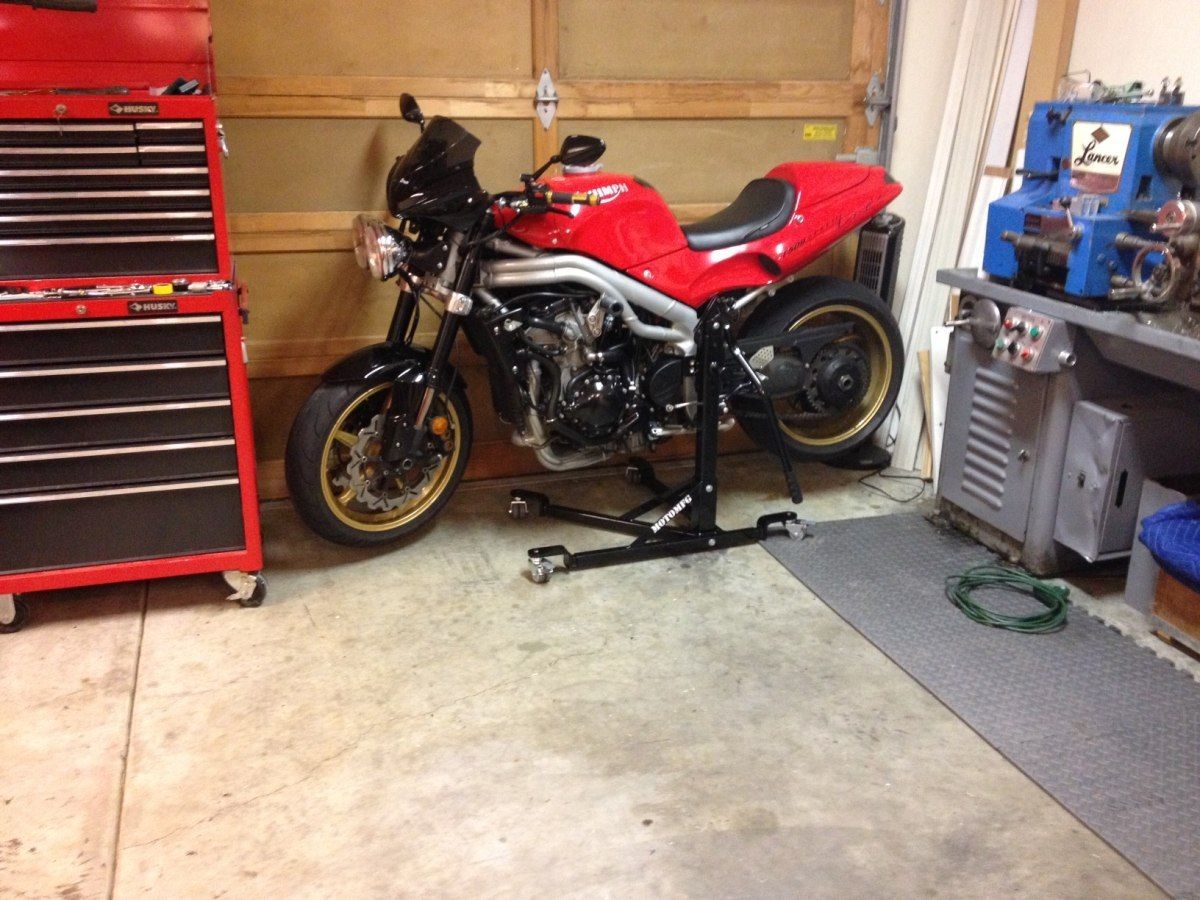 Site Supporter
Nova
Main Motorcycle: Custom 955 Speed-Tona
Super Moderator
You're in Norm!
See above I just posted - you're going to love this thing!!

Just one more needed and can start the order process ..................
Site Supporter
Commentator
Main Motorcycle: 2006 Speed Triple GT
SUPERcharged Moderator
Join Date: Mar 2010
Location: RMH, Alberta Canada
Posts: 8,822
Extra Motorcycle: 2012 SV650S
Would one be able to remove the swingarm with this rig in place?
Site Supporter
Powerbike
Main Motorcycle: Triumph Trophy 3
Lifetime Premium
Join Date: Jun 2012
Location: Pioneer, CA
Posts: 315
Other Motorcycle: '98 Triumph Tiger
Extra Motorcycle: '96 Triumph Sprint
Dang that looks beautiful...
Santa, I've been a VERY good boy this year... so thanks in advance...
---
- FoothillRyder
AMA# 289558, COP#0001, BIR#47
'97 Trophy 3, '98 Tiger, '96 Sprint
My Blog
Site Supporter
Nova
Main Motorcycle: Custom 955 Speed-Tona
Super Moderator
Quote:
Originally Posted by
DieselGeek
Would one be able to remove the swingarm with this rig in place?
One of few things you can't do directly - it uses swing-arm spindle for lower lift pin
But it's not really alone there - you have to either lift under the motor or support under the subframe to do that
So neither Pitbull (or similar design) single-side axle lift nor Abba nor any other type I can think of can accommodate alone.
Here's what I would do:
Lift bike using the Motomfg;
Remove wheel, chain off sprocket, remove right-side spindle bolt and loosen the spindle lock ring & adjuster collar; uncouple lower shock mount from linkage and block under the swing arm to support;
Put a piece of pipe under sub-frame and position jack stands under on each side;
(on some bikes you can just flip the rear foot pegs and support on those)
Lower bike down off stand to support its weight on the pipe (or inverted foot pegs) on the jack stands;
Withdraw the Motomfg;
Remove spindle from left side and withdraw the swingarm.
Site Supporter
SuperBike
Main Motorcycle: 2007 Speed Triple
Lifetime Premium
Join Date: Jun 2008
Location: Seattle
Posts: 1,561
Other Motorcycle: 2006 Speed Triple
Dammit DEcosse, now I've got lathe envy. Stand envy, too. Come on, you last holdout - you know you want one.
Site Supporter
Commentator
Main Motorcycle: 06 ST, BOTM, 09-10 BOTY
Lifetime Premium
Join Date: Mar 2006
Location: Florida
Posts: 9,047
Other Motorcycle: 05SV1K, 2012 Ducati M1100
Kudos to Ken for doing the research and setting up this group buy.

My dealer now sells them and has a Diavel on one one in the showroom. Very apparent that it is well designed, sturdy, and meets expectations.

This is probably one of the best bangs for the buck I have ever seen when it comes to motorcycle related equipment!
---
Oldndumb
Caveat lector
Posting Rules

You may not post new threads

You may not post replies

You may not post attachments

You may not edit your posts

---

HTML code is Off

---