Member
Supersport 400
Main Motorcycle: 2011 S3 abs
Join Date: Jun 2012
Location: Wollongong
Posts: 86
Low mount exhaust questions?
---
Ive searched and searched but cant really find any info on a low mount that isnt offensivley loud.
Ive looked at the GPR, Mivv, Sc project and Comp Werkes and they all seem great, but im not sure on how loud they will be.
What are your experiences?

Also, should i be expecting to loose power from this style of exhaust (compared to high mounts)?

Thanks
New Member
Minitwins
Main Motorcycle: Street Triple R -12
Join Date: Nov 2011
Location: Espoo, Finland
Posts: 13
Hi, I've got the GPR GPE low mount slipon on my 1050 -05 speedy and I love it. It is definitely not too loud since it comes with 2 removable baffles.
Here's a pic of my bike with GPR exhaust.
Lifetime Premium
Site Supporter
Formula Extreme
Main Motorcycle: Speed Triple 1050 06
Join Date: Dec 2010
Location: Horsham, Sussex UK
Posts: 432
I have a Scorpion as it was the only low boy I could find that doesnt stick out at an odd angle. It follows the lines of the subframe and doesnt cover much of the rear wheel. It was also the only full carbon exhaust I could find. It has a large baffle that cuts the noise down so its not overly loud. Just about right for me, makes a great noise but certainly not race bike loud.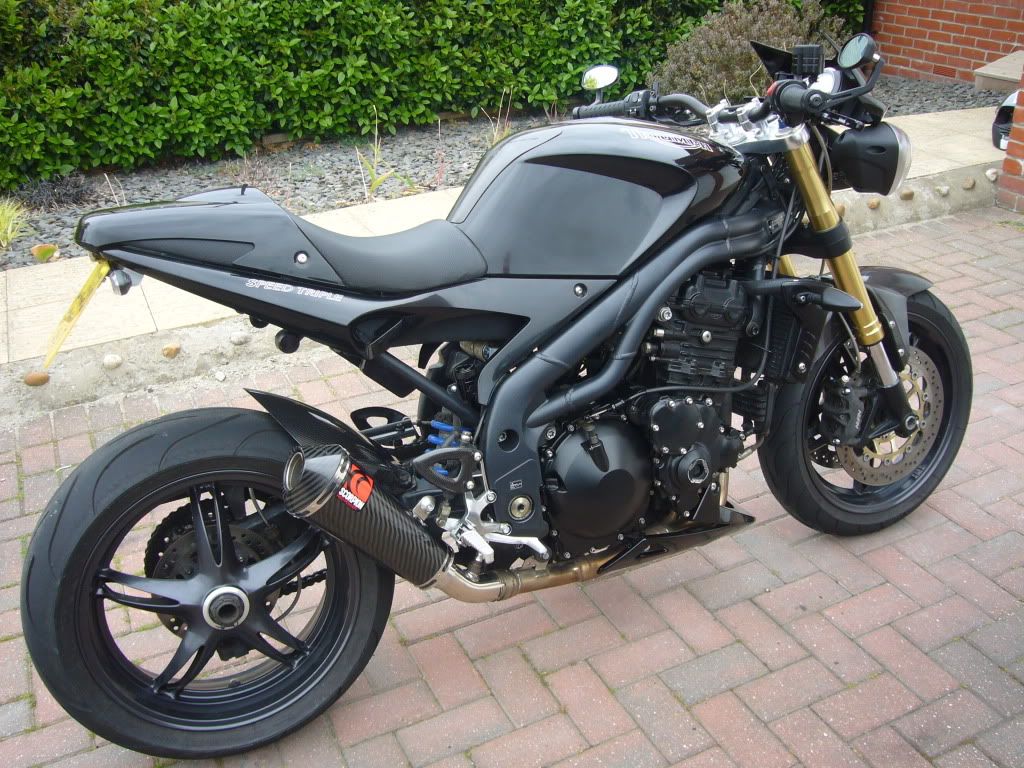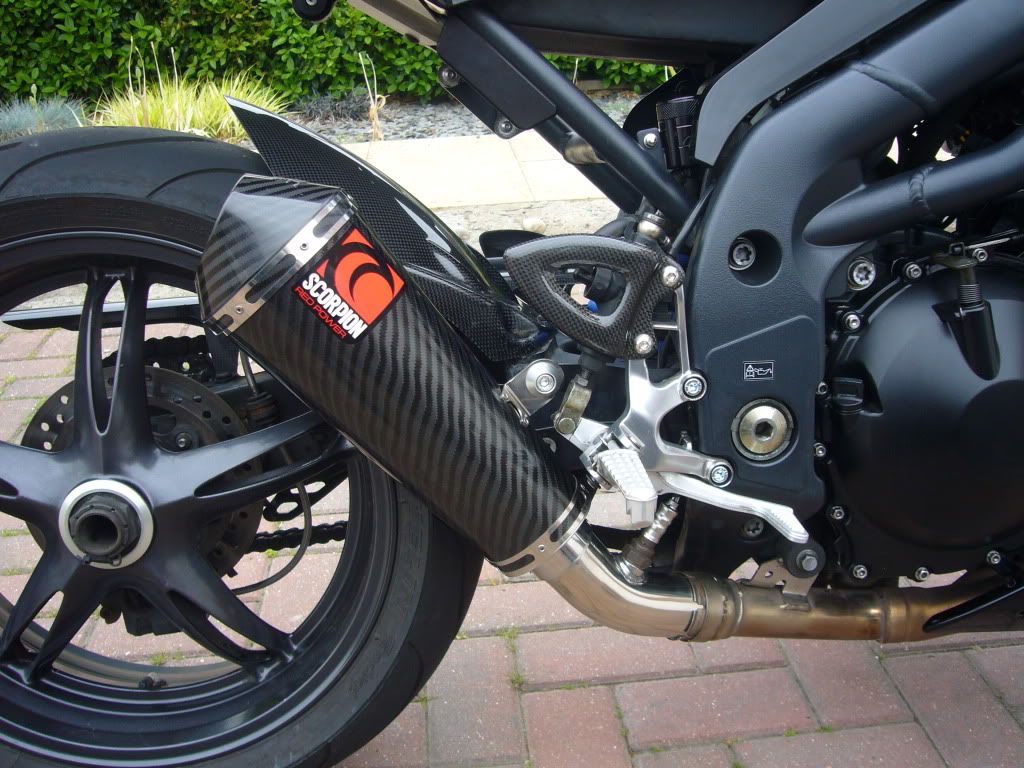 Senior Member
Powerbike
Main Motorcycle: '06 Speed Triple 1050
Join Date: Jan 2007
Location: Surbiton
Posts: 354
Other Motorcycle: '98 Kawasaki ZX7R
Don't listen to them.
Get a Comp Werkes.
Nice and loud with the baffle out.
Just "nice" with it in.
Here's mine.......
It sits at a good angle and leaves the SSSA on full view.
Lovely.
And I can't honestly say I can notice any missing power. But I do notice the reduction in the weight.
---
Oedipus schmedipus! At least you love your mother.
---
Last edited by Doc007; 07-09-2012 at

07:33 AM

.
Senior Member
Formula Extreme
Main Motorcycle: Matte Blk 09 S3
Join Date: Oct 2008
Location: NY, USA
Posts: 555
Funny seems like everyone likes their own.
I run an SC Projects oval carbon. It did not seem overly loud..... so I took the baffles out. Weight savings for we seemed noticeable esp where the weight is; up high.
Lifetime Premium
Site Supporter
Formula Extreme
Main Motorcycle: Speed Triple 1050 06
Join Date: Dec 2010
Location: Horsham, Sussex UK
Posts: 432
I like the Competition Werkes exhaust too. If they had been available with the baffle when I bought the Scorpion, then I might have got one instead.
So go ahead, follow the crowd and get one like everyone else...
SUPERcharged Moderator
Site Supporter
Commentator
Main Motorcycle: 2006 Speed Triple GT
Join Date: Mar 2010
Location: RMH, Alberta Canada
Posts: 8,818
Extra Motorcycle: 2012 SV650S
As far as looks go ... I voted with my wallet already . COMP WERKS
That said the Only other pipe I would choose is the SC low pipe .
I don't think there is a low pipe out there that is going to make the Speed sound like a sewing machine , and the SC has the baffle to give you options .
The scorpion looks nice too , but with the comp werkes you need not remove the pipe to remove the rear wheel . Time saver .
Senior Member
SuperSport
Main Motorcycle: -
Join Date: Jan 2008
Location: Phx
Posts: 1,370
Other Motorcycle: SIII 1050 07'
Extra Motorcycle: KTM XCF-W 350
Mivv GP Low mount Carbon......sounds good to me. Baffles in.
Member
Grand Prix 250
Main Motorcycle: 2012 Speed Triple
Join Date: May 2012
Location: Michigan
Posts: 56
I ordered a comp werkes last friday. I got an e-mail from them today saying there would be a 2 week lead time on the pipe + the 7-10 days for the finish I wanted. If your in a hurry for it might want to check with them to see if they have any in before you order. I will attempt a video when I finally get it installed.
New Member
Grand Prix 125
Main Motorcycle: 08 Speed Triple
Join Date: May 2012
Location: JHB South Africa
Posts: 28
HPCorse Hydroform. Ran it on the same dyno with the stock pipes, then again with the pipe. Gained next to nothing at the top of the graph, however the mid-range gained 2-3hp between 6500 and the peak. Some TuneECU changes are on the cards though. Either way the pipe looks sexy and sounds epic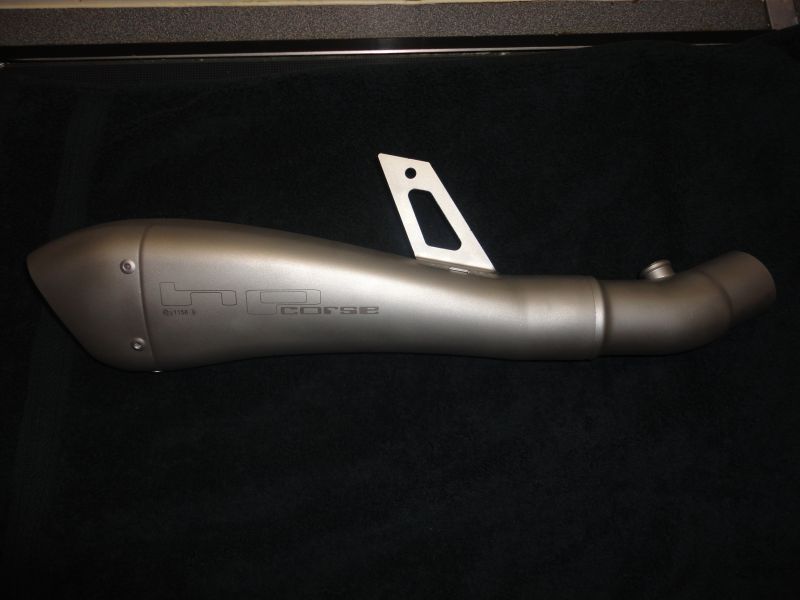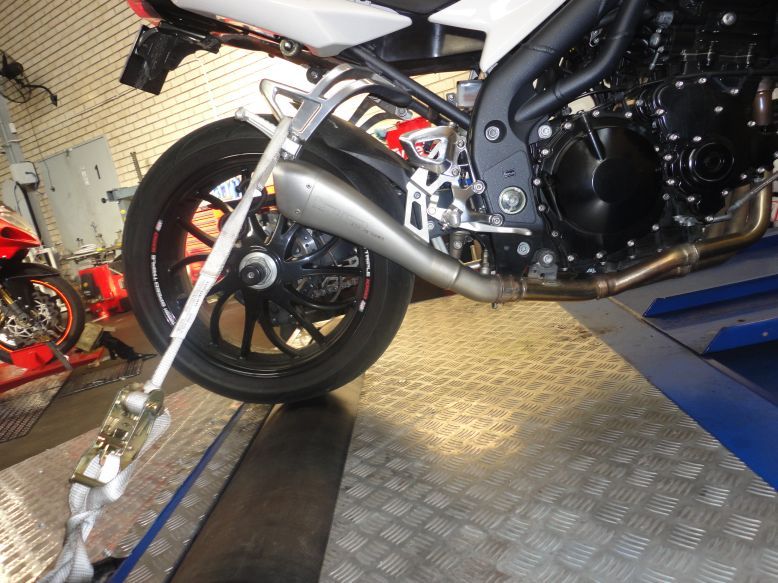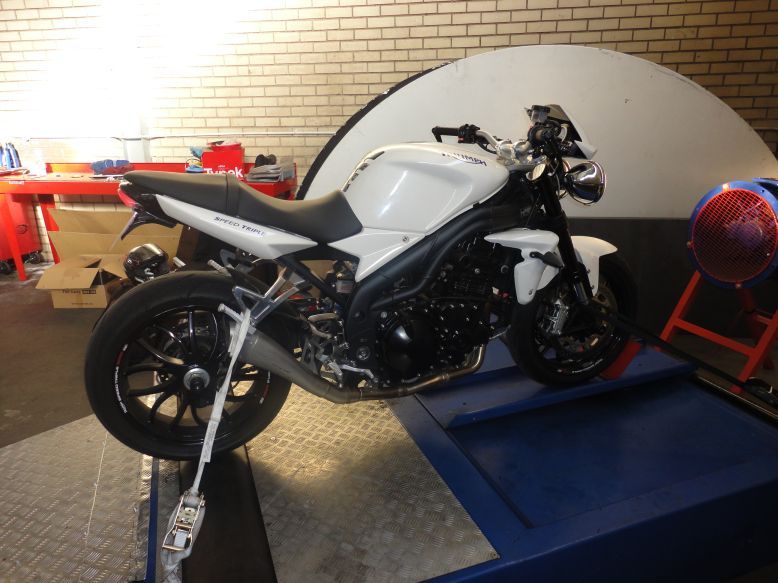 Weighs 1Kg so big saving there
---
Last edited by LittleG; 07-09-2012 at

02:07 PM

.
Posting Rules

You may not post new threads

You may not post replies

You may not post attachments

You may not edit your posts

---

HTML code is Off

---