Senior Member
SuperStock
Main Motorcycle: 2006 Speed Triple
Join Date: Jul 2003
Location: Dallas
Posts: 263
Do these performance chips work?
---
Senior Member
Grand Prix 500
Main Motorcycle: 01 S3/daytona motor
Join Date: Jun 2008
Location: Portland OR USA
Posts: 139
Other Motorcycle: Rf 900R
Sound a little too good to be true?
What do you think it will do? Stronger rods pistons and a reworked head?
It is a waste of money.
Senior Member
Supersport 600
Main Motorcycle: Speed Triple
Join Date: May 2008
Location: Fond du Lac, WI
Posts: 151
faffy,

Don't waste your money, they are a scam.

Short response, the only way to make more HP for any given displacement engine is to get more air in, or get the air out more efficiently.

There is NO magic tune. You MAY be able to get 1-4 HP with adjusting the stock tune and nothing else, but what you have done is taken out the safety margin in the calibration. Hot day, the bike might knock itself to death.

There is a reason that the Arrow 3 into 1 costs $1300. Its difficult to make more HP on an already fully developed engine.
Super Moderator
Site Supporter
Nova
Main Motorcycle: Custom 955 Speed-Tona
Join Date: Feb 2005
Location: Pleasanton CA
Posts: 19,445
No
That pretty picture of a chip incidentally, is a spoof - it'a $0.20 resistor.
35BHP?
.
Senior Member
SuperBike
Main Motorcycle: 2015 KTM 1290 SDR
Join Date: Jun 2007
Location: Kiwi Land
Posts: 1,538
$9.99 and $13.99 for shipping? What a bargain price for such a massive increase in HP.
I almost feel cheated for spending so much money on TuneBoy, CRM's, K&N etc lol.
If only I'd known.
Senior Member
Grand Prix 500
Main Motorcycle: 08 Speed Triple
Join Date: May 2009
Location: Minnesota
Posts: 129
I'm gonna buy 15 of them and drive from Minneapolis to Dallas in 2 hours.

Who needs airlines when you have the ebay mystery chip!?
---
Last edited by karana; 06-05-2009 at

03:48 AM

.
Senior Member
Formula Extreme
Join Date: Jun 2009
Location: Birmingham, AL
Posts: 466
A resistor on the temp sensor is NOT going to produce good power on the S3. It will simply tell the ECU that the engine is operation at a cooler temp and increase fueling everywhere. Not a good thing on the S3.
Below is a recent graph from a 2007 S3 running CRM duals, ported stock header, stock air filter, 93 octane pump fuel.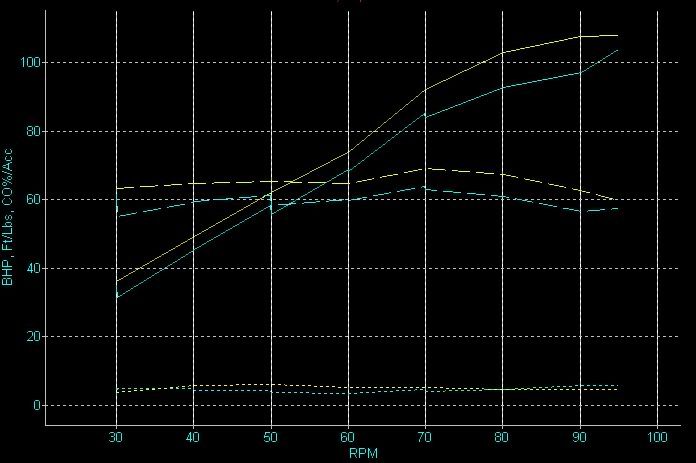 Blue - As delivered, running internet downladed tune.
Yellow - After tuning to the needs of this particular bike.
The later S3s use a V2 Keihin ECU that can be a bit more work to tune correctly. This is very hard to do with a PCIII at part throttle, but TuneEdit (TuneBoy) makes easy work of this.
We are testing custom billet velocity stacks now. Initial testing shows a gain of 3.5% at higher rpm, and improved transient response on the 1050 S3s.
Senior Member
Grand Prix 500
Main Motorcycle: Moto Guzzi Griso
Join Date: Feb 2009
Location: Brodhead WI
Posts: 149
Extra Motorcycle: 1993 HD low rider fxlr
I like how the top of the page says
+35HP PERFORMANCE CHIP TRIUMPH
and the lower part says
+25 HP POWER BOOST CHIP/MOD,GAS SAVER
:
Member
Grand Prix 250
Main Motorcycle: 2010 SP3 15yr SE
Join Date: Apr 2009
Location: Chicago
Posts: 71
Other Motorcycle: 1964 Honda CB150
Lifetime Premium
Site Supporter
SOTP Vintage Series
Main Motorcycle: Tiger Explorer 1200 XC
Join Date: Mar 2005
Location: Gold Coast, Australia
Posts: 7,323
Other Motorcycle: Moto Guzzi V7 Classic
---
She said, "You can`t take ANYTHING seriously, can you?" I just laughed.
Posting Rules

You may not post new threads

You may not post replies

You may not post attachments

You may not edit your posts

---

HTML code is Off

---