Dont forget
_____________________________________________
Brit Jam
19-Aug-2012 (Sunday) From: 10:00 AM, To: 05:00 AM
East Hampton, CT
Brit Jam Motorcycle Show and Swap Meet. Haddam Neck Fairgrounds, East Hampton, CT. Presented by the British Iron Association of Connecticut. The show is open to all makes, emphasis on British bikes. Food, music, vendors and more!
www.ctbritiron.org
_____________________________________________
And of course:
4TH ANNUAL ROCKERS RE-UNION
2nd - Sept. - 2012 ( Sunday ) 11am to 7pm
All those in New england.....Race on down to the Re-Union in CT and ride home on this bike...
A full day of Bikes Babes, Bands, Beer, and Hooliganism...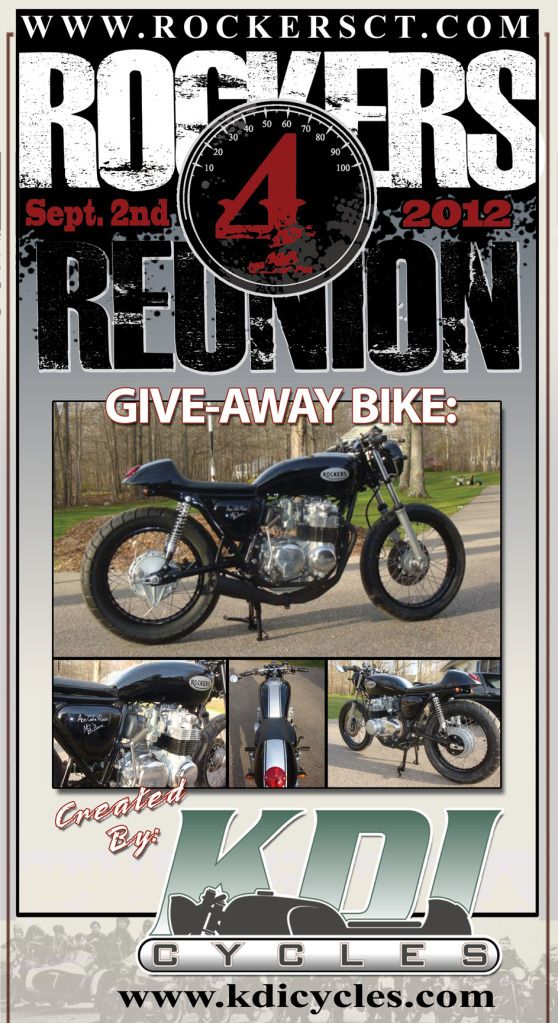 www.rockersct.com
Cheers
SETH
SuperSport
Main Motorcycle: 2014 Tiger 800 XC
Senior Member
Join Date: Apr 2009
Location: St Augustine, FL
Posts: 1,196
Many of you know I did the SaddleSore 1000
http://www.ironbutt.com/ridecerts/ge...nt.cfm?DocID=1
event in this year's Minuteman 1000
http://www.minuteman1000.com/
, an IBA-sanctioned meet.
The SaddleSore 1000 is designed as an intro-level rally to get those interested in LD riding through a very mild set of goals and really gives a positive first experience. Even if you're not looking to do 20,000 miles per year touring, it's a fun weekend of biking and a feeling of accomplishment, plus a really bad-ass license plate frame if you complete everything correctly.
It is not a race! The guy from Bushwick I rode up with did it in about 16.6 hours, was the first one back, and had a lower score than I did (he didn't keep his fuel log correctly and lost points).
If you didn't read my report, here it is again:
http://www.tealrider.wordpress.com
Anyway- I am not sure of the dates yet but it is usually the weekend after the Bennington Bash and I know most cannot take 2 long weekends back-to-back, BUT, if anyone is interested, I am going to do the Open Rally this year (basically a scavenger-hunt for most points in 24 hours) and if anyone is interested in the SS1000 and has any Qs, just let me know-
Kriv
---
IBA# 53256
2012 Minuteman 1000
2013, 2014, 2015 Nutmeg 400
2014 BunBurner 1500
Posting Rules

You may not post new threads

You may not post replies

You may not post attachments

You may not edit your posts

---

HTML code is Off

---