Minitwins
Main Motorcycle: Bonneville T100
New Member
Join Date: Jul 2012
Location: Perth,Western Australia
Posts: 16
Other Motorcycle: Busted up tiger rebuild
Just outside the sleepy town of Pemberton is the beautifully named "Valley of the Giants" home of some of the biggest trees in the area.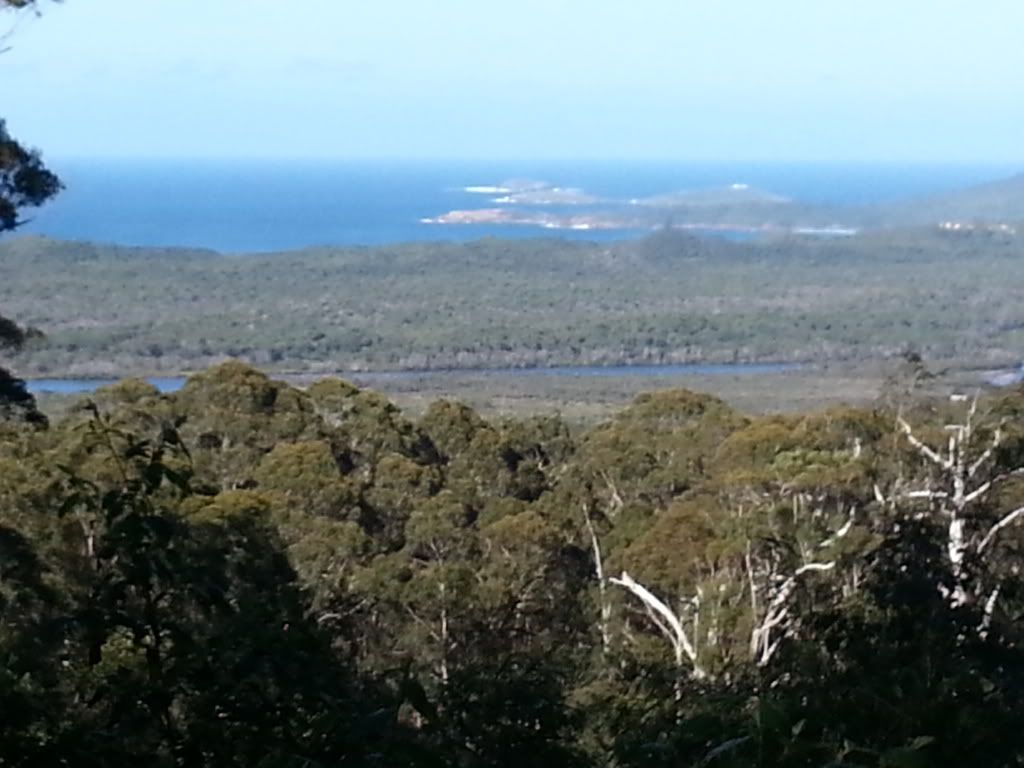 Looking back across the Forrest, Franklin river to South coast.
Check out this Red Tingle tree , they are only found in this area. This one is 75 meter tall and 24 meters in diameter at the base. It has a shallow root system and the huge buttressed base and hollow center is a feature of many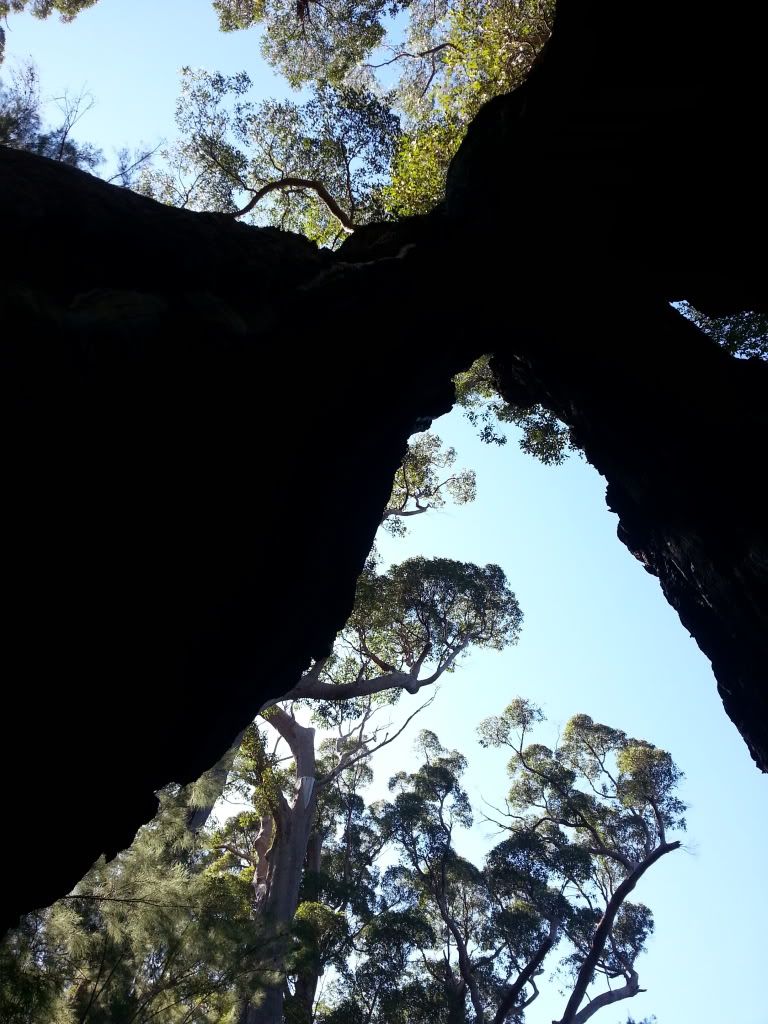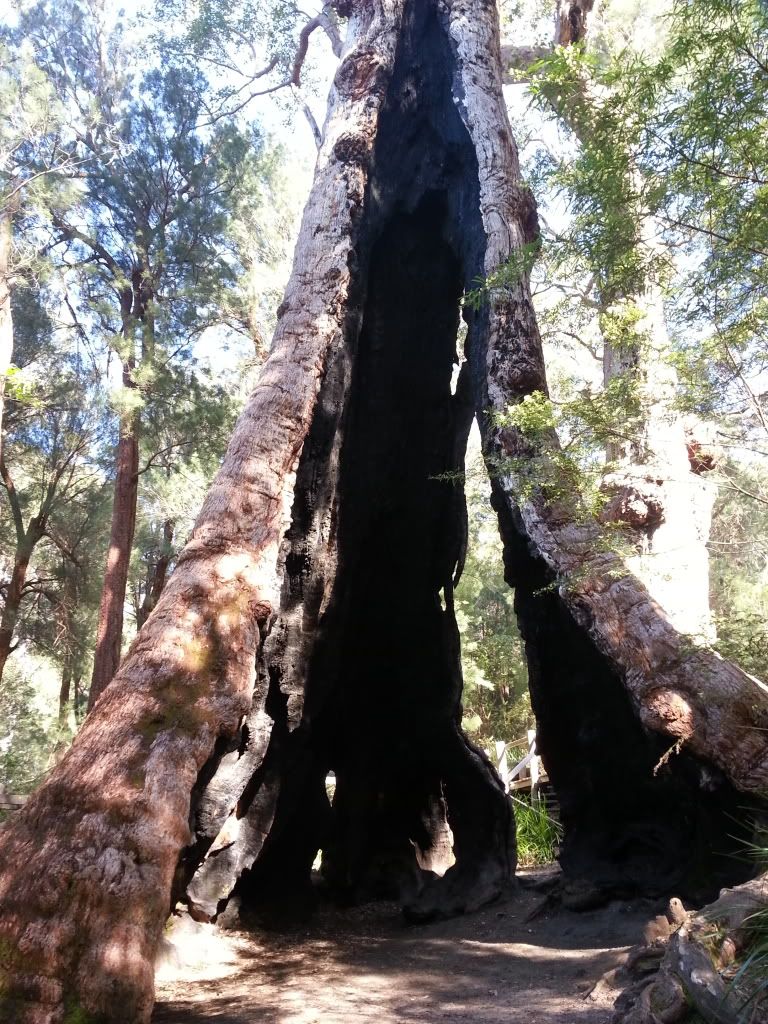 Not far away is the tree top walk. I had just about had my fill of trees but as I was in the area I thought I might as well.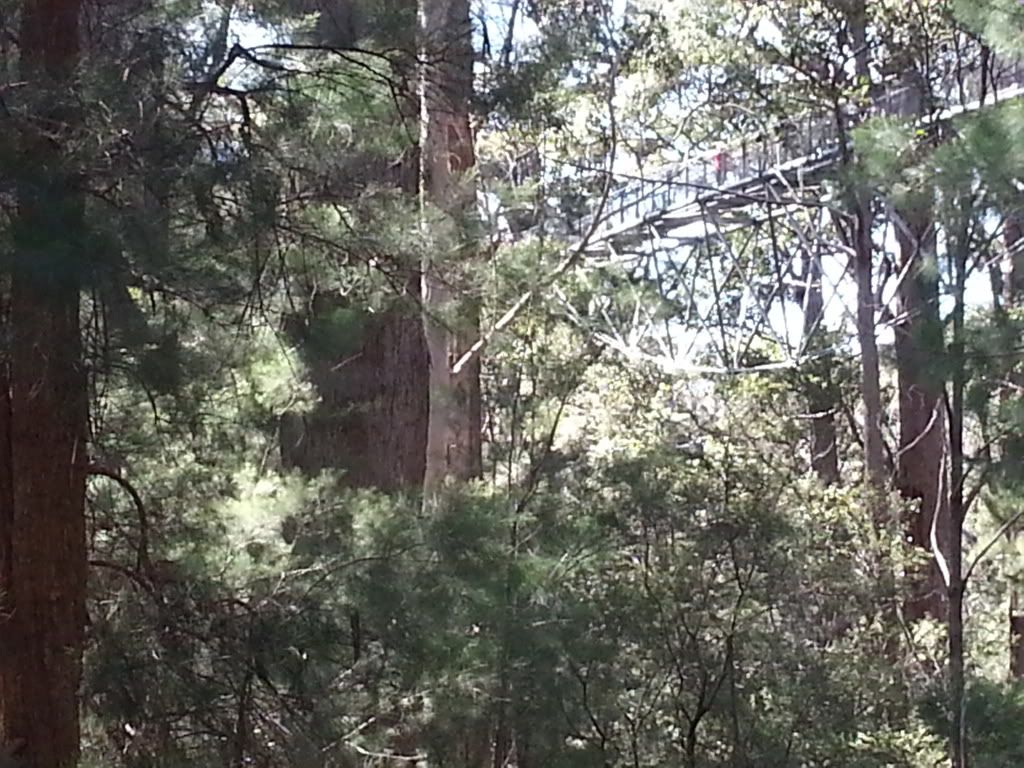 See the walkway??
Site Supporter
Supernova
Main Motorcycle: 2013 Tiger 800XC
Motorcyclist
Join Date: Mar 2008
Location: MN, USA
Posts: 29,180
Other Motorcycle: 2007 Bonneville, ST1300
Extra Motorcycle: G12DL, ZX1100, KLX400
Fantastic - thanks for sharing your trip and pictures with us, it is always inspiring to read members motorcycle trips. That's what it's all about!
We get to see such wonderful sights and places this way!
---
Before he did it, I'd have said it couldn't be done.
Supersport 400
Main Motorcycle: 2008 Scrambler
Member
Join Date: May 2011
Location: SE PA
Posts: 85
Other Motorcycle: '10 Bonneville T100 Black
Extra Motorcycle: 1997 Ducati Monster 750
Neat report. I may have missed it but do you carry spare fuel?
---
'10 Bonneville T100 Black - stock, Contemporary seat
'08 Scrambler - silver, Arrow 2-1, Moose ATV bars, Tiger mod, Renntec, folding shifter (Honda I think), LD Bonnie seat by Spencer, Ikons
'97 Ducati Monster 750 (sold - now need a Thruxton!)
Pole Position
Main Motorcycle: KTM 1290 Super Adventure
Senior Member
Join Date: Jun 2011
Location: Köln
Posts: 3,270
Other Motorcycle: '96 Adventurer
Some great pics there, makes me miss it a little
.
It is nice down there, but as you say, you tend to get fed up with nothing but trees after a while!
Oh and watch out for those bloody march flies too, those buggers have teeth, are about an inch long, and take chunks out of you.
You can hear them coming about a kilometre away, they sound like bleedin chainsaws - ruuuun
.
A good overnight trip is to camp out on Forrest beach just outside Busselton. Take a crab scoop with you, and a small gas cooker and pot for boiling up the crabs you can catch. It's really easy, just walk along the waters edge once the sun goes down and shine your torch into the water. If you see a dark spot, hit it with your scoop. Three or four crabs make a great supper
.
You can camp on the beach, but stay away from the dunes, the Rangers don't have a sense of humour as they're out of bounds.
Grand Prix 250
Main Motorcycle: Thruxton
Member
Join Date: May 2009
Location: Perth, Australia
Posts: 48
Reminds me of a recent trip down the SW of WA however in the family car, yep with the family. Caves Road was a hoot in the car, I would love to zip along that on my Thruxton, saw the odd Kangaroos of course and a family of Emu's.

The SW is nice but 'everything' is such a long way from Perth, a recent trip to Victoria reminded me of how close great locations are.

There was a question about carrying fuel, no need there is plenty available as the townships are quite close down that way.

Head out on the Nullarbor and I am sure there is a sign at one spot that says "Last Fuel for 350km" plus my favourite 'Straight Road for 190km" yes no bends or curves, just dead straight!
Grand Prix 250
Main Motorcycle: 2006 Sprint Caspian blue
Member
Join Date: Feb 2010
Location: St Helens Merseyside England
Posts: 56
Other Motorcycle: BSA A65L 1970
Fantastic. Thanks for sharing. Propforwards signature says it all
Newbie
Main Motorcycle: Tirumph Speedmaster
New Member
Join Date: Nov 2012
Location: Australia
Posts: 2
Other Motorcycle: Honda CB250 Bobber
Thanks for the write up.
I've done that trip a few times in the car.
Trying to convince the missus to come along on the back of the bike for a weekend down that way.
SuperStock
Main Motorcycle: Bonnie
Senior Member
Join Date: Dec 2007
Location: central Illinois
Posts: 284
Wow!!! that is an impressive area to ride in.Sounds as if you are doing it right.
Grand Prix 125
Main Motorcycle: '06 America
Member
Join Date: Aug 2011
Location: Perth Australia
Posts: 32
Great ride report Colby. Have done a couple of overnight trips down south with our Joondalup branch of our Ulysses Club. One to Pemberton and another to Eagle Bay. Off this weekend to Margaret River for some of that great food and wine
Grand Prix 500
Main Motorcycle: T100 110th Anniversary Ed
Senior Member
Join Date: Oct 2012
Location: Perth Australia
Posts: 108
Thanks Colby for the ride report.
Like others have said i have been many times with the family in the car but never by bike, i last drove the Caves Road in January and was thinking how nice this would be on a bike!
cheers
Paul
Posting Rules

You may not post new threads

You may not post replies

You may not post attachments

You may not edit your posts

---

HTML code is Off

---