Senior Member
SuperSport
Main Motorcycle: 2014 Tiger 800 XC
Join Date: Apr 2009
Location: St Augustine, FL
Posts: 1,196
Skyline Dr-BRP-Dragon-Cherohala-Moonshiner 28
---
My local riding buddy and I just got back from a 2,200 mile, 7 day run to the great American motorcycling roads. We started with a simple slab run from NYC out routes 78W-81W to get us to the northern entrance of Skyline Drive in about 6 hours of riding plus some grub and fuel stopping. We stayed in the scuzzy yet inexpensive Super 8 just a mile from the entrance to the Drive and the Shenandoah National Park. After a quick coffee in the am, we were onto Skyline Drive. The $10 entry fee to the Drive is good for 7 days so we saved the receipts for the return trip in 5 days. The Drive winds through the lower altitude woods at and it was quite foggy still as it was only around 9am. After a few miles we started coming into the higher altitudes and the mountain started forming under us. As we broke onto the ridgeline in the sun I realized we didn't top up the gas and it would be a close one to make the remaining 75 miles until the end. However we did come to a fuel stop on the Drive just a few miles later; I had thought there are no fuel stops on Skyline Dr but it is actually Blue Ridge Parkway that has no fuel on it.
The Drive just winds and sweeps on and on for 110 miles south along the Appalachians, with a few rest/view stops every mile or two and small restaurants in a few places. At the end is a small road to cross and 50 yards away is the northern entrances to the 469 mile blue Ridge Parkway:
This is a more rural experience and without the benefit of food or fuel on the BRP, it was good to have a GPS to keep tabs on how far away fuel was.
We kept winding and sweeping our way south, looking to do about 100 miles on the BRP and sleep in Roanoke just off the BRP. All went well and we got to the cruddy Days Inn but at least went into Roanoke's nice downtown on the bikes for a BBQ dinner:
We slabbed it most of Day 3 to get to the legendary Tail Of The Dragon's northern entrance by late afternoon and rolled into the valley there by 3pm. We had another bite of BBQ about 10 miles before the Dragon at one of the many biker-friendly places. We got on the Dragon among a group of 9 baggers that got split by us as they turned onto the road we were already on, 2 in front of me, then my bud, then the other 7 baggers.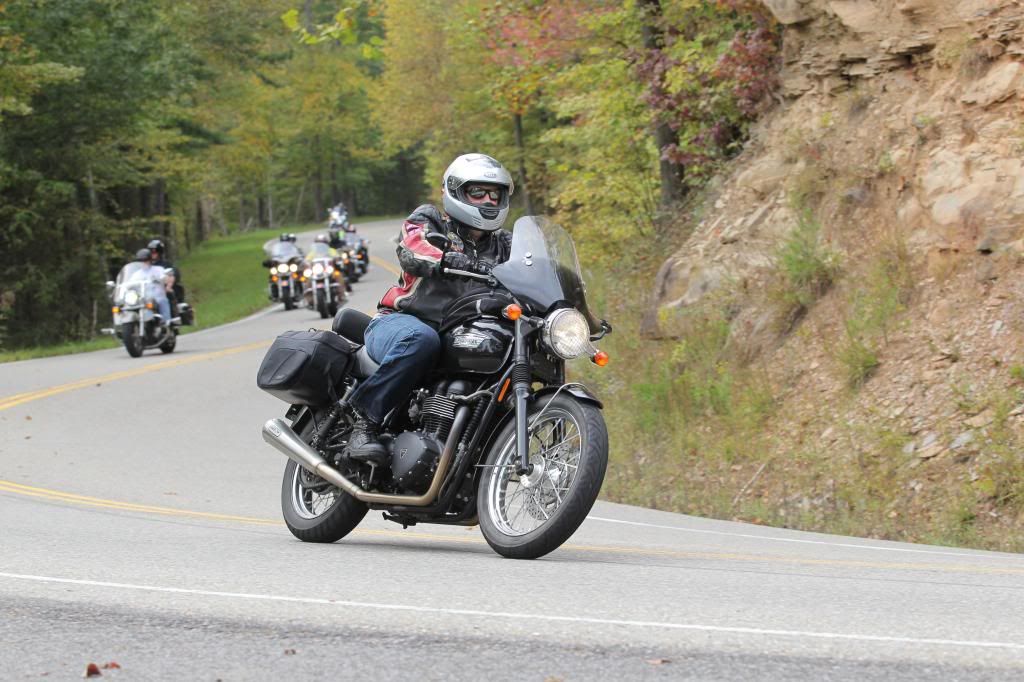 I was happy to have a cautious rider ahead of me for my first pass of the legenday bike-eater. The TN and NC authorities wasted no money on guardrail (the Tail is actually a section of Rt 129) and while it looks like you might be riding next to the forest, you are actually next to the top 30 feet of tress that go down 70 feet after the pavement ends into the valleys. There are deep ruts from bagger footboards in the tight turns that shoot upward. We were lucky that no real oncoming traffic crossed the double-yellow as 2 squids came flying up the other lane passing our 11 bike line on all blind turns; they would have been knocked right back into us if another bike or worse was coming; f-ing squids. Anyway, we made it all 11 miles to the legendary Deal's Gap Resort:
and inspected the Tree Of Shame:
We made a round trip Dragon run and now it was about 5pm and decided to head down the valley into Robbinsville to a nice biker place for the night. We awoke on Day 4 for a foggy ride of the Cherohala Skyway, 55 miles each way west into TN and back east to Robbinsville:
We stopped at the Tail once more (17 miles from Robbinsville & Cherohala entrance) and my buddy did another round trip while I waited in the Deal's Gap lot hanging and shooting the bull with others. It was Sat around noon and the Tail was too crowded for my taste. At the Lodge, which is the southern end of the Tail, are only two roads out south; the rest of Rt 129 to Robbinsville, which we took last night and this am to get back to the Tail, and Rt 28, aka Moonshiner 28. Just as we left the lot to get on Moonshiner 28 the rain hit hard and we were soaked as we carefully took this twister about 10 miles into the valley where we picked up a small highway to take to the southern entrance of the BRP about 40 miles away. If it hadn't been raining and if we had been a little further along, we would have gotten on the BRP for the final 90 miles into Asheville, NC for our night stop. Since it was still pouing I made the call to stay on the highway to Asheville. We did speak to 2 different parties the next day who did take the BRP at about the hour we would have and didn't get to Asheville until about 9pm, and it rained the whole way. As it was, we got to Asheville around 5pm, dried off enough to go eat, and caught a break in the rain to ride to dinner.
Day 5 was all BRP, north back to Roanoke. We needed to go about 200 miles but had all day. We'd have to make the 1 hour round trips off the BRP for food & fuel once or twice as well. All went well, with amazing weather and scenery:
We stayed in the Roanoke Days Inn again but got out early on Day 6 to run the reverse of Day 2; northermost 100 miles of BRP plus Skyline Dr. It was a different experience heading north and very pleasant riding again. The final day was all pouring rain back to NY via the slabs and my rect/stator got saturated and burned out. Luckily, we were only 22 miles from an awesome Triumph dealer near the VA-WVA line, Winchester Motosport, and the folks there got me moving in a few hours. We arrived back around 8:30 pm. saturated after a long day in the rain.
Total miles: 2,200 over 7 days. Each day was either 200 or 300 milers, no more than 10 hours riding each (w/ stops).
Everyone we met was friendly and pleasant and we had a blast-
our detailed blog:
www.skylinedr.wordpress.com
---
IBA# 53256
2012 Minuteman 1000
2013, 2014, 2015 Nutmeg 400
2014 BunBurner 1500
Senior Member
SuperSport
Main Motorcycle: mildly caff'd 2009 T-100
Join Date: Dec 2010
Location: New York City
Posts: 1,229
Other Motorcycle: 2012 Thruxton
Extra Motorcycle: 2010 T-100 w/Cozy sidecar
Good trip! Good report! Good pics!
---
The "Earth" without "art" is just... "Eh"
Thanks for posting. I lived in Winchester area for 9 years and know the routes you rode well. Great report.
Senior Member
Pole Position
Main Motorcycle: 2009 Victory Vision
Join Date: Oct 2005
Location: New Jersey USA
Posts: 3,842
Other Motorcycle: 2008 Victory Vision
Nice report and great pics! We just returned from there as well. The Cherohala Skyway is fantastic.
---
Kevin
Luceo Non Uro
NJ USA
New Member
Grand Prix 125
Main Motorcycle: America (wife's)
Join Date: Apr 2012
Location: Oregon
Posts: 25
Other Motorcycle: V-strom650 (mine)
Great report and I hope to check out the tail of the dragon someday.
Lifetime Premium
Site Supporter
Supernova
Main Motorcycle: Speed Triple
Join Date: Feb 2005
Location: South East Nevada
Posts: 24,167
Other Motorcycle: CBR1100XX
Extra Motorcycle: Piaggio MP3
Wonderful trip. So jealous!
Posting Rules

You may not post new threads

You may not post replies

You may not post attachments

You may not edit your posts

---

HTML code is Off

---