Supersport 600
Senior Member
Join Date: Oct 2010
Location: west yorkshire uk
Posts: 166
August in the Alps!
---
The Infamous Four!
Friday.
Bike all packed up and ready to go up to Hull for the evening sailing to Zeebrugge. Bike all secure for crossing.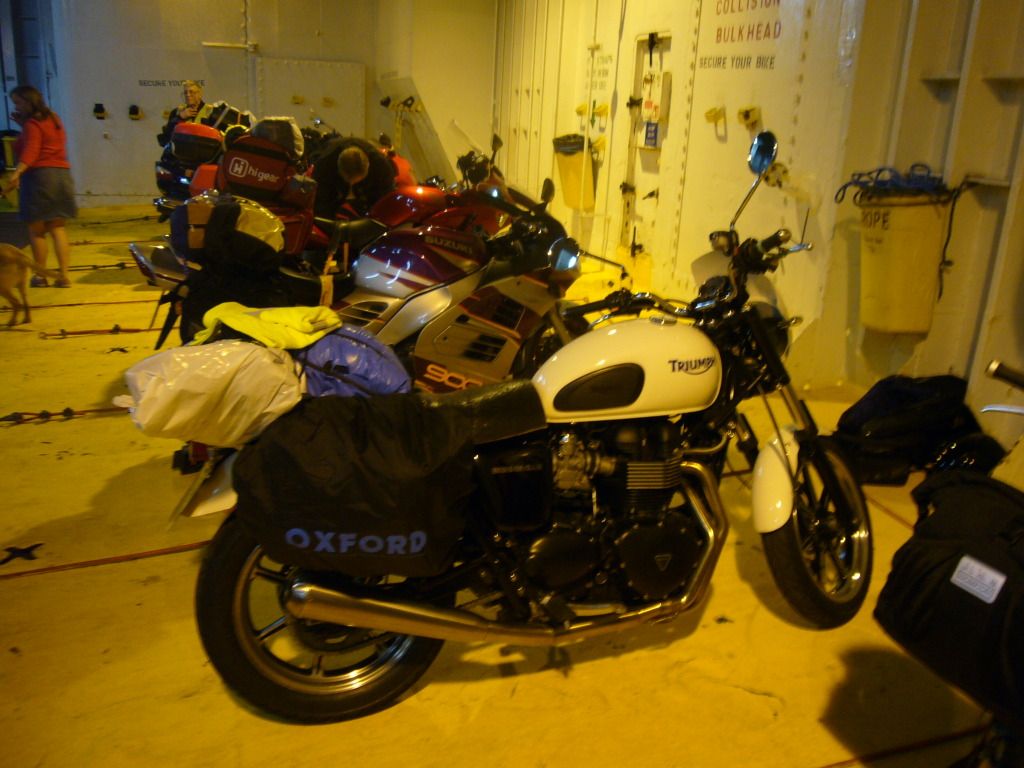 A couple of beers a half decent nights sleep and a four course breakfast, and we're ready to ride Europe.
Saturday.
We're soon through Belgum and into Germany, then we hear the roar of the Nurburg Ring!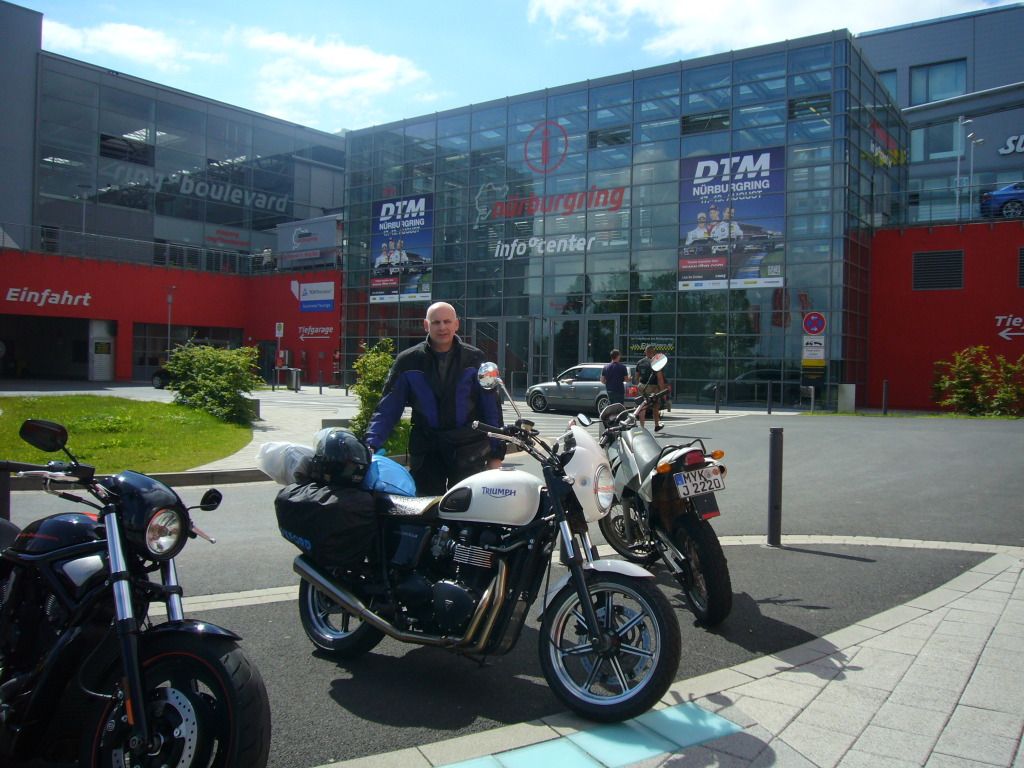 Then it's south towards the Mosel valley, for our first night camping by the river at the lovely town of Cochem.
Sunday.
We're now on some great smooth twisty roads, following the river south, then up into the mountains.
Then it's into Luxumburg for cheap petrol, back into Germany, then France, camping in a small village near Colmar. It's late and already dark, the only bar serving food closes in twenty minutes, so we decide to eat before erecting tents! A large calzone, four or five beers and its interesting putting tents up without a torch between us!
Monday.
Riding south east now on lovely roads, not too much traffic and smashing weather, we pass Lake Konstanz and into Switzerland, camping in the mountains just south of Chur near the Alpine village of Burgun.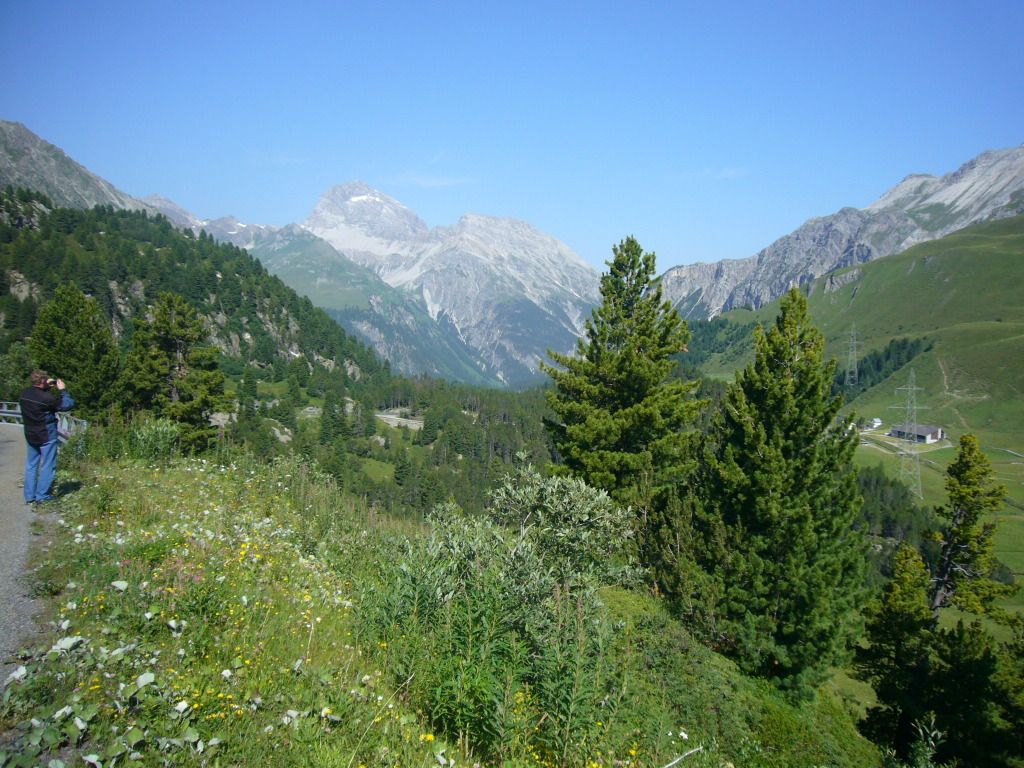 Tuesday.
It's a short hop over The Albulapasse and on to St Moritz(where the beautiful people live) We find a site, dump our gear and head for Italy and the Stelvio pass. It's good to be riding without all the luggage.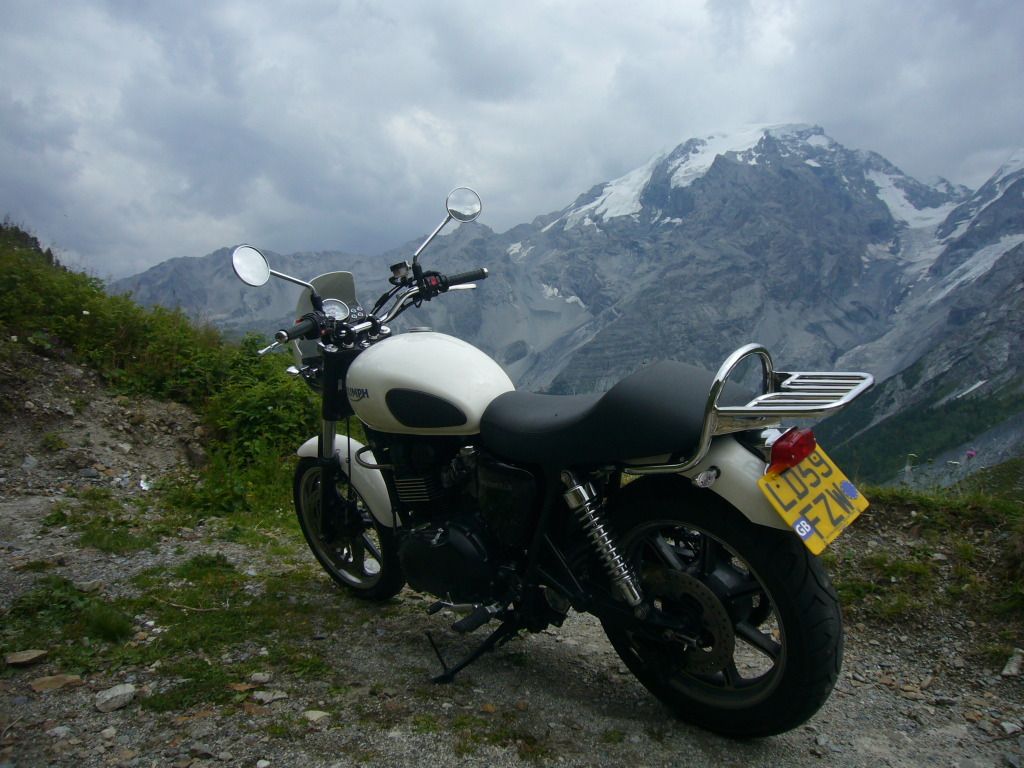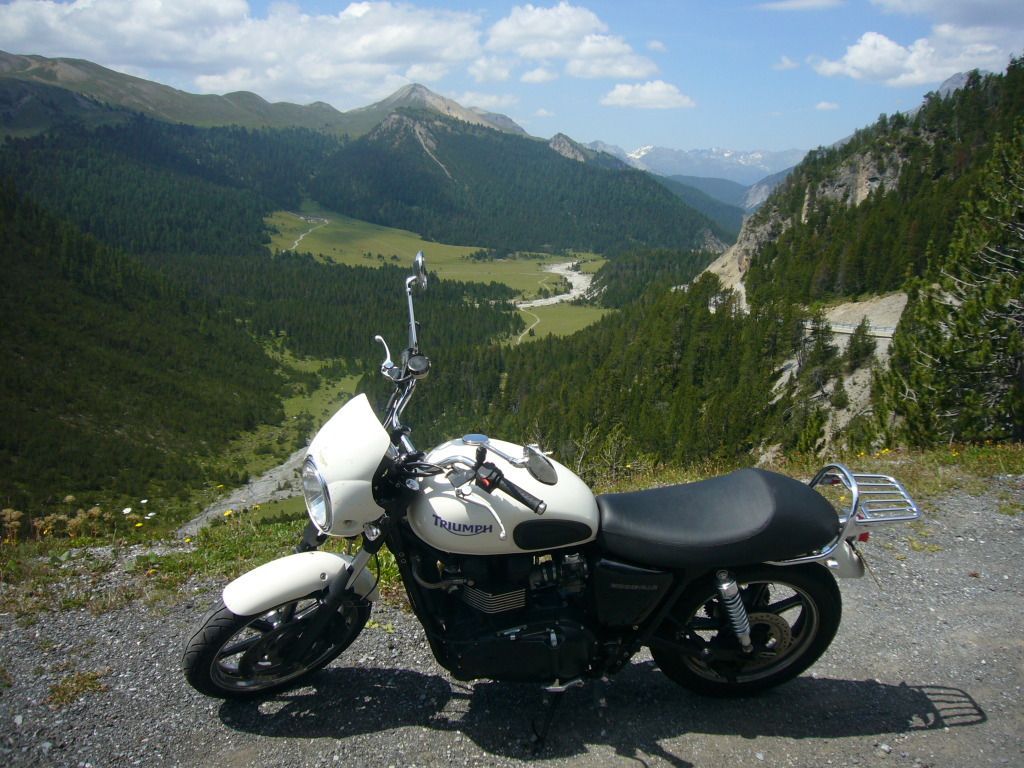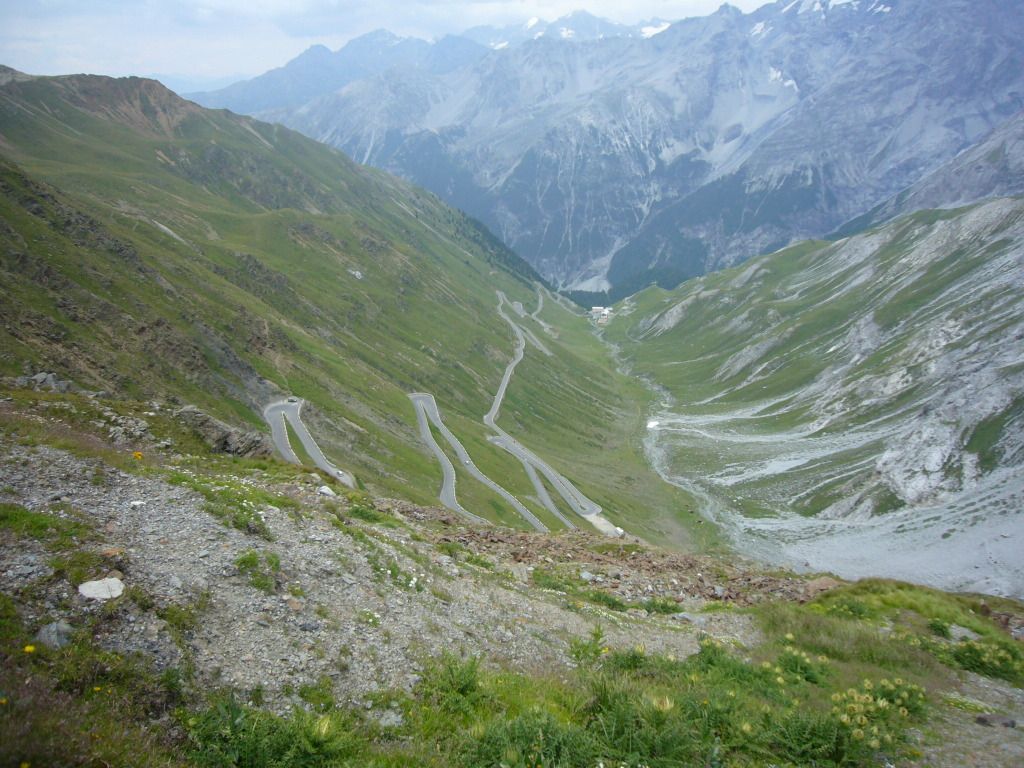 Wednesday.
Loaded up again and enjoying the roads towards and over Grimselpass.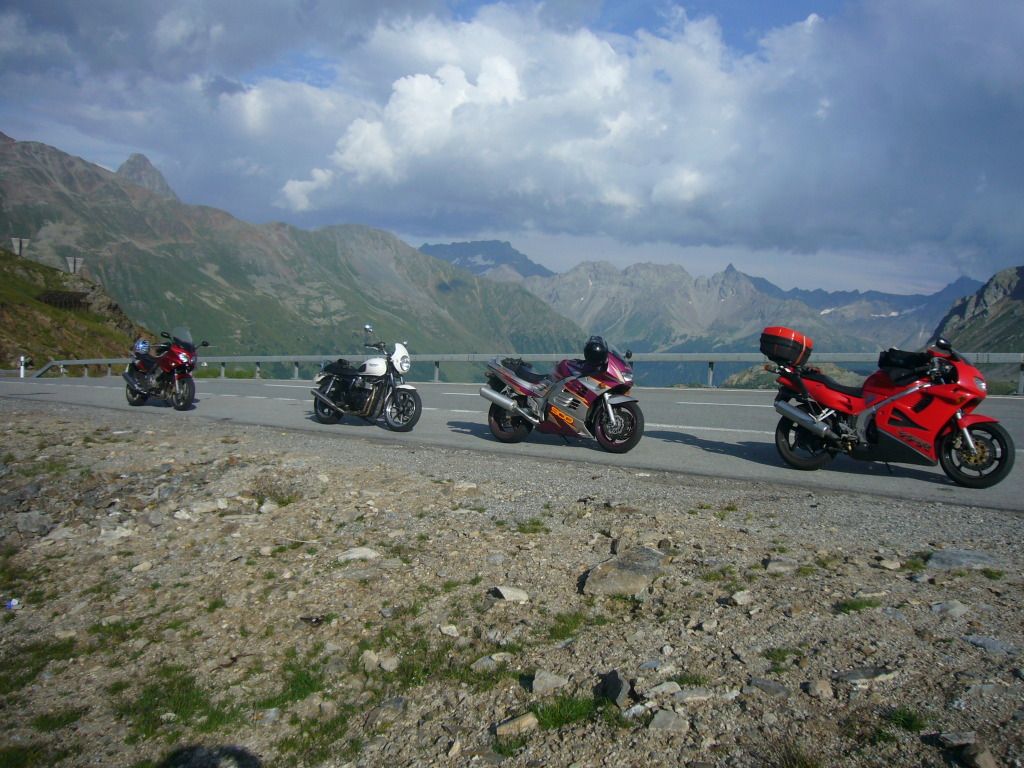 To be continued.
---
Last edited by al1; 09-08-2012 at

05:50 PM

. Reason: photos not loaded
Site Supporter
Supernova
Main Motorcycle: Speed Triple
Lifetime Premium
Join Date: Feb 2005
Location: South East Nevada
Posts: 24,169
Other Motorcycle: CBR1100XX
Extra Motorcycle: Piaggio MP3
Wow! That looks epic! Nice pics too.
Formula Extreme
Main Motorcycle: 09 street triple
Senior Member
Join Date: Jul 2010
Location: Asheville, NC
Posts: 513
Other Motorcycle: Tamiya 1/12 scale MHR Duc
Nice pics, and hey - an RF900. Don't see those too often.
Formula Extreme
Main Motorcycle: '04 Thunderbird Sport
Senior Member
Join Date: Mar 2012
Location: DFW, TX
Posts: 441
Other Motorcycle: '10 Speed Triple
Extra Motorcycle: '98 Thunderbird Sport
SuperStock
Main Motorcycle: 2003 Sprint ST
Senior Member
Join Date: Sep 2012
Location: Arlington, TX
Posts: 228
Pretty sweet trip! Beautiful places and nice roads to get there. Awesome!
Formula Extreme
Main Motorcycle: 08 Thruxton
Senior Member
Join Date: Mar 2010
Location: Charlotte, NC, USA
Posts: 603
Awesome pics!! About 10 years ago I was able to take a trip to Switzerland. We stayed with a former exchange student from my high school from about 10 years earlier. They lived in Oberkirch, Switzerland (just NW of Luzern). His family owned a condo in a ski village just south of Chur, called Lenzerheide (just west of Bergun). Our last couple of days there were spent at the condo snow skiing. I got some amazing shots of the snow capped peaks. Amazing to me anyway, as it was the first time I had experienced such a beautiful place.
Supersport 600
Senior Member
Join Date: Oct 2010
Location: west yorkshire uk
Posts: 166
Part Two!
---
More photos from the ride through switzerland.
We're riding some superb roads, with mountains and lakes all around. We pass Interlaken, and at Spiez, disaster, VFR dies. Two hours and a new rectifier later and we decide to camp near by, on another lovely site in the mountains overlooking the town and lake.
Thursday.
Blasting north we're soon in France. Scenery now becoming flatter and roads straighter. Next stop for the night is the historic town of Verdun.
Friday.
And then there were three.
One of our group had to be home a day before us, so he was of to Calais, whilst we had a lovely sunny morning in Verdun. Nice lunch, then it's time to go. Later that day we have the first daytime rain of the trip, camping near Hirson. Very heavy rain overnight.
Saturday.
We pack away wet tents, and meander our way north through the towns and villagers of northern France towards the coast and our last night of freedom, calling along the way at the war grave of a local man.
Sunday.
Morning sailing from Calais to Dover, up the M20 to London, passing the 2012 olympic village and calling for lunch ( full english breakfast) at the Ace.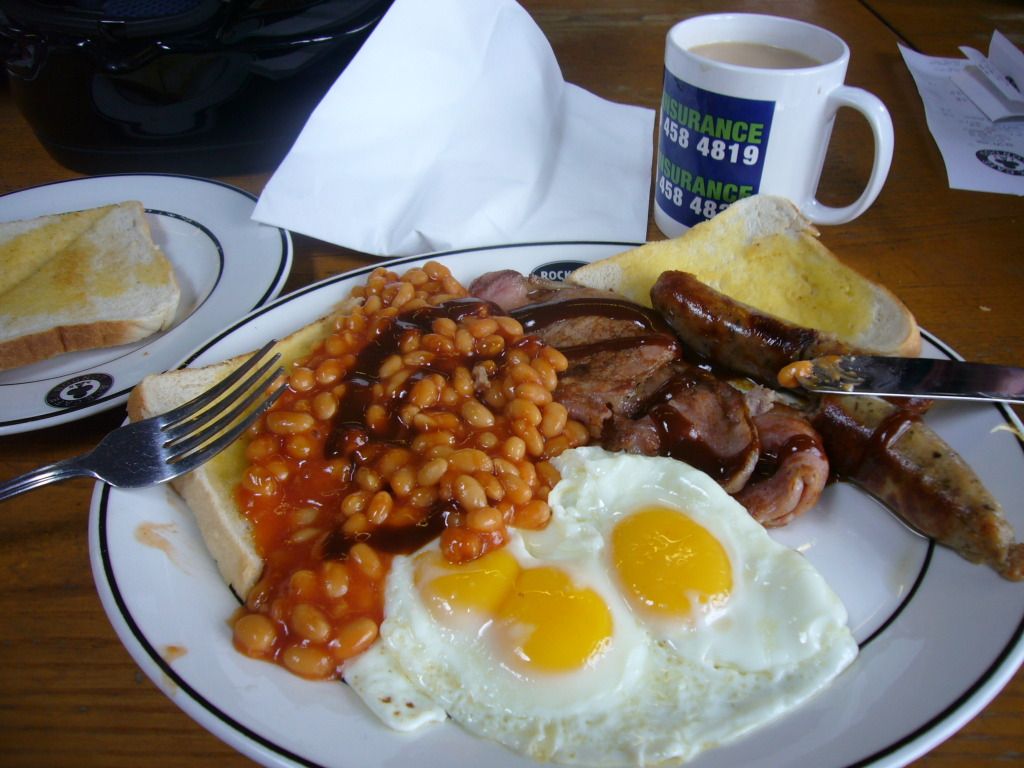 Then up the M1 in very heavy rain, sunshine, torrential rain and wind, arriving home cold and wet, but happy and content and looking forward to the next big trip.
Minitwins
Main Motorcycle: CB750
New Member
Join Date: Nov 2012
Location: seattle
Posts: 19
Holy crap those pictures are awesome.
Grand Prix 250
Member
Join Date: Jan 2011
Location: California
Posts: 44
Love the bike, love the ride!

Thanks for taking us there in words and photos
Formula Extreme
Main Motorcycle: 2006 Tiger 955i
Senior Member
Join Date: Jun 2009
Location: Victoria, British Columbia
Posts: 504
Extra Motorcycle: Previous:2009 Bonnie T100
---
Cheers,
David
'06 Tiger 955i, Caspian Blue, factory bags, stone-stock~
Posting Rules

You may not post new threads

You may not post replies

You may not post attachments

You may not edit your posts

---

HTML code is Off

---