Ru55boy's Speedmaster Chop - Pic Heavy
---
In May 2009, after years on sportsbikes I decided to take a change in direction with a Speedmaster, bought new from Carl Rosner Triumph in Croydon, South London.
Short Slash Cuts pipes, teardrop mirrors and flyscreen.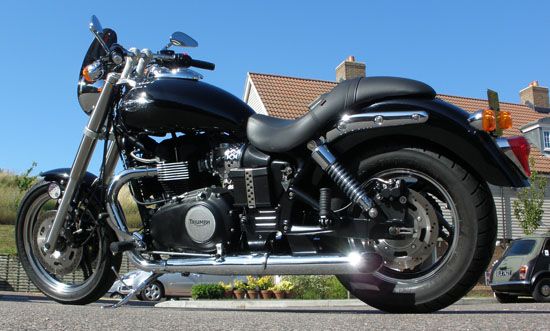 Two years later and the novelty still hadn't worn off. But I fancied changing the look...
Matt green paint with skulls and barbed wire decals
But I took a risk not using lacquer and petrol splashes marked the tank as soon as I tried to fill her up.
So, by now I had got the custom bug and decided to go for a full on old school chop...
I chopped the rear mudguard right back using a jigsaw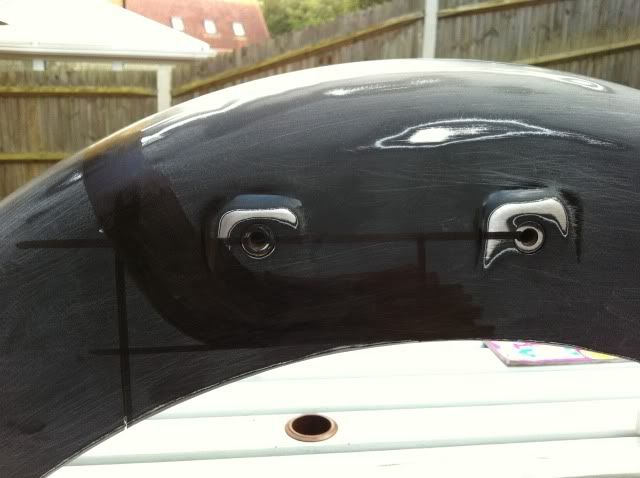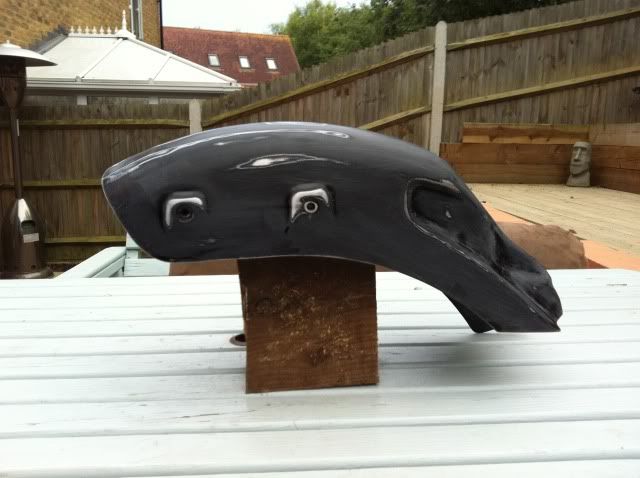 Bought an LED tail light off eBay and mounted it to the chain guard
Several cans of Rustoleum Hammered Copper and Silver for the body work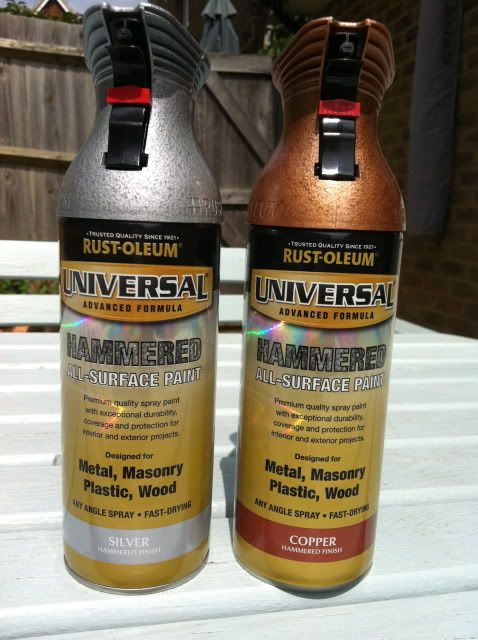 Sprung solo seat and 3" springs
I cut an aluminium plate to cover the exposed electrics under the seat and fitted a couple of rubber bungs to create enough space for the airbox to breath.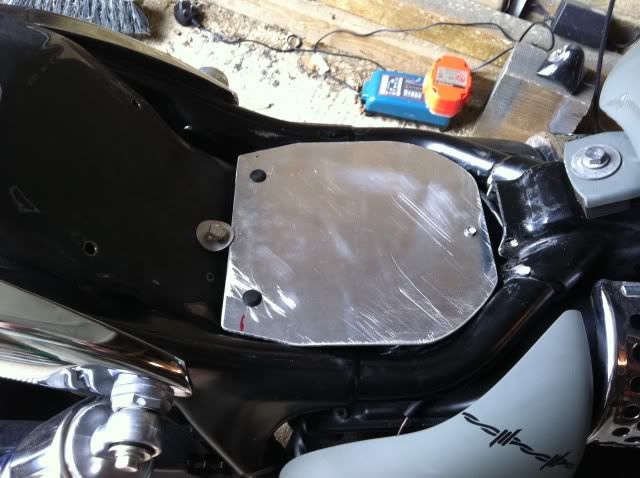 1" bars with an 8" rise for some serious attitude
The hammered paint went down so easily, hiding any imperfections in my sanding. Topped with petrol resistant lacquer.
Short stem bullet indicators and paint theme running under the seat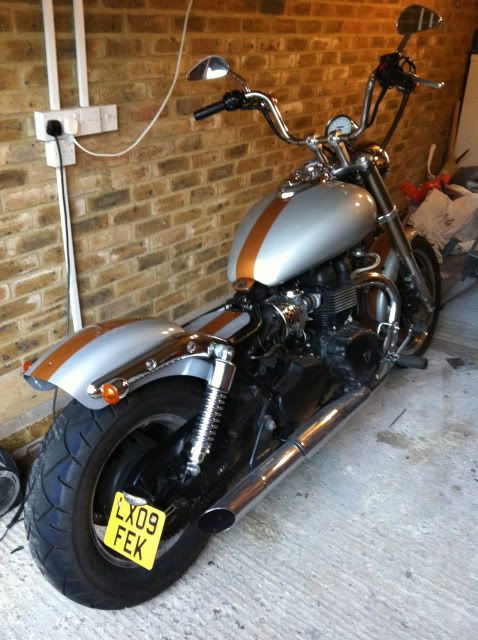 Rather than spending over £70 for solo seat finishers, I replaced the pillion pegs with..... spanners
Clutch cable copied plus 8 inches by Venhill Engineering in Dorking, and bespoke brake hose by Goodridge.
I cut the wires between the grips and the headlight and soldered in 8" lengths.
The throttle cables still fit if re-routed to the right side of the engine.
Job done.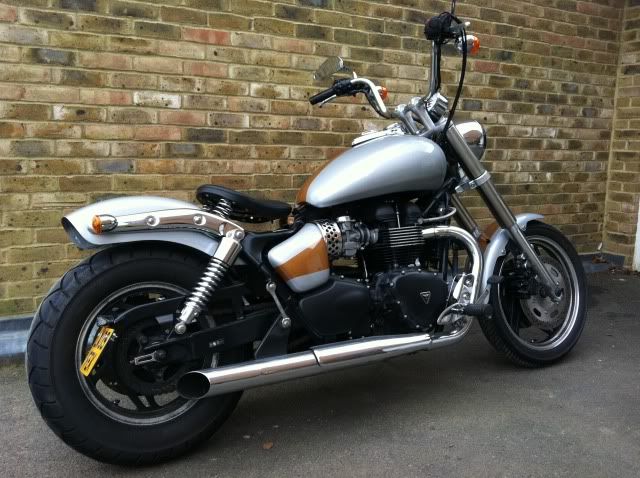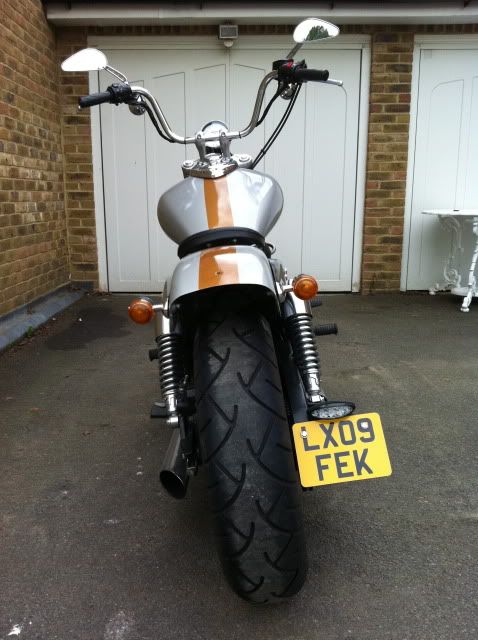 Production 125
Main Motorcycle: Rocket III
New Member
Join Date: Jun 2011
Location: Limerick, PA
Posts: 6
Wow. Looks awesome. Love the pictures and the detailed explanation. The motorcycle looks awesome.

Cheers.
Thanks mate, can't believe how different it looks with just a few changes.


Sent from my Motorcycle iPhone app
Production 125
Main Motorcycle: Rocket III
New Member
Join Date: Jun 2011
Location: Limerick, PA
Posts: 6
Yep. But I think your dedication and eye for detail paid off well. Happy riding.
Supersport 400
Main Motorcycle: Triumph Storm
Member
Join Date: Oct 2010
Location: Australia
Posts: 85
Other Motorcycle: not likely
---
just shows, these really are great bikes and no limit to them
I actually like all 3 versions of the bike! Great work-love the sprung seat & the spanners!
Thanks for the comments guys!
Well, the sprung seat was too small and uncomfortable so it had to go.
I've now fitted an awesome handmade leather lowrider seat from Maverick Customs. It's a work of art, fits perfectly, looks (and smells) amazing, comfortable, and very low - makes the apes feel higher!
Similar Threads
Thread
Thread Starter
Forum
Replies
Last Post
My old Rat/chop

wabbitbosher

RAT - United Kingdom

0

08-07-2010

07:53 PM

To Chop or not to chop

Flatrabbit

Classic, Vintage & Veteran

16

06-04-2010

09:56 AM

Air box chop

scooterhooligan

Club Cafe'

5

04-05-2008

01:58 PM

to chop or not to chop????

tinhead

Classic, Vintage & Veteran

12

05-28-2006

09:11 AM

chop chop

mrcheese

Maintenance & Workshop Talk

1

02-07-2006

06:54 AM
Posting Rules

You may not post new threads

You may not post replies

You may not post attachments

You may not edit your posts

---

HTML code is Off

---