Formula Extreme
Main Motorcycle: '09 Mystery Black EFI
Senior Member
Join Date: Aug 2008
Location: Santa Cruz, CA
Posts: 445
Saddlebags with Pics
---
This thread is a compilation to focus on different saddlebag options.

Please post pictures of your saddlebags here, specify what brand they are, and add any comments about value / quality / ease of use / weatherproofing etc.

MODERATOR NOTE:

As usual with the informational stickies, we will keep it free of chat and clutter, so please keep it to specific saddlebag postings to keep the thread easy to scan.

Links to prior saddlebag reviews are totally acceptable, and encouraged.

Thanks.
---
This is my Bonneville. There are many like it, but this one is mine. My Bonneville is my best friend. It is my life. I must master it as I must master my life. My Bonneville, without me, is useless. Without my Bonneville, I am useless.
---
Last edited by propforward; 01-10-2009 at

08:33 PM

.
Site Supporter
Supernova
Main Motorcycle: 2013 Tiger 800XC
Motorcyclist
Join Date: Mar 2008
Location: MN, USA
Posts: 29,177
Other Motorcycle: 2007 Bonneville, ST1300
Extra Motorcycle: G12DL, ZX1100, KLX400
---
Before he did it, I'd have said it couldn't be done.
---
Last edited by propforward; 02-15-2009 at

04:36 PM

.
Grand Prix 250
Main Motorcycle: one with two wheels
Member
Join Date: Jan 2008
Location: El Paso
Posts: 68
Other Motorcycle: 07 Bonnie, 07 HD
Extra Motorcycle: 2000 Tiger, 08 Victory
Tour Master Cruiser II Large
---
They're holding their shape nicely, perfect size and look for the bonnie in my book. I haven't used them in the rain but they come with covers, retail for about $150.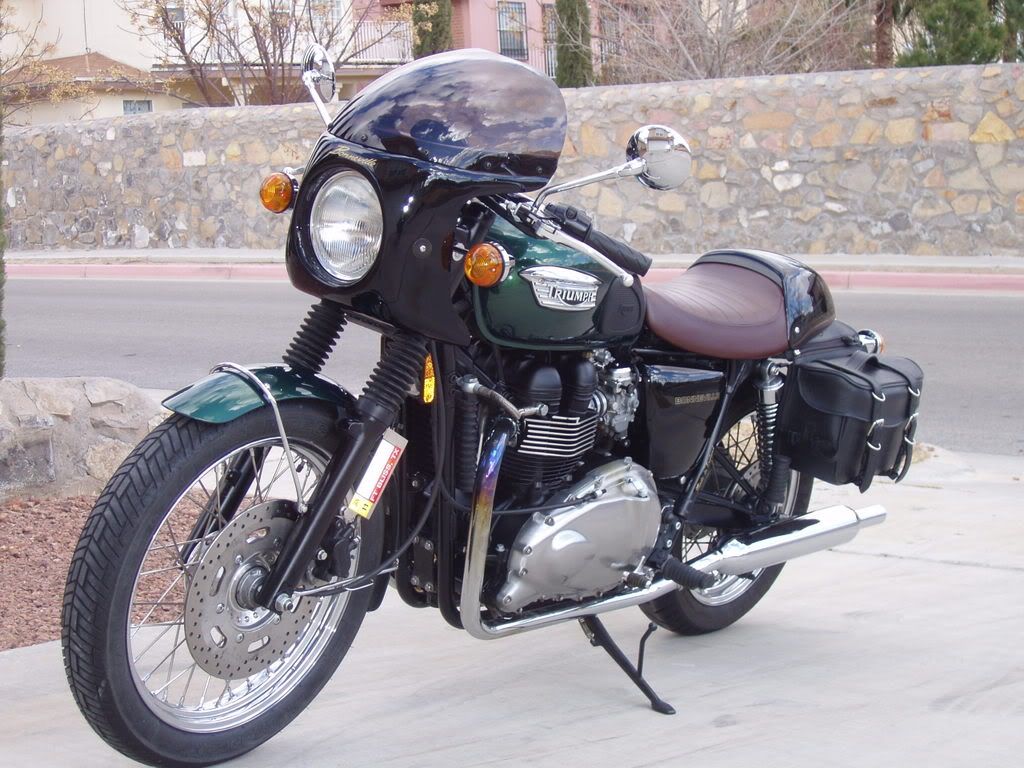 SuperStock
Main Motorcycle: 2007 Bonneville
Senior Member
Join Date: Nov 2007
Location: Pittsburgh, PA
Posts: 239
river road compact bags
---
A little on the small side, but I think anything bigger for daily use kind of overwhelms the look of the bike. I like the look of these a LOT - they're faux leather but a perfect complement to the faux leather look of the stock seat.
$80.
Jeff
---
'07 Silver Bonneville - changing all the time
Powerbike
Main Motorcycle: 2006 Bonnie 790/Carb
Senior Member
Join Date: Jun 2008
Location: Rhode Island
Posts: 319
Saddle Bag Option
---
Here is 06 Bonnie Blk with Factory Bags I believe they are called Hi-way Bags but not sure
I like the way thy sit they're not to big and can hold quite a bit
---
TowerGuy
---
Last edited by propforward; 01-12-2009 at

10:09 AM

.
Formula Extreme
Main Motorcycle: Bonnie T-100 Creamsicle
Senior Member
Join Date: Sep 2007
Location: San Luis del Norte
Posts: 659
Other Motorcycle: Suzuki Boulevard S-40
Extra Motorcycle: Thunderbird Triple--SoCal
Started with the Triumph leather bags: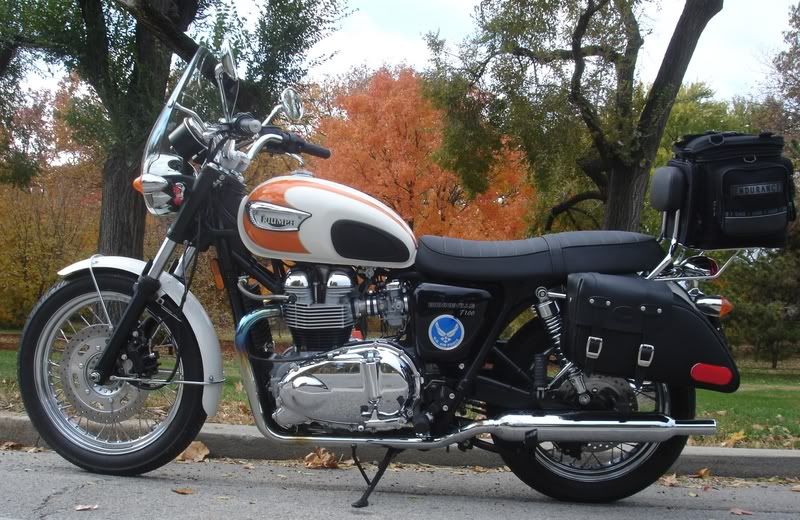 Which looked great, but didn't hold much in actual use:
So I swapped them for some soft bags with an expansion gusset that doubles their size: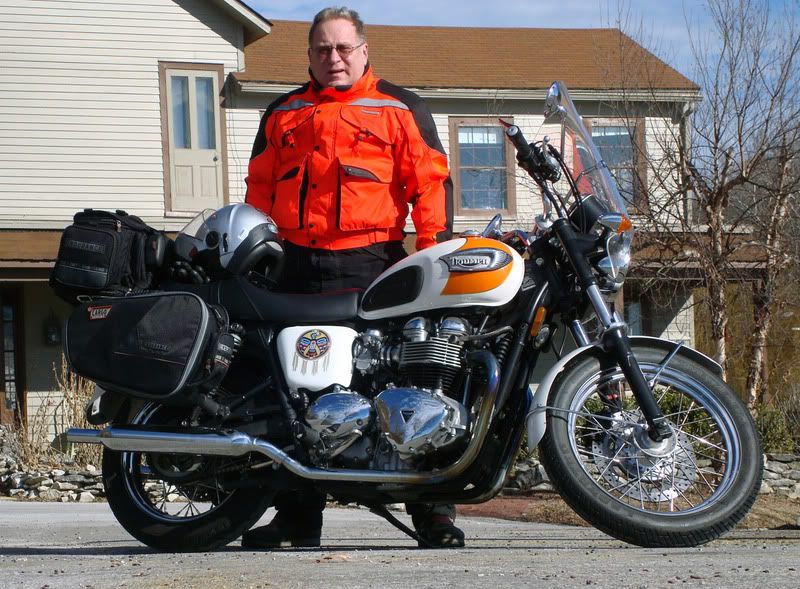 ---
Every difference of opinion is not a difference of principle... Thomas Jefferson, Inaugural Address 1801

When I look fast, I'm not smooth and I am going slowly. And when I look slow, I am smooth and going fast. --Alain Prost
SuperStock
Main Motorcycle: Speedmaster
Senior Member
Join Date: Jun 2008
Location: Red Deer
Posts: 245
These are the new ones I got for xmas
S.
Formula Extreme
Main Motorcycle: 2016 Thruxton R
Senior Member
Join Date: Sep 2006
Location: Sea Girt, New Jersey
Posts: 698
Other Motorcycle: Yes
Extra Motorcycle: Several
Bags
---
Tourmaster 2 Medium Slants, using Triumph rails. I have since taken them off but mount when needed. Great for day trips, excellent quality, but not suitable for real touring.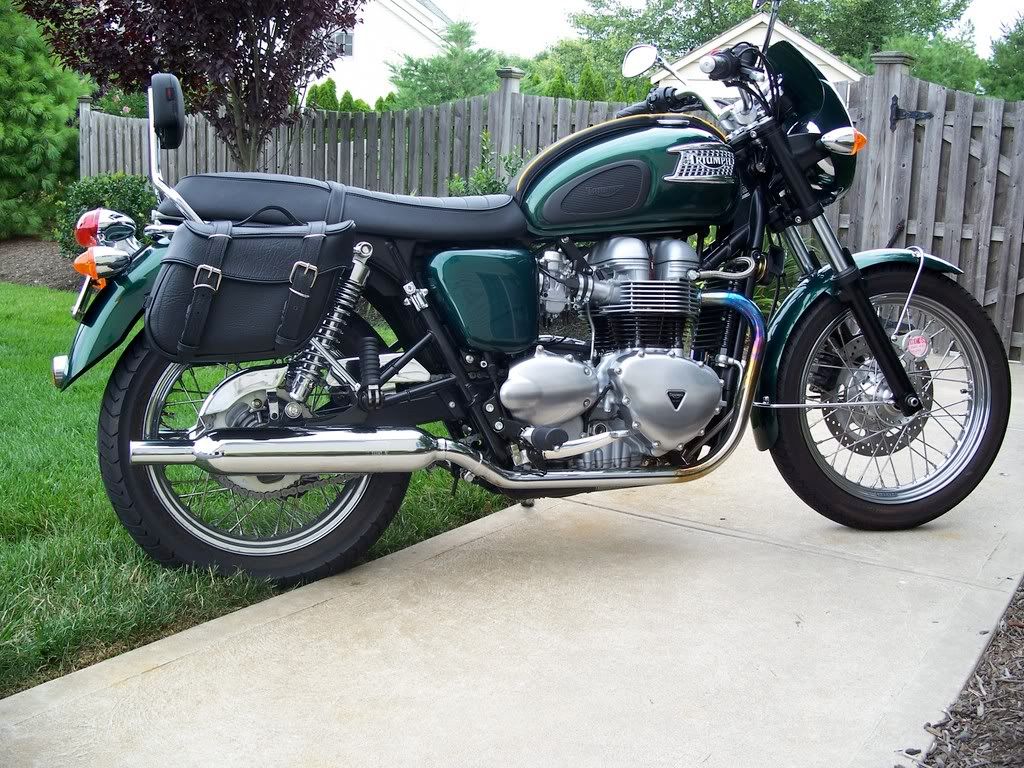 ---
'16 Thruxton R/ '70 Bonnie/ '06 Bonnie
Tiger 800/ Daytona Super III
Speed Triple (in Cali)
1968 Norton P11 Ranger
1961 Moto Morini Tresette 175
Site Supporter
Commentator
Main Motorcycle: 2008 Bonneville Black
Driftless Moderator
Join Date: Aug 2008
Location: Fountain City, WI
Posts: 8,806
Other Motorcycle: Spousal 2009 Bonnie Black
I have the Triumph soft bags, to me:
They are a good size for day-to-day use
Come with real nice brackets, easy to install
High Quality
Look good
Too small for longer trips, I need a second set for that
You pay for the Triumph name and can buy cheaper elsewhere
Given all that, I love them.
Production 125
New Member
Join Date: Apr 2008
Posts: 7
These are BMW R1200C cases fitted to my T100. I had a local fabricator make the frames. They detach easily and retain the stock indicator mounts. These are 22 usable litres, but there are 37 litre ones available.
Posting Rules

You may not post new threads

You may not post replies

You may not post attachments

You may not edit your posts

---

HTML code is Off

---