Member
Supersport 400
Main Motorcycle: 06 Daytona 955i
Join Date: Jun 2012
Location: grayson USA
Posts: 83
Shoot I run the 190/55 and 30mm drop at the clamps. but had to fit a steering dampener
Senior Member
Formula Extreme
Main Motorcycle: 2007 Sprint ST
Join Date: Sep 2009
Location: Melbourne, Australia
Posts: 880
Other Motorcycle: 2005 Daytona 955i
Member
Supersport 400
Main Motorcycle: 06 Daytona 955i
Join Date: Jun 2012
Location: grayson USA
Posts: 83
Yes sir, baby steps are the way to go! I only meant that there is a lot to work with there. and 5mm-10mm should not be a radical change, but a positive one! ;0)
Member
Supersport 400
Main Motorcycle: 06 Daytona 955i
Join Date: Jun 2012
Location: grayson USA
Posts: 83
here is a shot of the clamps in action, at -30mm.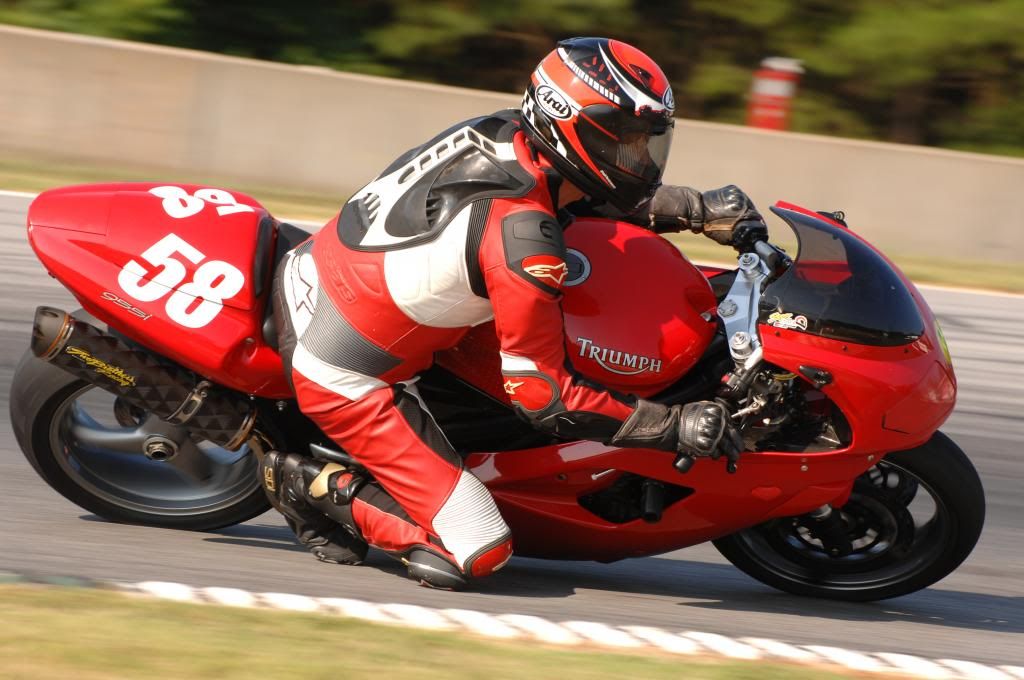 Senior Member
Formula Extreme
Main Motorcycle: 2007 Sprint ST
Join Date: Sep 2009
Location: Melbourne, Australia
Posts: 880
Other Motorcycle: 2005 Daytona 955i
The Daytona's first track day cannot come soon enough - promised myself Phillip Island this year
Only ever took the Sprint to Broadford race track - lots of tight right handers...
---
"I just want to ride" Joe Satriani, Flying in a Blue Dream, 1989
Lifetime Premium
Site Supporter
Formula Extreme
Main Motorcycle: Tiger XC & Sprint ST 955
Join Date: Feb 2009
Location: San Francisco
Posts: 606
Other Motorcycle: Daytona T595/955i
Extra Motorcycle: Trophy 900
Got the the suspension tuned. It needed preload everywhere and the rear preload adjuster on the Ohlins needed to be bled. Took a short ride to start getting used to it. This Daytona is going to be fun.
---
"Even if you are on the right track,
you'll get run over if you just sit there."
-- Will Rogers
Lifetime Premium
Site Supporter
Supernova
Main Motorcycle: 2011 Sprint GT 1050
Join Date: Mar 2005
Location: Brisbane Australia
Posts: 23,411
Other Motorcycle: 2004 Daytona 955
Extra Motorcycle: Previously - Many
Thrashed the pants off mine on a run with my friend on some favorite roads
---
My album click here;
http://www.triumphrat.net/memberalbu...er/2712/sort/3
Lifetime Premium
Site Supporter
Pole Position
Main Motorcycle: 1998 T595
Join Date: Oct 2005
Location: Pearland, TX
Posts: 3,434
I just chased my shadow around yesterday afternoon.
Probably the last day for awhile to wear the light gloves and jacket. It's a good day on the bike when we regret pulling into the garage!! The bike's also properly filthy from road spray due to a morning thunderstorm.
Brad
Senior Member
Supersport 600
Main Motorcycle: 2004 Daytona
Join Date: Sep 2007
Location: Here and there
Posts: 190
I gave it a look or two on my way from downstairs to fetch luggage.
Wife and baby are off to the States tomorrow for a few weeks so during that time i have a sneaking suspicion i'll give my new tires a few good runs.
Very happy with them so far and the 190-55 rear definitely makes a difference.
Senior Member
Grand Prix 500
Main Motorcycle: Daytona 955i -04
Join Date: Aug 2012
Location: Finland
Posts: 130
Posting Rules

You may not post new threads

You may not post replies

You may not post attachments

You may not edit your posts

---

HTML code is Off

---